As promised, I've been experimenting with a bunch of gardening apps on my iPad this week. Here's the ones I tried, and what I thought of them. All available on the App Store; sorry Androidians, I can't help you, but comment if you can help each other! Click on the images to see the details and screenshots for each app.
Toolkit HD, Applied Objects, $3.99
This is a slick, easy to use little package, an everything-in-one-place tool for to-do lists, your garden diary, and plant lists. Lots of nice features, like being able to tag your diary entries so you can go back and find your notes about the last time you pruned that apple tree, and making a plant list for your particular garden or gardens (up to four separate ones) with details such as when they were planted and when they will mature/bloom.  It gives advice based on your hardiness zone, but the plant lists (which I found on the limited side anyway) don't adjust to your zone. You can add custom plants with pictures, along with all their sun/water/soil/temperature info, but they aren't added to the main (search-able) plant list.  The Glossary is pretty good, a little simplistic maybe, but it links to Wikipedia if you want more info.  This strikes me as a great starting place for a beginning gardener who wants to be more organized, or the more advanced gardener if they're looking more for record keeping.
Eden Garden Designer, Herbaceous Software, $1.99
This is a fun little app that is very visual, whereas Toolkit is very list-oriented. You can choose an imaginary background, or load a picture of your own landscape, and then fill it with plants, rearrange the plants, look at what would be blooming at certain times of year… you can even control the amount of wind and insects! It's a great little gardening fix mid-winter or mid-city. That said, the plant lists are somewhat simplistic. There's just "hosta", no varieties or anything, and the plant choices are limited (you can buy additional groups of plants for $0.99). So as far as using this for designing, it's great for generating ideas and getting a general idea for how things might look, but it won't get you anywhere with detailed planning. Still, a fun little program.
LawnCAD, Nathan French, $4.99
This is a compact little Computer-Aided Drafting app that will likely appeal to the planners and math brains out there. I've never used a CAD program other than this, so I can't really compare it or speak about its usefulness on a professional level, but as a layman I'm loving the interface, the preciseness, and the itty-bitty power trip that comes from building and erasing entire landscapes in one swipe. Warning: you must love nit-picky details to love this app.
Grow Planner, Growing Interactive, $9.99
A little more expensive than most, this app is really a case of you get what you pay for. Provided by the well-respected Mother Earth News, this app does everything but put the seeds in the ground. You draw the size and shape of the beds you want, choose the veggies, herbs, and flowers you want to grow (right down to the variety–it's linked to all the best known seed catalogues) and it tracks how many plants should fit in that space, when they should be planted, when they should be harvested, and when the bed will be ready for succesion planting. You can choose traditional rows or square foot gardening. If you use it multiple seasons, it tracks what was where what year so you can ensure good crop rotation. Make notes, research varieties, tweak your frost dates, add custom plants. It will even email you planting reminders if you want. If you grow vegetables, you will love this app.
And now, just for fun: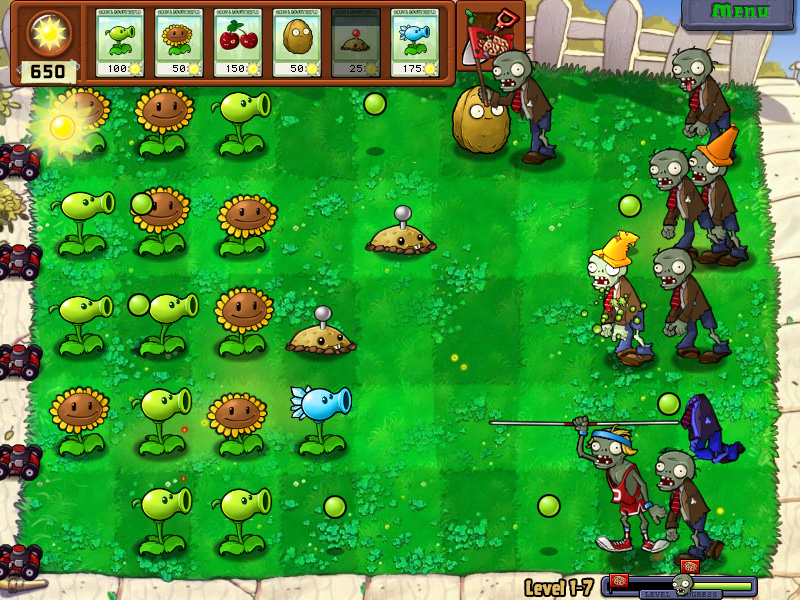 Plants Vs. Zombies, PopCap, $0.99 (iPad version)
This is a ridiculously addicting game in which your garden plants defend your home from invading zombies. I know, ridiculous, right? But oh so fun.
 Happy Little Farmer, GiggleUp Kids Apps and Educational Games, $1.99
This is a gorgeous little game involving planting, caring for, and harvesting crops around the farm. My kids from 3 through 8 love it, and even my twelve year old can't help watching. The motions are simple and the directions clear, and there are all kinds of cute little hidden surprises. An absolutely stellar game for little people.