Plant Talk - Gardening Forums
In the fall of 2005 I planted 2 fritillaria (imperialis) bulbs and nothing happened...for 3 years! Suddenly this spring, in that same spot, I have shoots coming up with leaves that definiely look like fritallaria leaves (I kept the packaging so I've compared).

Is it possible that they lay dormant for that long without rotting?? And if so, what would have made them finally show themselves?

Pepper
Zone 5A
Posts: 86
Joined: May 01, 2008 5:41 am
Location: Lakefield, ON - Zone 5A
---
---
I planted a couple of Monkshood last spring. Nothing happened - assumed they rotted or walked away when I wasn't looking. So - quess who shows up this year. Interesting. Can't take anything for granted with old Ma Nature....
Cath
If two loaves of bread are all you have left, you ahould sell one and buy hyacinths to feed your soul.........Arabic proverb
Posts: 19
Joined: Mar 13, 2007 3:14 pm
Location: Dartmouth NS
---
---
I know what you are talking about! I had the same experience, and it was over a period of years. All of a suddent the tall plant grew, early in spring, and grew and grew. Even my neighbors were amazed. I think it was called an Imperial Lily or something of the sort. It amazed me since it was 'dormant' for so long. Good luck with yours.DMG
Gardening in Zone 5
Posts: 101
Joined: Apr 20, 2007 9:47 am
Location: Wasaga Beach Ontario
---
I thought I killed a clematis years ago...I was using a boiling kettle to kill some insidious weed and ended up scalding the roots of the poor clematis (it was early in my gardening career)..that vine didn't come back that year...or the next spring..but in about August the second year...sure enough it came with gusto and even bloomed...still have it..but since i moved it from brampton 10 years ago...it has only had about three flowers a year (I think it is time to take the kettle to it again...LOL)...I also have a random onion that I see every couple of years...it comes up blooms as it should..then next year I think it is dead...then next it blooms..this year it is back..but I don't see a bloom.
Posts: 400
Joined: Mar 30, 2008 2:52 pm
Location: Barrie, Ontario
---
I guess you will soon know whether you have the Fritillaria...ours are quite tall, and starting to produce buds....hope they don't get their noses frozen.
They have been in a deluge of rain for the last 24 hours.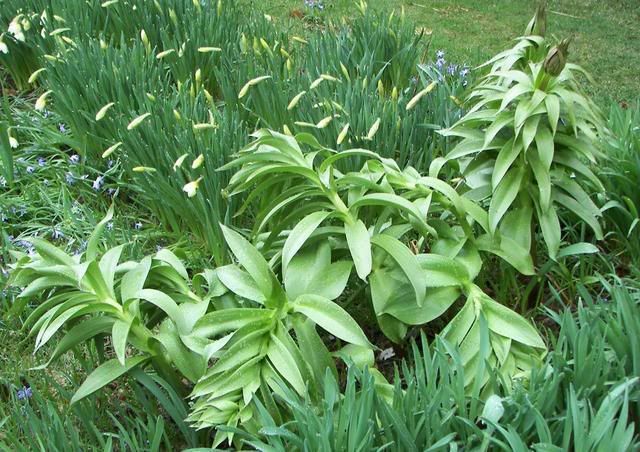 Posts: 1180
Joined: Nov 15, 2006 9:42 am
Location: Antigonish NS zone5b
---
---
I had the same thing with a clematis vine once (not the kettle of boiling water part)
I guess that's part of the fun of this whole gardening thing - the endless surprises (and sometimes bitter disappointment) that nature doles out!
Zone 5A
Posts: 86
Joined: May 01, 2008 5:41 am
Location: Lakefield, ON - Zone 5A
---
---
Who is online
Users browsing this forum: No registered users and 9 guests