Plant Talk - Gardening Forums
Well my neighbor and I went to the annual plant sale this morning. We got their right when it opened and it was busy.

Some of the plants looked a bit on the week side, but most were healthy and happy. We got a few new things. I bought a bloodgood sedum, Tidal wave Petunia, some parsley, and ohhhh darn I can't think of the name. It's a cell pack of these tight lil green plants that look like a lil succulent but have these big pink flowers. Starts with a C. They're out in the greenhouse and it's raining. I'll update you later.

I haven't seen a Tidal wave for sale before, and I've looked!!!! So I was very happy to get one. I'll let you know how it does. It's supposed to grow up to 22' inchs and then cascade down the side. If you put them in a row you can make a nice hedge. I just got one of them and I'll do it like a lil shrub. I'll see how that goes too.

My neighbor bought a really nice one that looked similar to a bleeding heart, but the white flowers were more of a teardrop. I would have gotten one, but I don't have any shade area's yet.

Ven
Posts: 1689
Joined: Apr 25, 2007 2:35 pm
Location: GTA, Zone 5
---
Was that a Solomon's Seal that she got? Went to a yard sale yesterday and got a Primrose, a Canna Lily and Peony.The Canna pot has 3 in it and the Peony has 2. All well established and about a foot tall.Only $6. Edie
I've spent most of my time in the garden,the rest I've wasted. Edie Zone4A, Ont.
Posts: 610
Joined: Mar 04, 2008 11:59 am
Location: Sudbury
---
YES that's the name!!! it's such a cool looking plant!!! I want one next year. it was $5 and about 2' tall.

I might end up selling some of my Canna's this year or next ahahha.

Ven
Posts: 1689
Joined: Apr 25, 2007 2:35 pm
Location: GTA, Zone 5
---
oh what great memories...I used to go to the Brampton garden club meetings every month...we would have a strawberry social and a garden tour in the spring...the tour is really worth taking by the way. You should know that if you join the club and go to the meetings...they have a plant sale prior to the meetings each month....I got some great plants from that. ONe day a caught one of the members unloading a half dozen gorgeous hosta from her car to bring in to sell...I bought them all on the spot..still have them.
Posts: 400
Joined: Mar 30, 2008 2:52 pm
Location: Barrie, Ontario
---
I took the flier for the Garden Tour. I know I'd love it, just depends on the day and weather. I hope I don't have to work, it'd be fun.

Ven
Posts: 1689
Joined: Apr 25, 2007 2:35 pm
Location: GTA, Zone 5
---
Ok so it didn't start with a C my bad hhehee. Here it is, it's so cute. Portulaca...would this work in pots????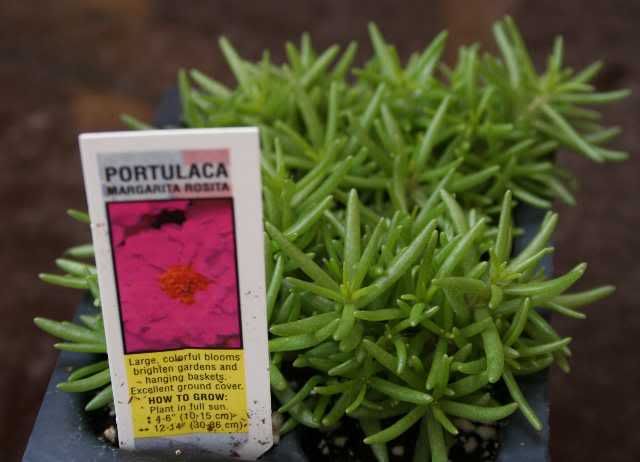 Posts: 1689
Joined: Apr 25, 2007 2:35 pm
Location: GTA, Zone 5
---
I grew Portulaca last year (before I moved to Peterborough in Sept). It likes a LOT of sun. It's practically drought-resistant. It is ok in containers (I had it in a container with some other plants on my back porch - practically all day southern exposure). It flourished in that environment. The back of my house got so much direct sunshine all day that most other plants fried. Remember how hot and dry last summer was?? It not only survived - it thrived.
Posts: 413
Joined: Sep 19, 2007 4:21 pm
Location: Peterborough, ON Zone 5B
---
My backyard is full sun. Like from sunrise to about 8pm. hahah so ya it'll love all the sun. Only thing is most of the plants in the ground like more water. And we have a hill with a dip, it's better for water lovers. So I think it might do better in some baskets, I can just not water them as much.

Thanks it's such a cute lil plant.

Ven
Posts: 1689
Joined: Apr 25, 2007 2:35 pm
Location: GTA, Zone 5
---
I adore portulaca
can't find it here yet
I looked at Home Depot and Canadian Tire and Costco.
Next I'll check the Superstore...they usually have a fantastic garden selection...found it there 3 years ago so here's hoping lol!!!
It's so beautiful in flower and on days I don't water they don't mind one bit.
Posts: 185
Joined: Apr 22, 2008 12:54 pm
Location: Sudbury ON, Zone 4a
---
it does great in containers and the bonus is you don't have to be neurotic about watering and feeding...it kind of likes dry crusty difficult soil..most succulents do...tht is there natural environment. It is really a pretty plant and the flowers are so delicate...they look like tissue paper flowers....for such a hardy tough little plant. I haven't had any in my garden for a couple of years...but I think I have just the spot for some this year...thanks for reminding me of this old fashioned annual. Sometimes we get caught up looking for the new cultivars each season...we forget some of our old friends.
Posts: 400
Joined: Mar 30, 2008 2:52 pm
Location: Barrie, Ontario
---
---
Who is online
Users browsing this forum: No registered users and 12 guests