Plant Talk - Gardening Forums
can anyone advise how short I can prune a PJM rhodo. Got it cheap at Cad. Tire a couple of years ago. It was very spindly, and after this past winter in Quebec, I lost a LOT of the top branches. Surprisingly still did flower. There is some 6-12 inches from the base to the first flowers/leaves. Can I prune it much lower to thicken it up.. am willing to lose a year of flowering if it gets fuller.
Posts: 27
Joined: Jun 18, 2007 10:03 pm
Location: south-western Qc. zone 5a/b
---
PJM will respond very well to pruning.
If you cut back the top to 50% of its height, it should send out new basal branches.
It might take a couple of years to get ot to the fullness you want.
Remember you can't cut it all the way back....the plant needs some of its foliage to maintain itself.
Sometime doing 50% one year and the other 50% the next will give the result you want.
Do it right after flowering.(or before, if there are branches with damage or no flowers)
Most of small leaf rhodies will respond to this treatment, whereas thw large leaf types need a less drastic approach
Posts: 1180
Joined: Nov 15, 2006 9:42 am
Location: Antigonish NS zone5b
---
Sharon... thanks so much for your advice. I am not really familiar with this gorgeous plant, so am particularly grateful for your advice. I think I will try just the 50% as you recommend and see how it comes back next year. there is some growth at the base of the plant but then nothing for 12 inches and then leaves and my current flowers.... I am so lucky that it survived the winter, as we got caught early and many of my winter chores, like tying up plants, never got done.
I wish you luck and much pleasure with your "08 summer garden. Cheers to you and much success with your summer gardens. May you be blessed with a healthy green thumb and lots of beautiful colours in your garden.
Beverley
bbb
Posts: 27
Joined: Jun 18, 2007 10:03 pm
Location: south-western Qc. zone 5a/b
---
Hi Beverley:
This is a pic of one of our PJM that was a skinny, gangly thing when first planted in this bed about 3 years ago.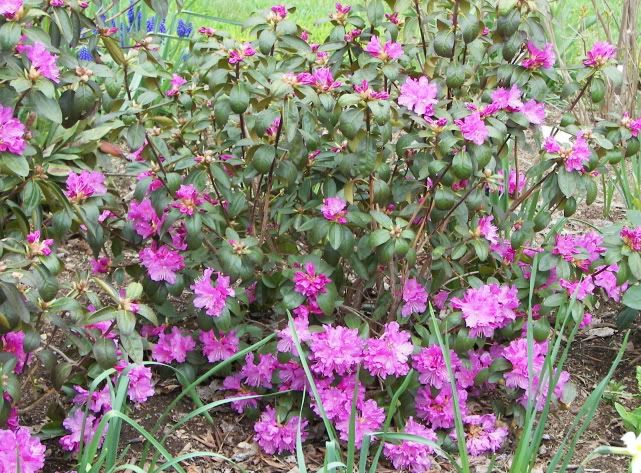 Posts: 1180
Joined: Nov 15, 2006 9:42 am
Location: Antigonish NS zone5b
---
---
---
Who is online
Users browsing this forum: No registered users and 6 guests