Plant Talk - Gardening Forums
Alas I missed Round 2 - I can't stay awake until 8:30 pm like the rest of you night owls!
Yah, that's right, I go to bed really early...but I get up really early, so it's not THAT pathetic...
Congratulations BBQ and Murphy!
Zone 5A
Posts: 86
Joined: May 01, 2008 5:41 am
Location: Lakefield, ON - Zone 5A
---
The rhodos tend to have much larger fleshier leaves.
PJM and likely every rhodie commercially available are hybrids.( Except maybe R. impeditium!)
PJM is one termed a Lepidote....the group has typically smaller leaves that are covered in fine scales on the bottom. They are often among the earliest to bloom.
The PJM are in full bloom here at the Willow Garden....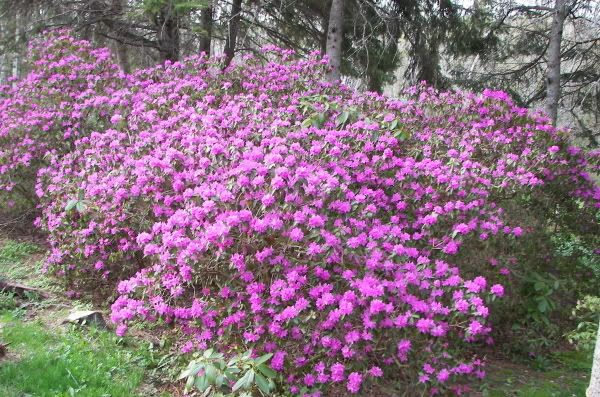 The other group are Elepidotes, and include the "typical" large-leaf rhodies.
Posts: 1180
Joined: Nov 15, 2006 9:42 am
Location: Antigonish NS zone5b
---
---
---
Mona, Does the tree get any fruit. The leaves look like that of a fruit tree, but the flowering branch does not look quite right...

Kris
A Basset Is An Asset!
Posts: 62
Joined: Mar 14, 2008 10:16 am
Location: Montreal, Canada Zone 5b
---
MonaCda Zone 3B Manitoba wrote:

Hi All,

Andre hope you don't mind me hijacking your post. Would like to ask everyone for help identifying this tree.

It is a couple of years old now and is in the back by the garage (all day sun). Roughly 10 ft tall now and am hopeful that after being ID'd we'll be happy for the new addition to our yard. Any info would be most appreciated, e.g., name, mature height, does it sucker?? Thanks for any suggestions. Mona

Monacrossingfingersandtoesforgoodnews
mona, this is a Prunus (cherry) of some sort.
kat
Posts: 3046
Joined: Nov 14, 2006 4:25 pm
Location: 5b BC
---
---
---
---
---
---
Who is online
Users browsing this forum: No registered users and 10 guests