Fruit & Vegetable Gardening - Gardening Forums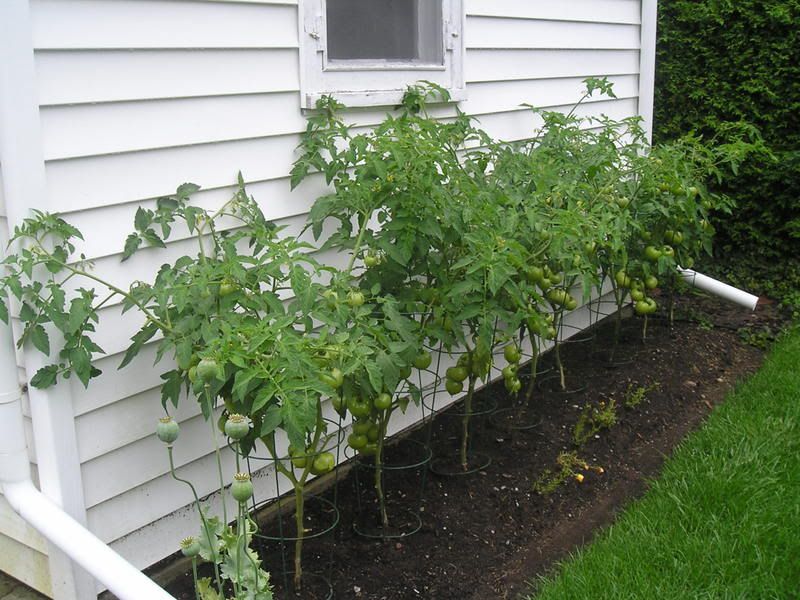 Lots of them!
I think half of the photo is being covered by an Ad again.....Too much rain this season, however, so far no Blossom End Rot.
Posts: 748
Joined: Nov 14, 2006 1:10 pm
Location: Lindsay, Ontario Zone 5
---
Linda your Toms look real good,now all we need is some good old Sunshine.
Pansy
Zone 5 B
Posts: 1381
Joined: Nov 14, 2006 10:24 pm
Location: Brantford Ontario
---
Just wondering if you cut off the suckers and excess leaves on these plants?
Posts: 88
Joined: May 24, 2008 4:31 pm
Location: Calgary, zone 3a-3b
---
Yes Pansy, LOTS of sunshine would be good right now!Jade, I do take the suckers off once I have lots of nice size fruit coming. Also I trim the larger branches of leaves to let more light into the depth of the plant.
Posts: 748
Joined: Nov 14, 2006 1:10 pm
Location: Lindsay, Ontario Zone 5
---
They look great! I am almost considering taking a heat lamp out to mine. Isn't this weather something awful for August? yikes....
Trailblaze is Diane Woodman
Posts: 3420
Joined: Jul 31, 2008 8:40 pm
---
Upon reading posts from others, I am relieved to see others have trimmed their tomato leaves. I read an article online plus seen a gardening show on tv about how cutting back leaves (lots of leaves)allows sunshine and air to to get to the tomatoes more easily. As well, all those extra leaves are taking moisture away from the tomatoes that are actually there. I have super trimmed back the leaves on my plants. Now I have to wait and see if that was a wise thing to do or not. For the way my tomatoes are looking, I don't think it can make them look any worse. A good dose of sunshine now would be really helpful!
Posts: 2
Joined: Aug 12, 2008 4:59 pm
---
Way too much rain, and even when it stops for half a day it's still too wet to do any splitting and transplanting! Tomorrow may be a better day or us here. I hope my tomatoes don't rot, even if they are only green.
Posts: 748
Joined: Nov 14, 2006 1:10 pm
Location: Lindsay, Ontario Zone 5
---
Be careful about taking too many leaves off. Remember the leaves are the plant's "food factory". They also provide the suction to draw moisture and minerals up from the roots.
Posts: 7
Joined: Mar 21, 2008 3:05 am
Location: Finland
---
Interesting that you've pruned off all the lower leaves.... Is there an advantage to doing this?

I know that the upper leaves should be left to shelter the tomatoes from the sun so they don't burn while developing but the lower ones always end up getting ratty and yellow.
Lyn
AB, Zone 3A
----------------------------------
"Those who say it can't be done are usually interrupted by others doing it." ` James Arthur Baldwin"
Posts: 11182
Joined: Nov 14, 2006 10:47 pm
Location: AB, Zone 3A
---
I mainly took off the lower leaves cause they were so big, and they were blocking the sun from getting to the first groups of tomatoes forming. I have pinched off all flowers forming now, and trimmed more of the larger branches.
Posts: 748
Joined: Nov 14, 2006 1:10 pm
Location: Lindsay, Ontario Zone 5
---
---
Return to Fruit & Vegetable Gardening
Who is online
Users browsing this forum: No registered users and 7 guests