Fruit & Vegetable Gardening - Gardening Forums
Superior, Kennebec, Chieftain, Russian Blue.
Pictures
- Chitting to Harvest. An practical overview for the Home Gardener from personal experience.
http://www.durgan.org/ShortURL/?DLIZU
Summary: Potato Growing experience.
Posts: 1194
Joined: Sep 28, 2007 9:33 pm
Location: Brantford, ON Canada
---
Durgan
My potatoe tops were hit with frost
I dug 2 plants up today. But I saw a lot of little ones still attached to the main plant
If I leave the rest of the plants in the ground for a month of so, will those little ones still grow?/
My haul from 2 plants I found the red ones not great big like white ones get. is that normal?
I was disappointment in their size, about like an orange size.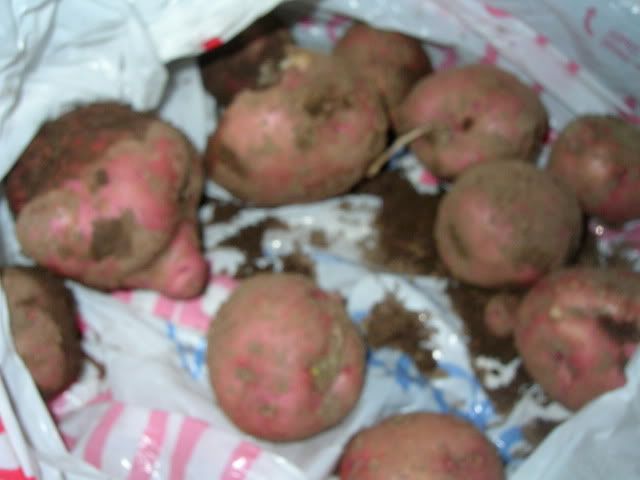 thanks
Cheers Butterfly




Having a place to go - is a home. Having someone to love - is a family.
Having both - is a blessing."--Donna Hedges
Posts: 3234
Joined: Nov 15, 2006 1:44 pm
Location: Nova Scotia Zone 5b Butterfly
---
When the vegetation of potatoes dies off, the tubers quit growing. When frost hits it is time to dig all your potatoes. Like all plants the vegetation is producing food via interaction with the sun etc.,nothing more nothing less. Exception is mushrooms, and thye produce litle useful human food.

I might add, without plants man is similar to a rock, since he cannot produce any food.
Posts: 1194
Joined: Sep 28, 2007 9:33 pm
Location: Brantford, ON Canada
---
I thought I planted blue but they are red

I wonder how well these store

I hope as good as white ones
Cheers Butterfly




Having a place to go - is a home. Having someone to love - is a family.
Having both - is a blessing."--Donna Hedges
Posts: 3234
Joined: Nov 15, 2006 1:44 pm
Location: Nova Scotia Zone 5b Butterfly
---
---
Return to Fruit & Vegetable Gardening
Who is online
Users browsing this forum: No registered users and 7 guests