Fruit & Vegetable Gardening - Gardening Forums
I am growing vegetables in the basement.
There are tiny tim tomatoes, baby butter lettuce, bok choy, hanging basket cucumbers, basil, spinach and mixed greens for salad.
My 15 year old read the hundred mile diet, and is involved with enviornmental causes soooooo I'm growing vegetables in the basement. So far so good we're using lights and the plants themselves are in the basement laundry room in a cooler corner.
My question is has anyone else done/doing this? Am I doing this right? How do you stay organic when most of my sources for compost, organic fertilizers are A; under snow, or B; in a garden centre that is closed. We are going to start a worm composter in the same laundry room I just need to find a nearby supply of red wrigglers that sells in large volumes (more than a small fishing bait bag) which will help. Any suggestions for more vegies that grow in pots? The boy was asking about Zucchini
they get big enough in the garden
could you imagine them in the laundry room???? The kids are already telling me it looks like a grow op
I want to try a couple of mushroom kits as well as sprouts. The family goal is 25% of our vegies homegrown out of the basement by January, in Alberta, in January.
So does anyone out there have any ideas? If I am going to put the money and effort into this I may as well do it right, and well. On the up side I was reading about how the food banks are bracing for record use this winter and if I am growing food in my basement then I will be part of a solution to the world food crisis, even if the girls at work think I'm crazy.
So does anyone else out there grow food in there basement and how does your garden grow????
Binaatthelake
Posts: 6
Joined: Nov 24, 2008 12:27 am
---
You have an interesting veggie effort.
Indoor growing can work for many things provided one can supply the proper light intensity.
Vegetables that can be used at any of the growth stages will work best.
Herbs and lettuces fall into this category.
Bringing a plant to flowering, and subsequent fruiting stage is a challenge indoors without a greenhouse situation.
Space can sometimes be a problem. The bigger the plant, the less easy it is to supply light effectively.
One also has to make sure that temperatures are not too high for some plants, which will result in weak, leggy growth; or too cool for others, which won't flower or set fruit.
Lots of fun in the trying!

Posts: 1180
Joined: Nov 15, 2006 9:42 am
Location: Antigonish NS zone5b
---
A great project . . . lots of fun . . interesting for the kids . . . but very, very ambitious. 'Specially if u've never grown under lights before.
My suggestion would be to stick to lettuce, possibly carrots, maybe beans . . . nothing that will grow higher that a foot. Unless u have lights much more powerful than the usual fluorescent fixture u probably won't be able to supply sufficient light to anything larger than that. 400 watt High Pressure Sodium or Halogen will grow larger stuff like tomatos well. 10000 watt lights will usually create too much heat.
A number *three or four* of 4' fluorescent fixtures can possibly give u some useful produce but all of these options take u toward another issue . . . electrical safety. U should have a heavy duty exterior *waterproof* timer and power bar as well as a house circuit that will take that extra load.
Attach lengths of light duty chain to the electrical fixtures so that they can be hung in position from nails or hooks in the ceiling. U will want them to be no more than a foot from the tops of the plants. Four to six inches is better.
Start with a couple of standard fluorescent fixtures, do some reading *see below or search 'gardening under lights' or something like that*, don't raise expectations too high . . and give it a try.
Oh . . and best of luck!
http://www.garden.org/articles/articles.php?q=show&id=1338
PS . . growing mushrooms is a whole different story . . no? Don't they grow in the dark?
lol
Frank . . ON5a
Adopt the pace of nature, her secret is patience.
.....Ralph Waldo Emmerson....

Frank . . ON5a
Posts: 886
Joined: Nov 14, 2008 11:29 am
---
It may just be dumb luck or beginner's luck but we ate our first salad out of the grow op. It was not a large salad by any stretch of the imagination but it was the first of what I hope is many from our basement grow op. It tasted better for where it came from I'm sure.
Sooooooo we're hooked we have 2 four foot grow light fluorescent lights with the pots underneath so far so good. Our first salad was only mixed greens but it was ours and it was good and I can't grow anything outside and the salad was ours and it was good so there will I hope be many more salads out of the basement for my family to enjoy.
Wish me luck and I'll keep you posted.
Does anyone else do this or am I just crazy????
Bina
Posts: 6
Joined: Nov 24, 2008 12:27 am
---
I haven't but I am thinking I should try after reading about your salad. Honestly, my mouth started to water thinking about a just picked salad.

I discovered an unopened pkg of mesclun mix and a pkg of spinach in my cupboard this past week. I have potting soil and I think I may have to try a few seeds just to see.

I don't have a basement but the spare bedroom has a south window. I can just move the tulips I am hoping will bloom for Christmas to one side and if I need more light, I will add one.

Thanks for the idea.
Betty
"The most serious gardening I do would seem very strange to an onlooker, for it involves hours of walking round in circles, apparently doing nothing." --Helen Dillon
Posts: 1989
Joined: Jul 31, 2008 9:14 pm
Location: Zone 5A Nova Scotia
---
Good luck with your salad! I am so relieved that I am not the only one who wishes to deny winter as long as I can.
I know that there will soon be no more plausible deniability soon when the entire world outside is covered in frost and snow. At that point in time I hope to be able to eat my own tomatoes, cucumbers and basil out of the kitchen window. I'll just pick with my eyes closed.
There is another salad just about ready but I have to stop drooling over it, store bought lettuce is just not the same.
I hope you have luck with your salad. Lettuce know how it grows.
Sorry bad pun.
Binaatthelake
Posts: 6
Joined: Nov 24, 2008 12:27 am
---
I've been saving this post 'coz I was having trouble adding more than one pic to a post. Now that Pandoras Box has been opened I hope I haven't created a monster!
lol
.............................................
It's fairly easy and sure to make up some lites that will grow indoor vegetables. Fixtures like these are inexpensive, already equipped with a cord for plugging them in and are available at most hardware stores. Abt $25 - $30 for the fixtures, bulbs and hanging chain.
U'll need a pair of needlenose pliers to open and then close the chain but once it's attached this setup is well secured. Leave some extra chain on them 'coz u can always loop it back up out of the way.
This one I just set up over my workbench but it also doubles as an indoor plant lite.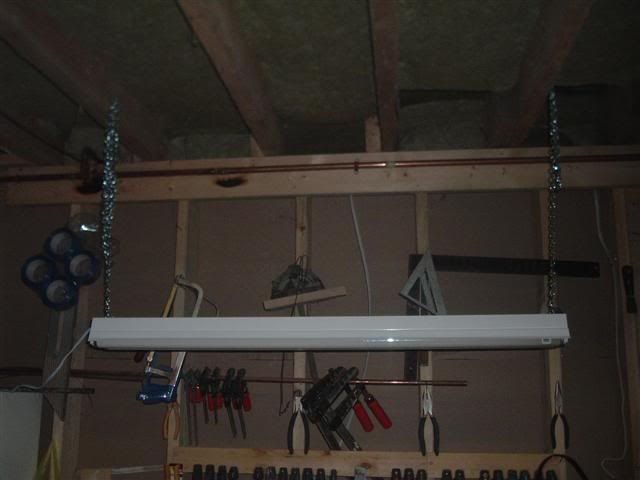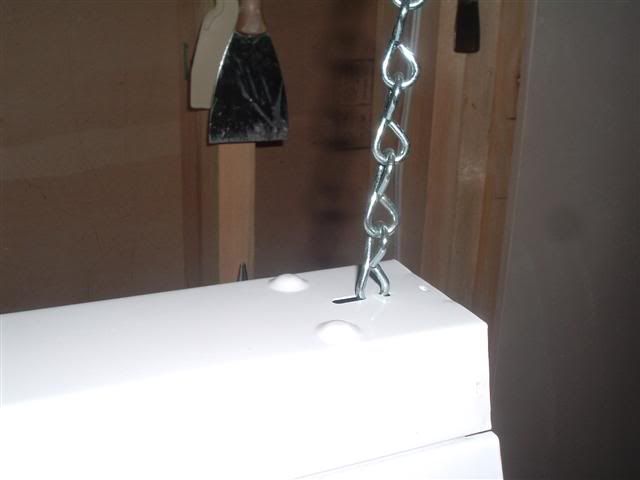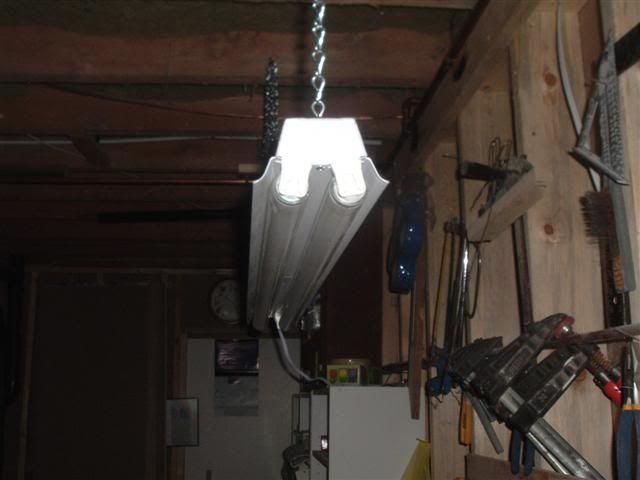 Adopt the pace of nature, her secret is patience.
.....Ralph Waldo Emmerson....

Frank . . ON5a
Posts: 886
Joined: Nov 14, 2008 11:29 am
---
Very nice set up Countryboy.

I did go looking for some lighting but couldn't find anything that was small enough for just a bit of green.

But I did start some Mesclun Mix and decided for extra lighting, I would just turn my stove light on. I just planted 3 days ago and started small as I want to see how they do.

The green is lovely to look at on a snowy blustery day, and when stove in use, I just set by the window.

Betty
"The most serious gardening I do would seem very strange to an onlooker, for it involves hours of walking round in circles, apparently doing nothing." --Helen Dillon
Posts: 1989
Joined: Jul 31, 2008 9:14 pm
Location: Zone 5A Nova Scotia
---
Nice website you provided, Countryboy,,thanks
Posts: 2289
Joined: Nov 16, 2008 8:13 pm
---
---
Return to Fruit & Vegetable Gardening
Who is online
Users browsing this forum: No registered users and 3 guests