Fruit & Vegetable Gardening - Gardening Forums
Tomatoes that is!
These are so delicious.
White; Green; Black.
I have lots of seeds!
Duh! Forgot to include the pic!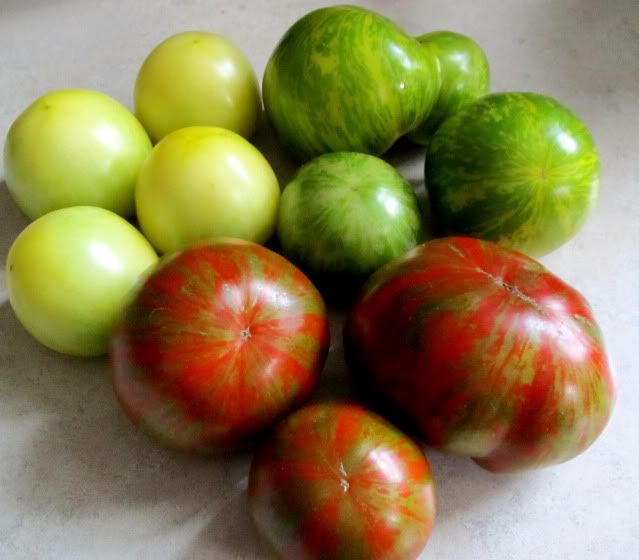 ~BBQ
Zone 5b
South/Central Ontario

Every day may not be good, but there's something good in every day
~ Author Unknown
Posts: 6853
Joined: Nov 14, 2006 1:59 pm
Location: Bay of Quinte, SE Ontario Zone 5a/b
---

Oh my, they are so pretty! I would love some seeds if you could spare some, BBQ.

I never buy tomatos but wait all year to eat my own home-grown ones. They taste so much better than the store bought ones. Since I am the only one who eats tomatos around here, for the last 3 weeks I have a toasted tomato sandwich for both breakfast and lunch, then slices of tomato on the side with my dinner. There is nothing like a fresh picked tomato warm from the sun.
Mmm, mmm, good.


Posts: 1106
Joined: Nov 06, 2010 11:26 pm
---
they look yummy!!!!! how long do they take to produce fruit??? unfortunately my growing season is short.

my toms are doing great this year too!!
""Life isn't about waiting for the storm to pass. It's about learning to dance in the rain."
Smitty BBS
Posts: 5299
Joined: Jun 11, 2008 2:07 pm
Location: manitoba zone3
---
CdnChelsea:
Send me a pm with your address and I'll send you seeds when they're ready. Which ones are you interested in? One or all?

Smitty:
They are one of the earlier ones for me. We've been picking ours for a couple of weeks or more now. The earliest seem to be the Bonnie Best for me.

~BBQ
Zone 5b
South/Central Ontario

Every day may not be good, but there's something good in every day
~ Author Unknown
Posts: 6853
Joined: Nov 14, 2006 1:59 pm
Location: Bay of Quinte, SE Ontario Zone 5a/b
---
---
Return to Fruit & Vegetable Gardening
Who is online
Users browsing this forum: No registered users and 6 guests