Fruit & Vegetable Gardening - Gardening Forums
I noticed just yesterday that my Tehranivee Sweet Cherry seems to have attracted some kind of bug.
It seemed to mostly be confined to abt a dozen leaves. Heavy concentrations on one leaf causing it to curl and creating an interior where they seemed to be building some kind of a nest. These 'concentrations' then would spread one or two leaves beyond the 'nest leaf'.
I stripped off the infected leaves and blasted the area around them with water.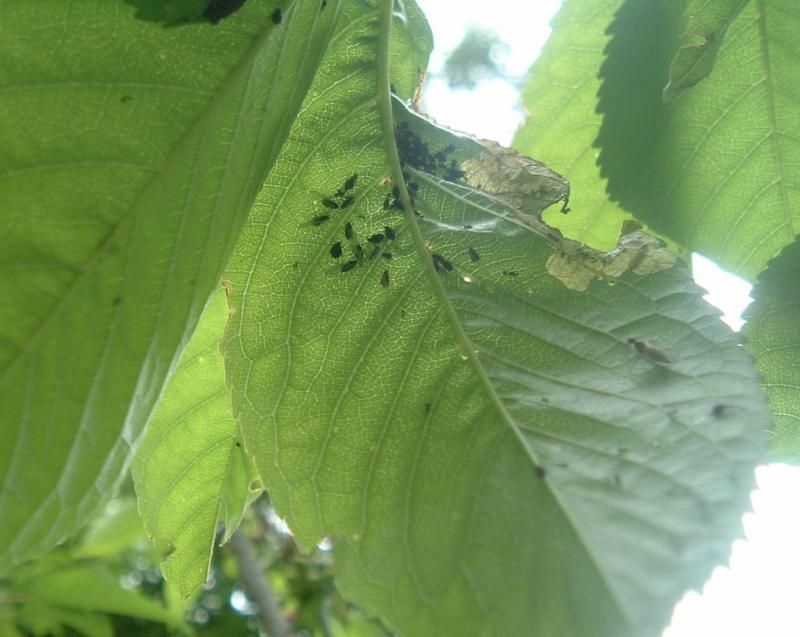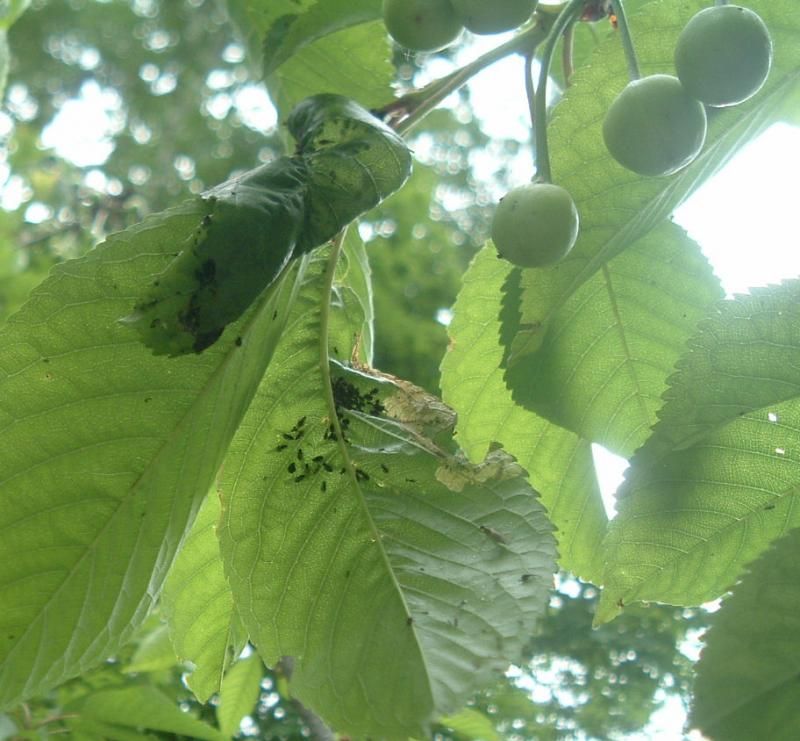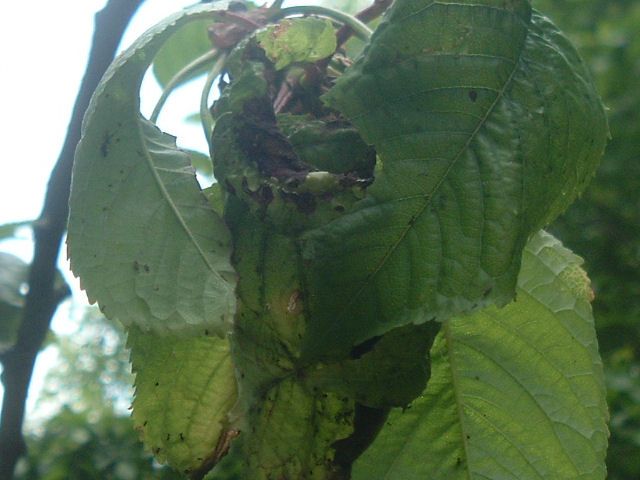 Does anybody have any idea what they might be?
Adopt the pace of nature, her secret is patience.
.....Ralph Waldo Emmerson....

Frank . . ON5a
Posts: 886
Joined: Nov 14, 2008 11:29 am
---
I Googled a bit and came up with two possibilities. Black Cherry Aphid and Pear Psylla. I'm basing this mostly on your photos. Hope it helps.
Alison, in zone 5b Nova Scotia
Posts: 50
Joined: Jun 17, 2010 8:25 am
---
Thanx for those clues, Allison.
Black Cherry Aphids for sure. All laid out in rows on the underside of a leaf, feeding probably since they're curling the leaf downward around them, and always attended by ants. I was confused at first 'coz some of my 'creatures' were winged. But now I see that there IS a winged variety that accompanies these little nests.
It's still only affecting 1 or 2% of the tree for now. And I'm simply plucking infected leaves for now... one or two a day.
Adopt the pace of nature, her secret is patience.
.....Ralph Waldo Emmerson....

Frank . . ON5a
Posts: 886
Joined: Nov 14, 2008 11:29 am
---
Ants "farm" the aphids, both the green and black varieties for the nectar they produce when feeding off the plant sap. The winged ones are the females that will fly off to start other aphid colonies .. The ants will also move aphids to start new colonies and protect them from predators. A good blast from a garden hose will dislodge them and the dislodged ones cannot make it back up to continue the infestation .
BC Fraser Valley zone 7/8
Posts: 1268
Joined: Dec 05, 2008 5:38 pm
Location: Fraser Valley, BC
---
Thanx, Dave.
This is the best year ever for this tree. I've had a couple of years with no fruit at all, a couple of years with less than a dozen that ripened properly.
But this season, there's hundreds of cherries ready to grow and ripen. So I think I'll go with the blasting 'til harvest time. Next year I'll make sure to cover a portion of the trunk with Tanglefoot.
They've never recommended a dormant spray for Cherries so I've never gone that route. I may try that too next spring... just as a precaution.
Adopt the pace of nature, her secret is patience.
.....Ralph Waldo Emmerson....

Frank . . ON5a
Posts: 886
Joined: Nov 14, 2008 11:29 am
---
---
Return to Fruit & Vegetable Gardening
Who is online
Users browsing this forum: No registered users and 9 guests