Garden Gallery - Gardening Forums
Posts: 1180
Joined: Nov 15, 2006 9:42 am
Location: Antigonish NS zone5b
---
Three from me, today.

If you look closely beside the large pink Cosmos, you will see a hydrangea bush to the left with a 1 inch Princess Diana clematis (very pink) to get an idea of the size of the Cosmos.

The stacked up Bee Balm was one of many that I got last year.

and, Blueberries for the veggie/fruit heads!
Attachments

BIG Cosmo.jpg (125.18 KiB) Viewed 3124 times

blueberries.jpg (92.06 KiB) Viewed 3111 times
Cordy's Mum, Liz
Rain Coast, BC Zone 7b/8a

Nae words, nae quarrel
Posts: 5587
Joined: Nov 14, 2006 2:17 pm
Location: Wet Coast, BC Zone 7b, 8a.
---
Here is my contribution to the soup.I hope no one has added water we don't want our soup ti be tastelessJOY!
Posts: 1600
Joined: Aug 05, 2009 11:40 am
---
OMG!!!
good bye grass
balloon flower
burgundy gallairdia (blanket flower)
""Life isn't about waiting for the storm to pass. It's about learning to dance in the rain."
Smitty BBS
Posts: 5299
Joined: Jun 11, 2008 2:07 pm
Location: manitoba zone3
---
Scrap I just love your white Balloon Flower
Do you save seed from those?
Posts: 748
Joined: Nov 14, 2006 1:10 pm
Location: Lindsay, Ontario Zone 5
---
Smitty...nice balloon flower there. How old is this plant? (I'm trying to determine how long it will take for mine to get that big...assuming it survives the harsh winter we've had).

Lindamct...I hate to admit it but I've never collected or planted seeds. I really need to start though since buying everything in pots is so expensive. Also, the flower is more pink irl than the pic shows, however it's not as pink as the tag indicates.

Lizcordysmum...I've never seen a bee balm like that one...very nice!
Posts: 1432
Joined: Jan 28, 2008 3:00 am
Location: AB, zone 3b/4a
---
The soup is extra tasty this year as I am starting from scratch on our new patch and am looking for inspiration! That Batik Iris looks particularly delicious Orchidguy. A wonderous bevy of B's everyone!

My flowers tend to have visitors...but here's a buddleia/butterfly bush, butterfly and hummer. All are a "must have" for my gardens!
Posts: 1956
Joined: Nov 14, 2006 12:07 pm
---
Ho ho, Bluebird! Wonderful picture...are you trying to save time capturing critters all in one?

I love Buddelia.

I would like to know if the picture back on page 1 is a Bluebird Clematis, because I have two and they have very slender flowers, downward hanging. The picture here is gorgeous.

also really love the blue of the Campanula...VERY striking.

(mind, I love everything else too! Mmmm-mmh! The Soup is Delicious!)
Cordy's Mum, Liz
Rain Coast, BC Zone 7b/8a

Nae words, nae quarrel
Posts: 5587
Joined: Nov 14, 2006 2:17 pm
Location: Wet Coast, BC Zone 7b, 8a.
---
Nice B's everyone especially on a cold winters day like we are having in our area. Here is my contribution to the B's
blue queen salvia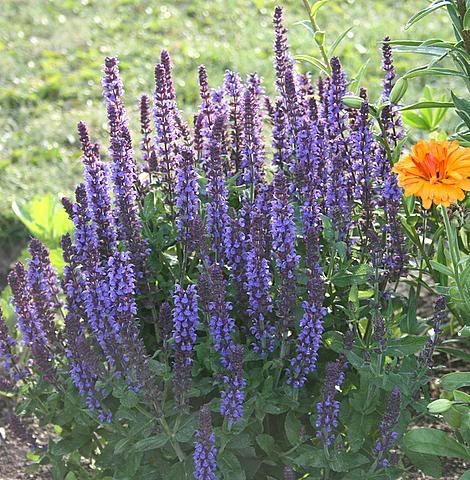 Bumblebee Deelite iris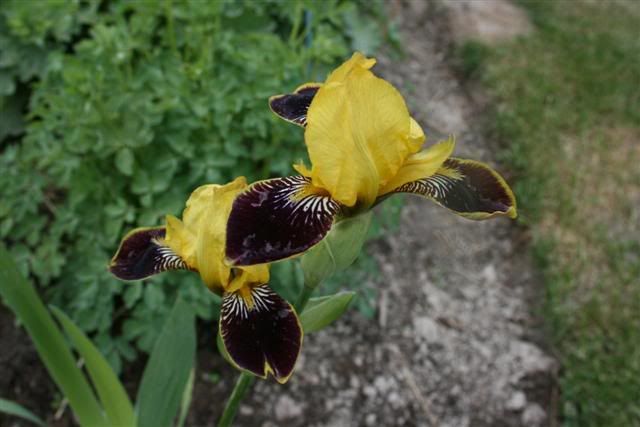 bachelor buttons amoungst the calendulas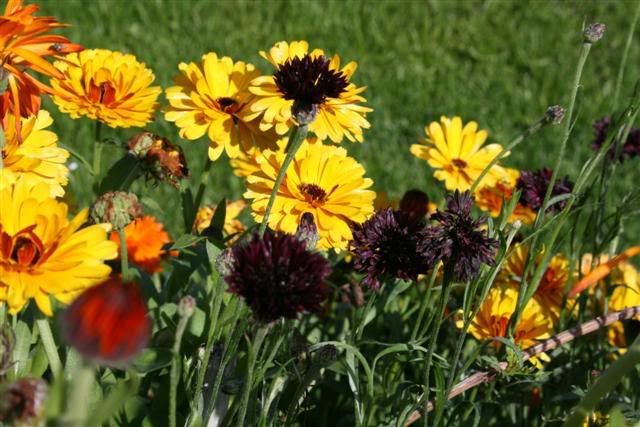 savona
Posts: 182
Joined: Nov 14, 2006 1:22 pm
Location: Zone 2b B.C.
---
B is for:
Black Pearl Pepper
and Bee Balm (Marshall's Delight) with a Bee taking a nap after a long day.
Dora
Posts: 237
Joined: Aug 09, 2008 2:36 pm
---
---
Who is online
Users browsing this forum: No registered users and 3 guests