Garden Gallery - Gardening Forums
Posts: 2289
Joined: Nov 16, 2008 8:13 pm
---
That's a cool idea Koot! Just may do that!
Posts: 748
Joined: Nov 14, 2006 1:10 pm
Location: Lindsay, Ontario Zone 5
---
Hellabores are already on my list and Sharon's just reinforced that decision. I have an annual yellow Hibiscus but Blossom's Southern Belle had my mouth watering. I have wavered on them for a few years now... so many things, so little money.
My H's
a red
Helenium
I started a pkg of mixed seeds last year and I love them in the garden.
Hyacinth Bean Pod
I finally got this identified as a
Hebe
andersonii variegata
I overwintered last year but this year I left outside with lots of protection. I do hope it surives.
Last edited by
earwig
on Feb 03, 2009 8:00 pm, edited 1 time in total.
Betty
"The most serious gardening I do would seem very strange to an onlooker, for it involves hours of walking round in circles, apparently doing nothing." --Helen Dillon
Posts: 1989
Joined: Jul 31, 2008 9:14 pm
Location: Zone 5A Nova Scotia
---
Earwig, such beautifully vivid Helleni-yummy!...I really like that, and I'm not a "red" person (except for clothes...and Xmas, and cars!)

Koot...sent your grote site on to D3, she is thinking of Spring Break project for 2, 14 year olds. You think???
Cordy's Mum, Liz
Rain Coast, BC Zone 7b/8a

Nae words, nae quarrel
Posts: 5587
Joined: Nov 14, 2006 2:17 pm
Location: Wet Coast, BC Zone 7b, 8a.
---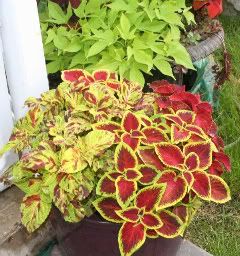 Coleus
Crab Apple
Crocus
Posts: 1689
Joined: Apr 25, 2007 2:35 pm
Location: GTA, Zone 5
---
Posts: 452
Joined: May 01, 2007 6:55 pm
Location: Ontario Zone 5
---
I hope still okey to add more C for our Alphabet soup.
Posts: 779
Joined: Mar 17, 2008 2:51 am
---
Venice that is one beautiful crab apple!

Sharon
Posts: 181
Joined: Mar 12, 2007 7:08 pm
Location: zone 5 southern ontario
---
neng....welcome....and of course...the Soup can be added to whenever!!!

Nice flowers!
Kelly
Zone 5a/b
OLD GARDENERS NEVER DIE. THEY JUST SPADE AWAY
Posts: 5905
Joined: Nov 14, 2006 12:14 pm
Location: Smaller town Ontario, Zone 5a/5b
---
Thank's Kelly, I hope all the plants that I moved last summer are okay it happened my mistake.Thank's to everyone..
Posts: 779
Joined: Mar 17, 2008 2:51 am
---
---
Who is online
Users browsing this forum: No registered users and 2 guests