Garden Gallery - Gardening Forums
I found another F:
Fire & Ice hosta.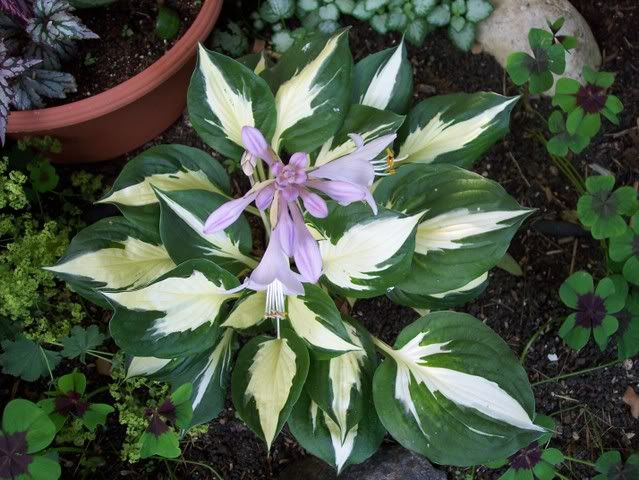 Oh, I love that foamflower, Sally. I tried growing one, but it limped along for a couple of years, then died.
Eeyore, I've had a Japanese painted fern for several years. Hopefully I didn't kill it by moving it last summer. It was growing very slowly but steadily for me. It's very slow to emerge in the spring though. I'm always excited when it does.
Marie
Zone 1b, Northern MB
One of the most delightful things about a garden is the anticipation it provides. ~W.E. Johns, The Passing Show
Posts: 707
Joined: Aug 12, 2007 10:53 pm
Location: Zone 1b, Northern MB
---
Thank you scrapinhat but my digital camera makes
me appear to have a bit more photo taking
talent than I actually have. I love that little camera.
The Tiarella (foam flower) was purchased in 2004
@ the PBO Hort Society show. Mine is called
'pink skyrocket' and Lyn, it is listed as Zone 4 so
you might be lucky. We are Zone 5 but it is planted
in a north facing garden. It is such a tiny plant it makes
me think about it like I wonder about Chickadees and
other small birds and how on earth they survive through
the winter.
The Autumn Fern has been in that spot since 2003. It has
lovely colour but it certainly has not grown very much.
The garden it is in is the same one as the foam flower.
That garden has been the bane of my life. I can not get
anything, even annuals, to grow properly there so the fern
and the foam flower may grow better in someone
else's garden.Twice, we have lifted all the plants from that
garden and amended the soil with huge amounts of compost
and re-planted everything and still, if you notice in the pic of
the fern, the bright fuschia impatiens, when we removed them
in the fall the only root they had was still a square the size
of the little pot we took them out of in the spring.
Nice Hosta, Northpine.
I am sure enjoying all the beautiful photos.
Sally
Posts: 46
Joined: May 11, 2007 7:31 pm
Location: Peterborough, Ontario Zone 5B
---
I went back and checked...only 2 pics (phew!!)

I needed to post this one...



Fred the Squirrel (in with irises and hen's and chicks (he liked hte leaves of the irises for hiding and the H&C's for eating!))
Kelly
Zone 5a/b
OLD GARDENERS NEVER DIE. THEY JUST SPADE AWAY
Posts: 5905
Joined: Nov 14, 2006 12:14 pm
Location: Smaller town Ontario, Zone 5a/5b
---
It takes awhile on dial up to go through the pages in the thread but so worth the wait for everyones pictures to load.It's a nice way to spend a lazy snowy day.
Freesias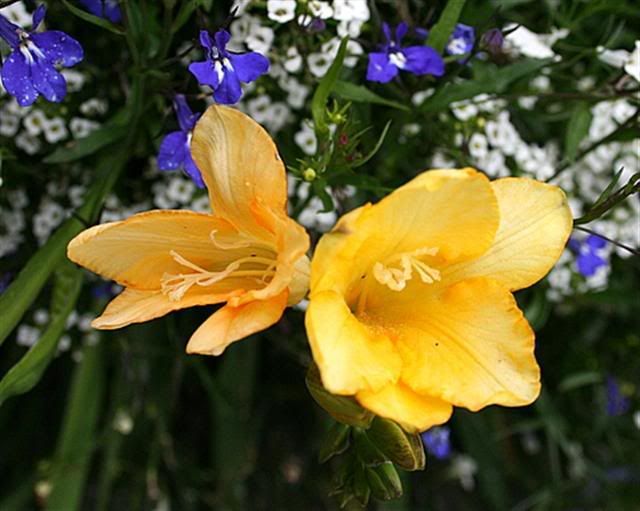 Flava daylily
Fulva daylily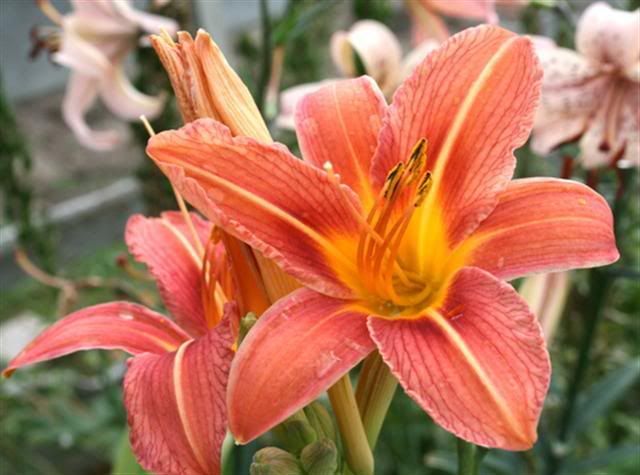 savona
Posts: 182
Joined: Nov 14, 2006 1:22 pm
Location: Zone 2b B.C.
---
Liz.. Lupines I can grow no problem . give 'em away by the dozens every year....foxgloves are an annual I pick up at the nursery sometimes:-)....that's it I've figured out the problem...you need to live in Manitoba where there's lots of snow in winter and you can grow lupines(or at least say you did..I'll leave mine) and I need to go where the foxgloves grow
my dawg the flowers hear are beautiful!!!
""Life isn't about waiting for the storm to pass. It's about learning to dance in the rain."
Smitty BBS
Posts: 5299
Joined: Jun 11, 2008 2:07 pm
Location: manitoba zone3
---
Beautiful Hosta Marie!
That ones on the wish list....
Fred is very cute Kelly, hopefully he's adopted you as his new Mom!
Lyn
AB, Zone 3A
----------------------------------
"Those who say it can't be done are usually interrupted by others doing it." ` James Arthur Baldwin"
Posts: 11182
Joined: Nov 14, 2006 10:47 pm
Location: AB, Zone 3A
---
Just 1 F....Foxtail Lilly.
Pansy
Zone 5 B
Posts: 1381
Joined: Nov 14, 2006 10:24 pm
Location: Brantford Ontario
---
Fabulous ~Fs everyone! I didn't take pictures of Al's 4 O'Clocks or anything else much past growing season. Tho' I do have a ladle handy for scooping other's plants, ya betcha!

Soup is such a mid-Winter treat, ladies and gents! Thanks mightily.

MareE;o} snickering at Fred the Squirrel, K
~do not make tragedies of trifles ~ do not shoot butterflies with rifles~author unknown~
Posts: 3286
Joined: Nov 14, 2006 1:41 pm
Location: Zone 5b GTA ON
---
Thanks

Sharon

for the info, they are such attractive flowers and lovely colours.



Sally

, how long have you had your Foam Flower? Mine didn't come back for the third year and I did like it so much.
Posts: 1517
Joined: Nov 14, 2006 5:18 pm
---
Frans Hall day lily in shadow.
Pansy
Zone 5 B
Posts: 1381
Joined: Nov 14, 2006 10:24 pm
Location: Brantford Ontario
---
---
Who is online
Users browsing this forum: No registered users and 4 guests