Garden Gallery - Gardening Forums
Wow....that looks like a "Tigger". Bet you got him cheaper than every other place I've seen. Wal-mart has amazing prices. Unfortunately, I bought a "Gay Paree" peony last year that was supposed to be cerise pink with a creamy white centre...I got a completely white one. It's still very pretty, just would have liked the "Gay Paree". I've bought many other plants true to form with no complaints. It's just that peonies take such a long time to establish themselves that a person really doesn't want to wait a couple of years to discover they have the wrong plant and then start over....you know what I mean? Maybe I should stick with ferns and hosta or daylilies in bloom to know what I'm getting. Having said that, I bought some clematis that were exactly as advertised...mislabelling can happen anywhere I guess.
Posts: 1432
Joined: Jan 28, 2008 3:00 am
Location: AB, zone 3b/4a
---
Help! I can't figure out how to upload a photo to Alphabet Soup. Could someone enlighten me:)

Thanks!
Posts: 7
Joined: Mar 01, 2009 10:51 pm
---
Hi Sandy, and welcome!

There are a couple of ways to add a picture here. One is via the forum itself, when posting. At the bottom of your posting window, there will be a tab that says "upload attachment". Click it, then browse to your picture on your computer. Click the picture, then, ADD ATTACHMENT and post.

The easier way, to me, and many on here, is to upload your pictures to an online hosting site. Photobucket is a favourite, as it's easy.

Create your free account, upload your pictures, then share them here by highlighting and copy/pasting the line of text under the chosen picture, that starts with [IMG] into the body of your post.

Easy peasy!
Posts: 540
Joined: Sep 19, 2007 8:31 pm
Location: Belleville, ON, Canada
---
Sandyas:

There are some fine points as well, about file size and so on. Suggest you look at a recent thread (on page 2 of the Garden Gallery now) called "Attention Gwen re posting photos", in which these helpful folks explained it all to me when I joined!

Gwen
Dryden, ON (Zone 2b)
The success of my garden is built on the compost of my failures.

- Jimmy Turner
Posts: 177
Joined: Feb 10, 2009 12:51 am
---
Posts: 7
Joined: Mar 01, 2009 10:51 pm
---
Sandy, so gald you figured it out. What a great photo!
Lyn
AB, Zone 3A
----------------------------------
"Those who say it can't be done are usually interrupted by others doing it." ` James Arthur Baldwin"
Posts: 11182
Joined: Nov 14, 2006 10:47 pm
Location: AB, Zone 3A
---
Welcome Sandy! Looking forward to your posts. Great start.
Posts: 1432
Joined: Jan 28, 2008 3:00 am
Location: AB, zone 3b/4a
---
Posts: 7
Joined: Mar 01, 2009 10:51 pm
---
Here's my T's
The first is just a tanacetum, a self seeder that I've come to love. I find it has a very long bloom period, and I just dig up the seedlings and transplant where ever I feel I can use a clump.
Thunderbolt hosta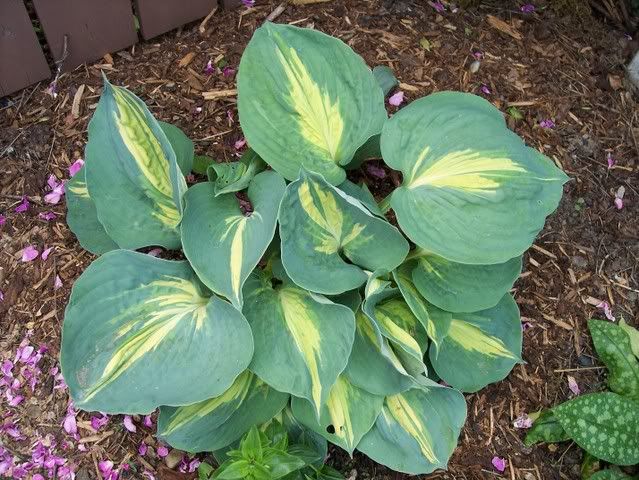 Clump of tulips
Donna, I can only hope my trolius gets half as lovely as yours. This is only its second winter.
I'm envious of all the tiarellas.
Lots of lovely tulips shown also.
Marie
Zone 1b, Northern MB
One of the most delightful things about a garden is the anticipation it provides. ~W.E. Johns, The Passing Show
Posts: 707
Joined: Aug 12, 2007 10:53 pm
Location: Zone 1b, Northern MB
---
holy carp!!!! the 'U' is up there and I haven't even posted the 'T's' yet!
rose Topaz Jewel
I've posted this before..Delphinium 'Tickled Pink'
Tiger Lilies
""Life isn't about waiting for the storm to pass. It's about learning to dance in the rain."
Smitty BBS
Posts: 5299
Joined: Jun 11, 2008 2:07 pm
Location: manitoba zone3
---
---
Who is online
Users browsing this forum: No registered users and 12 guests