Garden Gallery - Gardening Forums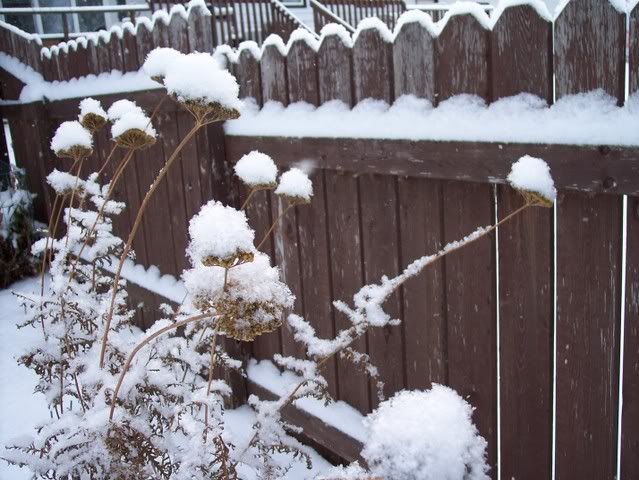 Yarrow or achillea filipendula Parker's.
This clump of snow capped yarrow has been entertaining me all winter. The snow cones bob around in the breeze.
Sorry for the disgusting looking fence!
Marie
Zone 1b, Northern MB
One of the most delightful things about a garden is the anticipation it provides. ~W.E. Johns, The Passing Show
Posts: 707
Joined: Aug 12, 2007 10:53 pm
Location: Zone 1b, Northern MB
---
It has been lovely to see everyone's lovely soup ingredients. Here's to another gardening year!
No X or Y's.
Z is for more cat zzz's in the warm sun
Posts: 237
Joined: Aug 09, 2008 2:36 pm
---
Great soup!!! Yay!! Thanks, thanks thanks, it is such are wonderful thing to do.
Yellow roses
Yucca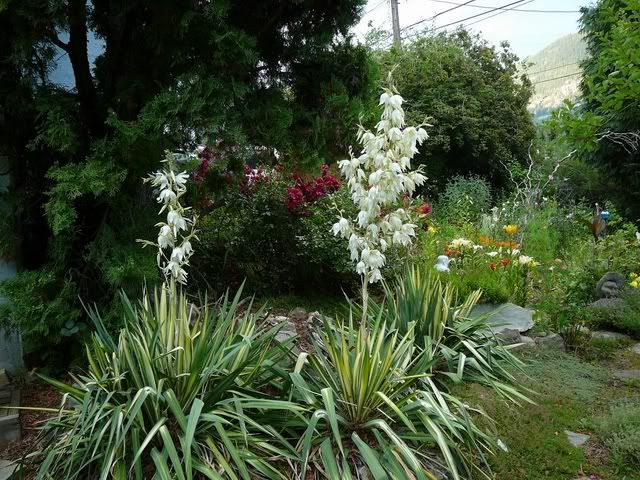 And YES finally spring is coming to the Kootenays
KOOT
(not the old, either) Libby zone 5
Cares melt when you kneel in your garden.
Posts: 330
Joined: Nov 14, 2006 12:40 pm
Location: The Kootenays in B.C.
---
Hard to believe the Soup is coming to an end. I've enjoyed contributing and looking at others' contributions. Very sparse pickings for the final entry for me...
Yellow Rose my daughter presented to me during her Grade 8 grad ceremony
Yarrow (this isn't allowed to go rampant in the garden, so it doesn't have that lovely "mass planting effect"
Posts: 1917
Joined: Apr 22, 2007 10:26 pm
Location: Saskatoon, SK
---
My Yarrow doesn't like it where it is and it can darn well get used to it...so no pic of it.

Instead, a cheerful Zinnia in a nice hot summery pink!

And TA to Kelly and Eeyore for a great job done!
Cordy's Mum, Liz
Rain Coast, BC Zone 7b/8a

Nae words, nae quarrel
Posts: 5587
Joined: Nov 14, 2006 2:17 pm
Location: Wet Coast, BC Zone 7b, 8a.
---
Wonderful soup this year. . .
Zinnias - all grown from seed - like trying different varieties every Year. This year it is Zinnia "Envy". A green zinnia, and Zinnia Cotton Candy. from Park's Seeds.
"Life is like an onion - You peel off one layer at a time, and sometimes you weep."-Sandberg-
Posts: 259
Joined: Nov 17, 2006 2:58 pm
Location: S. Ontario-Niagara
---
You guys are going to get sick of Zinnias.
Posts: 1381
Joined: Nov 14, 2006 10:24 pm
Location: Brantford Ontario
---
And this one because I call it my Ugly Stump.
Pansy
Zone 5 B
Posts: 1381
Joined: Nov 14, 2006 10:24 pm
Location: Brantford Ontario
---
LOL! Your Ugly Stump is very amusing Pansy!
Lyn
AB, Zone 3A
----------------------------------
"Those who say it can't be done are usually interrupted by others doing it." ` James Arthur Baldwin"
Posts: 11182
Joined: Nov 14, 2006 10:47 pm
Location: AB, Zone 3A
---
The ugly stump looks quite at home there and I would never get sick of zinnias. I like yours and all the others. Wouldn't it be great if they were all combined.
Posts: 1517
Joined: Nov 14, 2006 5:18 pm
---
---
Who is online
Users browsing this forum: No registered users and 14 guests