Garden Gallery - Gardening Forums
Pink Double Delight Coneflower $1495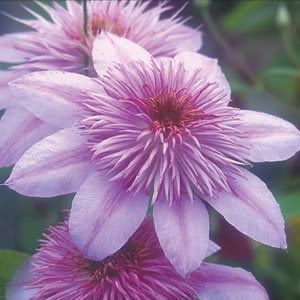 Empress clematis $11.95
Posts: 403
Joined: Jan 12, 2008 11:39 am
---
That's a great looking Coneflower.
I see that a few o/l shippers have that double variety for as much as $18.00. And even at that price it's listed as being 'out of stock'.
Hmmmmm.
That's one of those where I would be content to be the
second
on my block with some.
Adopt the pace of nature, her secret is patience.
.....Ralph Waldo Emmerson....

Frank . . ON5a
Posts: 886
Joined: Nov 14, 2008 11:29 am
---
That is one nice double coneflower. Others may disagree, but I think a lot of the newer doubles just look freakish.
That one looks balanced.
An afteroon walk may be in order.
---
Give me library, or give me Death!
Posts: 691
Joined: May 25, 2008 8:36 am
Location: Toronto, ON 6a-b
---
Some mailorder companys are asking $21.95 plus shipping for the clematis.
Bill
Posts: 403
Joined: Jan 12, 2008 11:39 am
---
Hi Bill, nice to see you again!

Beautiful coneflower and a lovely clematis too! I think I'll have to see what Sobey's is offering.
Lyn
AB, Zone 3A
----------------------------------
"Those who say it can't be done are usually interrupted by others doing it." ` James Arthur Baldwin"
Posts: 11182
Joined: Nov 14, 2006 10:47 pm
Location: AB, Zone 3A
---
I've seen that clematis for $15.00.

It is a beauty.
Posts: 213
Joined: Nov 15, 2006 7:29 am
Location: Brampton, Ontario
---
That double coneflower is gorgeous! I am going to have to go try and pick one up for myself!
-- Shannon & her pug Isis
www.shannonbeaton.info
Posts: 83
Joined: Oct 18, 2007 7:31 pm
---
Fabulouso...
Posts: 1101
Joined: Mar 11, 2008 6:51 pm
Location: Red Deer Alberta,3A ZONE
---
wow, I'm so going for some of those Empress Clematis, I've been wanting to grow them for some time now. Looks like now is it...thanks for the info
Today I will view the world in a different light
Posts: 3
Joined: May 27, 2009 8:45 am
---
---
Who is online
Users browsing this forum: No registered users and 2 guests