Garden Gallery - Gardening Forums
The rhododendron flowers are coming into bloom fast and furious.
It is a daily job to see if we can figure out "who's who".
We are also discovering "who" has had winter damage to the flower buds. That is often difficult to judge until actual bloom time.
One very pleasant surprise came with a ten year old plant, that we cannot recall having noticed before.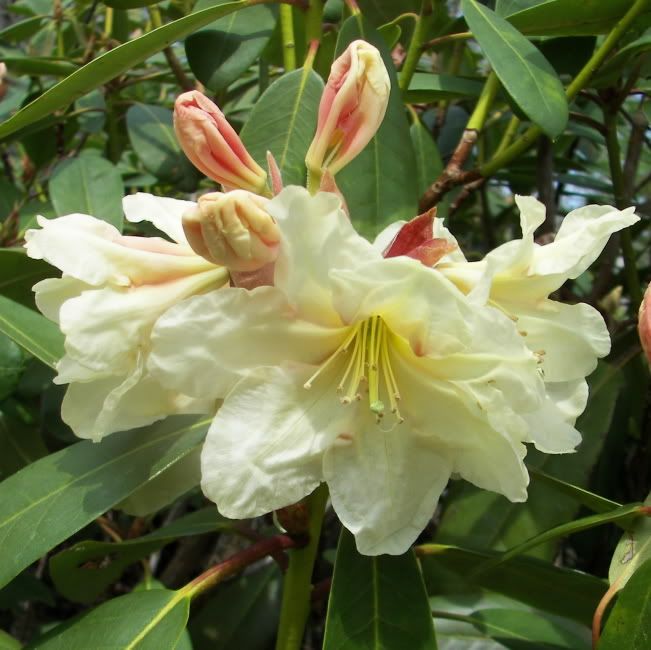 While we are on a peachy theme....there are a couple of "Cat's Pajama's" crosses that are quite pretty. One is quite "doubly".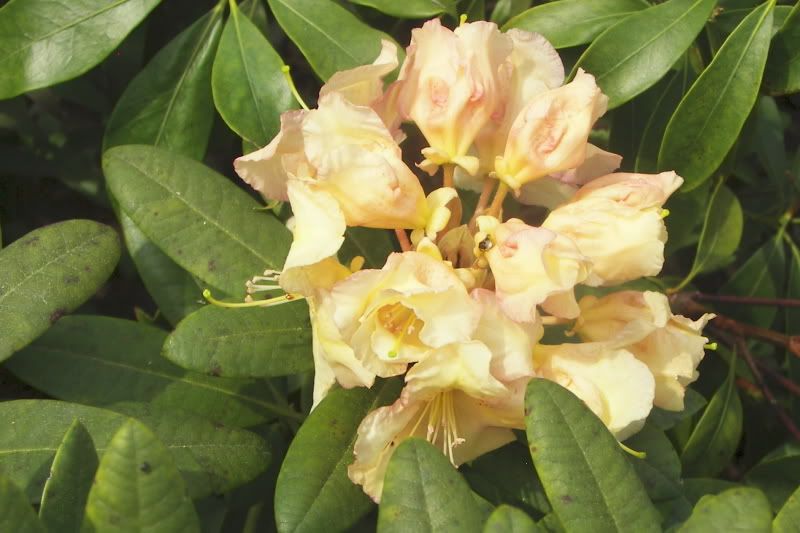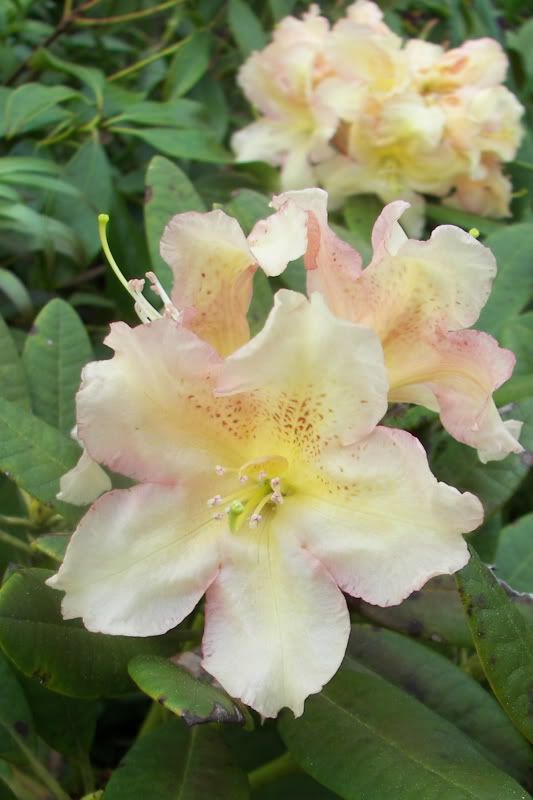 We have a series of yellow blooming rhodies from the same cross, the first of which has opened in the last day or two. It is a very pale yellow. Some of its later siblings are a bit brighter.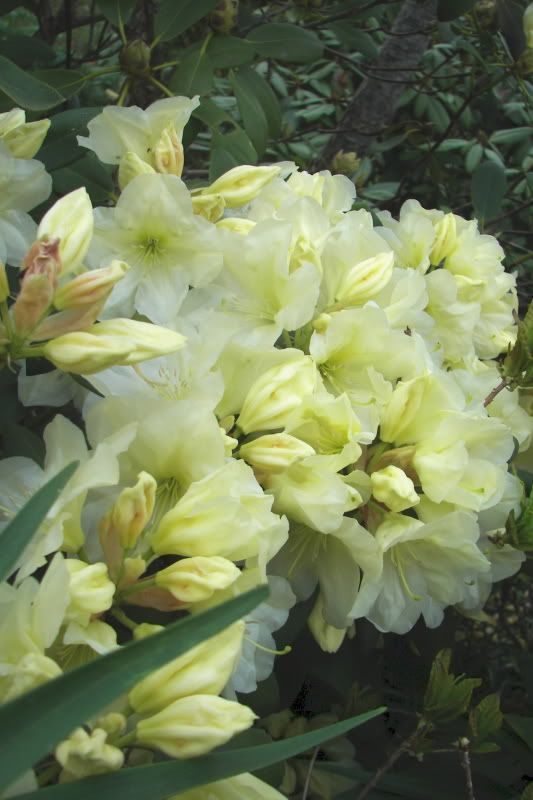 Surprises are the order of the "day" ( or month!). This plant has been with us since 1995, and I think this may be the first year it has had significant bloom.
It is a pale greenish-yellow with just a touch of burgundy in the throat.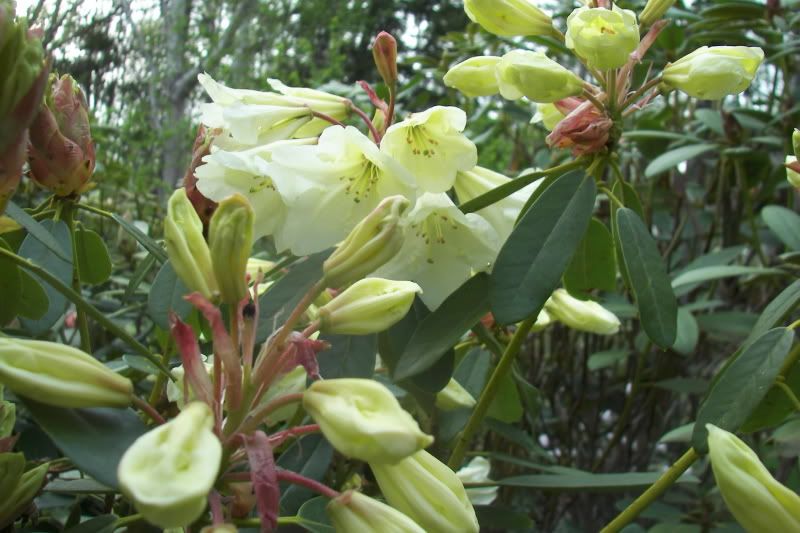 Another '95 vintage plant is this "candy-stripe" one. We have had it cloned. so have both the "mother" and a copy.


There are lots of other pinkish red blooms as well.
The "yak" hybrids bloom early, and most start with wonderful color in the bud stage.....most will fade to almost white as they age.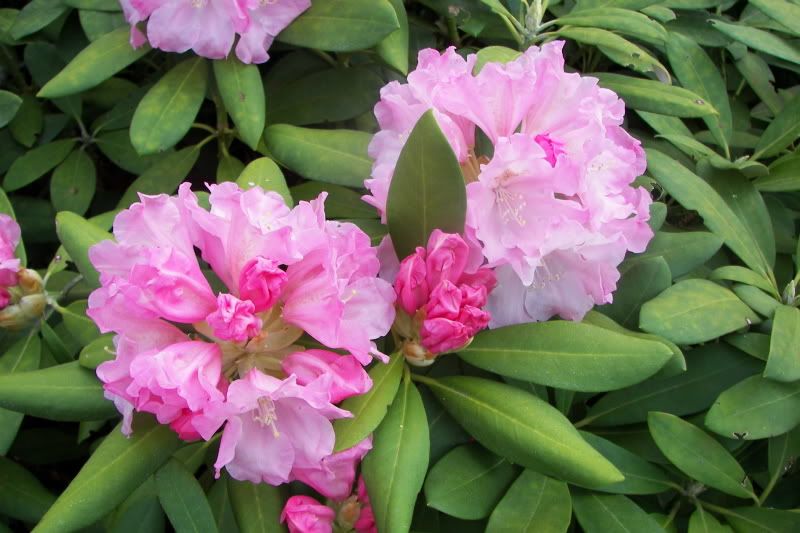 One of my favourites is a Henry's Red x pachysanthum cross....this plant is early and has quite nice color, and interesting foliage(from the father!)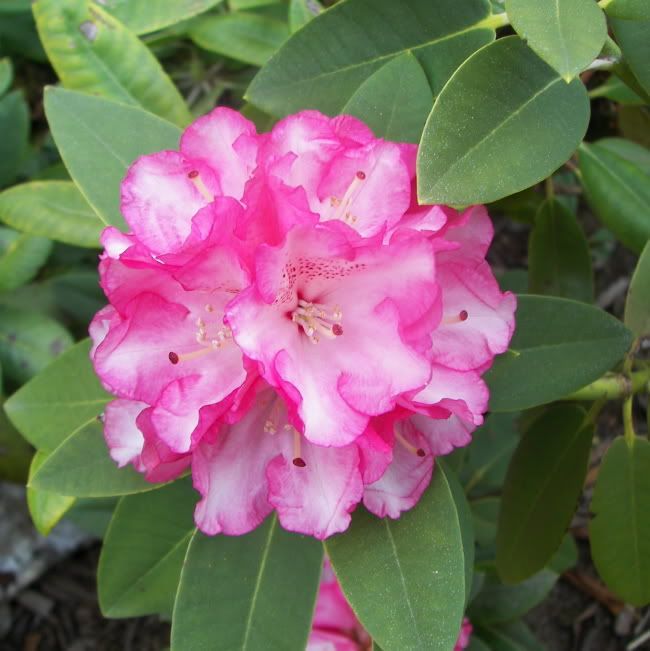 Another "pink" with a picotee effect. The bloom is very similar to the one above, but they come from very different crosses.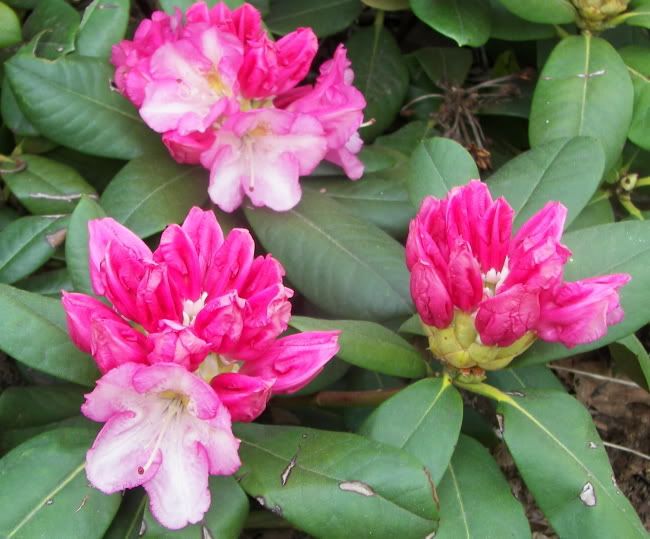 Guess that gets us going!

Posts: 1180
Joined: Nov 15, 2006 9:42 am
Location: Antigonish NS zone5b
---
Wow, those are gorgeous!!
-- Shannon & her pug Isis
www.shannonbeaton.info
Posts: 83
Joined: Oct 18, 2007 7:31 pm
---
WOW!!!!! beauties Sharon
""Life isn't about waiting for the storm to pass. It's about learning to dance in the rain."
Smitty BBS
Posts: 5299
Joined: Jun 11, 2008 2:07 pm
Location: manitoba zone3
---
Very, very impressive, and beautiful, as usual, Sharon! Soft spot for rhodies here!

Your knowledge of all things "gardening" has always been enjoyed and admired, but, that you are able to provide a particular plant's lineage, just boggles my mind!

I can't even keep the tags strait!
Posts: 2289
Joined: Nov 16, 2008 8:13 pm
---
They are as lovely as always Sharon. If I diodn't have so much to do, I would be on your dooorstep today for a first hand look.
Betty
"The most serious gardening I do would seem very strange to an onlooker, for it involves hours of walking round in circles, apparently doing nothing." --Helen Dillon
Posts: 1989
Joined: Jul 31, 2008 9:14 pm
Location: Zone 5A Nova Scotia
---
Hi Folks:

Betty: There is bound to be a day when you have very little to do!

Lulu: Keeping things straight has its challenges....we only do a "marginal" job. We only hope when a plant takes our attention, there is still a tag in the ground or on the plant. They seem to get misplaced regardless.

This is the Japanese Royal Azalea...Rhododendron schlippenbachii. The many deciduous azaleas are just starting.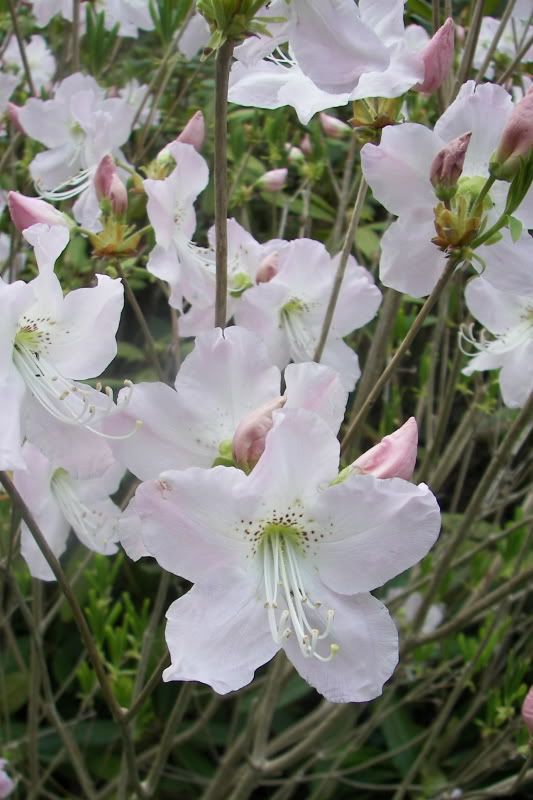 Posts: 1180
Joined: Nov 15, 2006 9:42 am
Location: Antigonish NS zone5b
---
Absolutely beautiful.I just bought a pjm rhodo and I am sure looking forward to the blooms next year.At least i hope anyways that it will make it.
Posts: 1101
Joined: Mar 11, 2008 6:51 pm
Location: Red Deer Alberta,3A ZONE
---
Beautiful Sharon! You've got some really nice crosses there.
Off the many, many seeds you sent me a few years back I have 3 surviving plants. All
Macronulatum
. I have recently moved them to an area that gets more sunlight. They are quite small yet and no flower buds. 2 have green leaves and one has red. I am quite anxious to see what they produce but it may be a couple of years yet.
Lyn
AB, Zone 3A
----------------------------------
"Those who say it can't be done are usually interrupted by others doing it." ` James Arthur Baldwin"
Posts: 11182
Joined: Nov 14, 2006 10:47 pm
Location: AB, Zone 3A
---
Rhodie envy here!! Absolutely gorgeous Sharon. I'd love to see the whole impact that you see! I used to try and amend my soil to grow them but didn't have much luck. Always lackluster. Those colours would just be breathtaking. How many plants do you have on your property if you don't mind me asking?
Alicia
Posts: 190
Joined: Jul 02, 2007 8:43 pm
Location: Just NE of London, ON zone 5b
---
How many plants do you have on your property if you don't mind me asking?
Hi Alicia: I'm afraid we cannot venture a guess as to how many rhodies we have.....too many! ..........Hundreds, but I don't know how many hundreds.
They represent the good, the bad and the ugly.
Many should have been relegated to the compost pile long ago.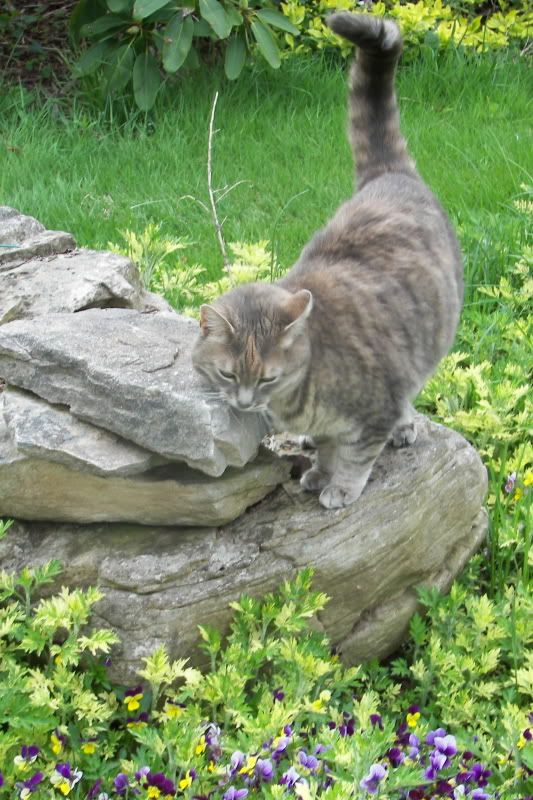 Posts: 1180
Joined: Nov 15, 2006 9:42 am
Location: Antigonish NS zone5b
---
---
Who is online
Users browsing this forum: No registered users and 4 guests