Garden Gallery - Gardening Forums
OMG I was so excited when I went to water my tomatoes, of which I had a nice bunch. But it's bloomed and it's HUGE, and such a deep red. These pics don't do it justice. There's a ton of buds, so I hope the frost holds off long enough to really enjoy it. Normally I get blooms starting mid August. So this is crazy late.
Yes that's my Dinner plate.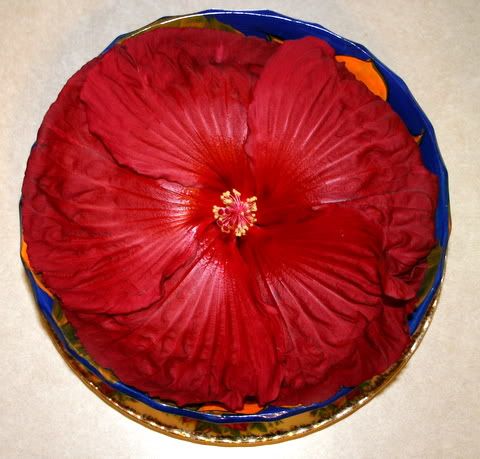 I guess I need a bigger bowl ahhahah.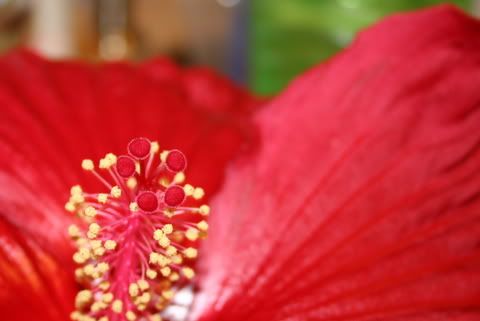 I thought the lil red dots on the top were pretty cute.
Posts: 1689
Joined: Apr 25, 2007 2:35 pm
Location: GTA, Zone 5
---
OMG! Gawjus bloom and gawjus colour!
~BBQ
Zone 5b
South/Central Ontario

Every day may not be good, but there's something good in every day
~ Author Unknown
Posts: 6853
Joined: Nov 14, 2006 1:59 pm
Location: Bay of Quinte, SE Ontario Zone 5a/b
---
Whoops wrong category. hahaha
I was going for over the garden fence. Can someone move this??

Ven
Posts: 1689
Joined: Apr 25, 2007 2:35 pm
Location: GTA, Zone 5
---
I'm actually gonna move it to Garden Gallery Ven. It's GAWJUS!
Lyn
AB, Zone 3A
----------------------------------
"Those who say it can't be done are usually interrupted by others doing it." ` James Arthur Baldwin"
Posts: 11182
Joined: Nov 14, 2006 10:47 pm
Location: AB, Zone 3A
---
love it ,are hibiscus perennials
Posts: 529
Joined: Jul 17, 2009 9:29 pm
---
What a beautiful flower,truley amazing.
Posts: 1101
Joined: Mar 11, 2008 6:51 pm
Location: Red Deer Alberta,3A ZONE
---
cathy morey wrote:love it ,are hibiscus perennials
This one is. It's called a hardy Hibiscus. You usuaaly have to buy them at a nursery. Not at Rona or Walmart. They usually carry tropical hibiscus, great for summer or indoor plants.
Tropical---Small shiny leaves, 2-4" blooms, can have double bud (ruffle), pastel colors
Hardy-- Large dull eaves, 6-8" dinnerplate blooms, no doubles (flat blooms only), they come in white, pink, & red.
They're amazing plants.
Ven
Posts: 1689
Joined: Apr 25, 2007 2:35 pm
Location: GTA, Zone 5
---
SPECTACULAR !!!
Posts: 5175
Joined: Aug 02, 2008 1:29 pm
---
You are so lucky. I have been out in the yard everyday looking at my blossoms and they don't appear to get any bigger. They better hurry or the frost will get them.
A house without a garden is not a home.
Posts: 93
Joined: Jul 04, 2008 3:21 pm
Location: Raynardton, NS Zone 6A
---
A nice plateful Ven.

Here's a relative.
Click for larger picture.
Who is going to be moved inwards next spring. This is it's 3rd summer.
Posts: 1517
Joined: Nov 14, 2006 5:18 pm
---
---
Who is online
Users browsing this forum: No registered users and 8 guests