Garden Gallery - Gardening Forums
Well folks it's Time!! for Terrific Tantalizing T's
Tiger Lily
Tiny Todd Border Lily
Rose Topaz Jewel
""Life isn't about waiting for the storm to pass. It's about learning to dance in the rain."
Smitty BBS
Posts: 5299
Joined: Jun 11, 2008 2:07 pm
Location: manitoba zone3
---
How about some Tulips for the soup
Posts: 1407
Joined: Aug 26, 2008 7:48 pm
---
Wow! I REALLY need more tulips (and other spring bulbs). Gorgeous Collection Dan.

Tiny Todd is too cute Smitty, and love the very faint pink blush in that rose too.
Lyn
AB, Zone 3A
----------------------------------
"Those who say it can't be done are usually interrupted by others doing it." ` James Arthur Baldwin"
Posts: 11182
Joined: Nov 14, 2006 10:47 pm
Location: AB, Zone 3A
---
Wow Dan, Impressive collection of tulips! I only have a few, but these two come back reliably every year and I'm always happy to see them. Touch of Class is young but I'm hoping it will continue to improve. Nice T's Smitty. Tiny Todd is a sweetie. I love that yellow rose.




Marie
Zone 1b, Northern MB
One of the most delightful things about a garden is the anticipation it provides. ~W.E. Johns, The Passing Show
Posts: 707
Joined: Aug 12, 2007 10:53 pm
Location: Zone 1b, Northern MB
---
Posts: 545
Joined: Feb 16, 2008 8:06 am
Location: zone 5 Nova Scotia
---
My Tulips are finally peeking through
Posts: 58
Joined: Mar 18, 2011 1:42 pm
Location: Calgary, Alberta
---
Smitty...way to start us off...lilies and roses are two of my favs!

Dan...I really don't think you have enough Tulips!...oh right, I meant I don't have enough. Lovely selection.

Puff...looks like you are a hosta lover...another fav here.

Reenb...Thyme is such a nice ground cover.

Both of my additions were new to the garden last year.
"Better to be a silly girl with a flower, than a silly boy with a horse and a stick."
Jocelyn, a character from
A Knight's Tale
Posts: 1432
Joined: Jan 28, 2008 3:00 am
Location: AB, zone 3b/4a
---
I wouldn't mind tiptoeing through the tulips shown here. I keep adding to mine and maybe in another few years I can say - enough!
My T's:
Tamarix ramosissima 'summer glow'
Toad Lily
and
Thistle 'scotch'
not a thing of beauty in the garden except to the bees.
Betty
"The most serious gardening I do would seem very strange to an onlooker, for it involves hours of walking round in circles, apparently doing nothing." --Helen Dillon
Posts: 1989
Joined: Jul 31, 2008 9:14 pm
Location: Zone 5A Nova Scotia
---

Our most obvious T would be Tulips.........It is hard to pick a favourite, but Spring Green might qualify, they are quite perennial, elegant, and I plant more each year.(Click for larger image)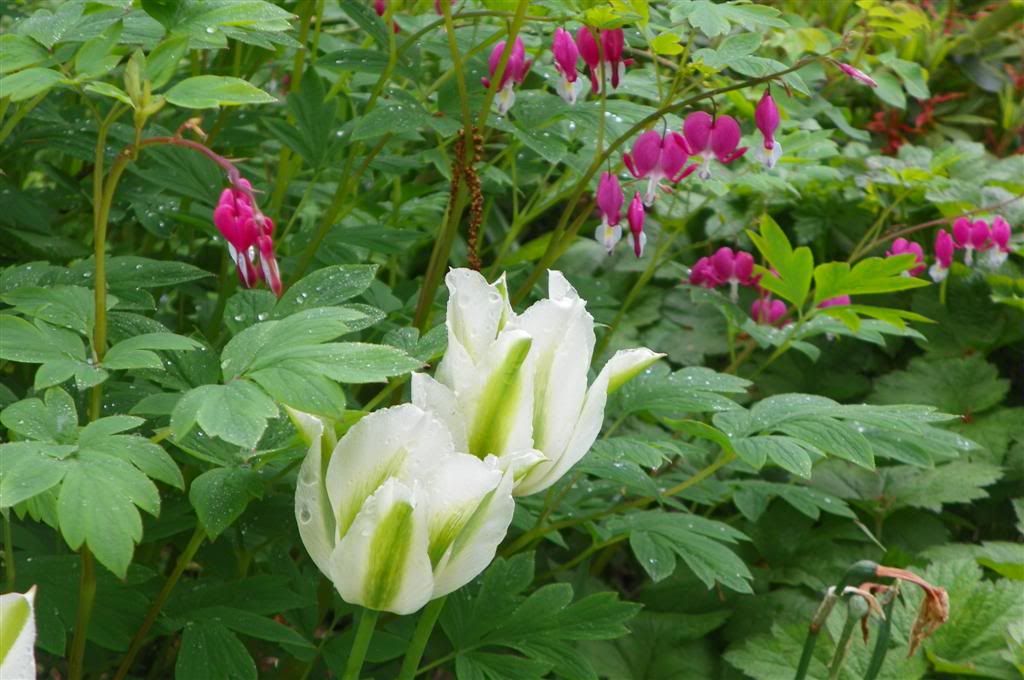 Click for a few more examples from last year.


Tomatoes would qualify a a T.....

We have one little group of Trillium, this pic was taken when they were past their prime.



Posts: 1180
Joined: Nov 15, 2006 9:42 am
Location: Antigonish NS zone5b
---
NICE Ts...Scraps, love your Tiny (something) just what I need

And, I am very fond of toad lilies too.

My Ts...Tango lilies, Tradescantia, and THE Banana Plantation.


Attachments

Tradescantia.jpg (44.99 KiB) Viewed 2974 times
Cordy's Mum, Liz
Rain Coast, BC Zone 7b/8a

Nae words, nae quarrel
Posts: 5587
Joined: Nov 14, 2006 2:17 pm
Location: Wet Coast, BC Zone 7b, 8a.
---
---
Who is online
Users browsing this forum: No registered users and 5 guests