Garden Projects and Ideas - Gardening Forums
---
K, you GO girl!!!



I'm so glad you took the "before" pic as that is going to be some kind of fabulous transformation and I will check back to see the progress! When you set your mind to something there is no stopping you is there!

It is going to look AWESOME and just think of all the birds and butterflies that will visit you as sit back on a late summer afternoon and admire your view from your patio chair!

I'm heading up to my sis' next week to check out the progress of her "dealing with a REALLY big fence" and ripping up her whole front lawn to turn it into gardens...should be interesting to see the progress there too!
Posts: 1956
Joined: Nov 14, 2006 12:07 pm
---
I was thinking about your sister's really big fence and wondering how things were going with that.

Looking forward to progress reports and photos!
Lyn
AB, Zone 3A
----------------------------------
"Those who say it can't be done are usually interrupted by others doing it." ` James Arthur Baldwin"
Posts: 11182
Joined: Nov 14, 2006 10:47 pm
Location: AB, Zone 3A
---
Thanks BB!!! I can't wait till I can start filling it up!! I am already picturing a Flowering Crab in there!!!
Here is the area completely dug out: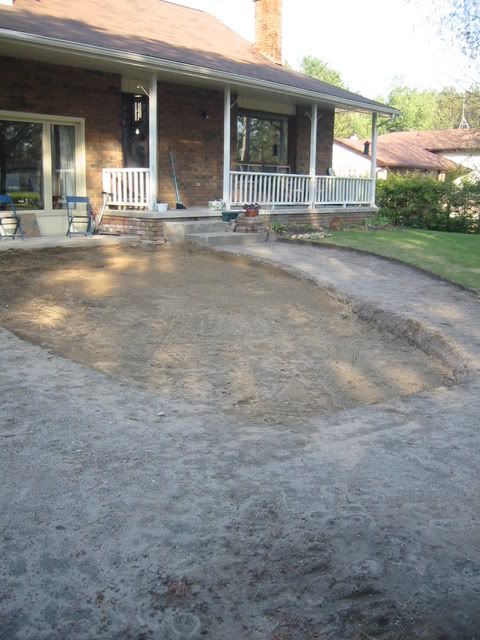 From the porch it doesn't looks big does it???
I've dug it down about 4-ish inches...there is still a skim of sand there and soil under...I'll rake it up to loosen it somewhat before I put in a layer of leaves and then dump in topsoil...which will have to wait till my refund comes!!
Carol...have you got pics????
Kelly
Zone 5a/b
OLD GARDENERS NEVER DIE. THEY JUST SPADE AWAY
Posts: 5905
Joined: Nov 14, 2006 12:14 pm
Location: Smaller town Ontario, Zone 5a/5b
---
---
WOW!! Your project's going great guns, K! What're the dimensions—about 14' X 10'? Hope your community has an "In Blooms" association. If not, start one. Love seeing front yards (and unnecessary driveway) become gardens.

Cars, way da go "helping" your Sis with hers!

MareE;o}

Posts: 3286
Joined: Nov 14, 2006 1:41 pm
Location: Zone 5b GTA ON
---
---
How come the area always looks bigger as your digging, but smaller as your planting. ahhaha

Ven
Posts: 1689
Joined: Apr 25, 2007 2:35 pm
Location: GTA, Zone 5
---
---
Introducing the "Adorable" fanny-pack sized measuring device, ladies. As you can plainly see, it's small enuff to surreptitiously(sp) whip out from back pocket when lady-likeness of racking up footage of other's gardens is a forgone conclusion.

MareE;o} lamenting this model is now classified as "antique"

Attachments

Meauring tools.jpg (16.77 KiB) Viewed 3766 times
Posts: 3286
Joined: Nov 14, 2006 1:41 pm
Location: Zone 5b GTA ON
---
---
Return to Garden Projects and Ideas
Who is online
Users browsing this forum: No registered users and 1 guest