Garden Projects and Ideas - Gardening Forums
I know what you mean Kelly I thought I was off the hook for finishing up the weeding... darn that sun hahah but I did get the beds finished.

Ven
Posts: 1689
Joined: Apr 25, 2007 2:35 pm
Location: GTA, Zone 5
---
Your hard work is going to beautiful once you have planted all your plants. Can't wait for those pictures, I did a big project like this last summer at the end of my laneway still have space for some plants and trying to figure what to finish it with.
Posts: 30
Joined: May 15, 2008 10:01 pm
Location: Rosseau Road/Parry Sound Zone 4
---
---
Ven...we all know how you love those weeds!!LOL
HC....thanks...One more load of dirt and then the fun stuff...sat staring at it for a while today (since it's raining and can't do much!!)
Linda...here's the most recent!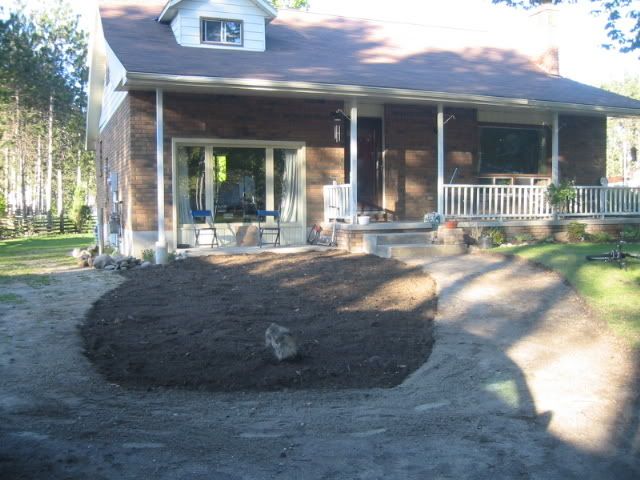 Kelly
Zone 5a/b
OLD GARDENERS NEVER DIE. THEY JUST SPADE AWAY
Posts: 5905
Joined: Nov 14, 2006 12:14 pm
Location: Smaller town Ontario, Zone 5a/5b
---
---
Eventually (aka when my ship comes in!!) I would like to use fieldstone. I am not much of a conformist and much prefer the natural look!!
There will be another one on the left side of that garden to the side door.
Ahhhh...imagine the possibilities!!LOL
K off to check her 6/49 numbers!!
Kelly
Zone 5a/b
OLD GARDENERS NEVER DIE. THEY JUST SPADE AWAY
Posts: 5905
Joined: Nov 14, 2006 12:14 pm
Location: Smaller town Ontario, Zone 5a/5b
---
---
---
---
---
---
Return to Garden Projects and Ideas
Who is online
Users browsing this forum: No registered users and 2 guests