Garden Projects and Ideas - Gardening Forums
Got the first raised bed finished, and am pretty happy with it. Decided the other two needed to be smaller, that is, 3 patio stones long, giving me a 4' x 6' instead of 4' x 8'.

Wow,,sure took a lot of soil and manure to fill this one. Will have to wait till the city starts selling the composted soil, @ $20. a tonne, and hopefully find a sale on the manure, to fill the other two.

Some of the patio stones are grubby, as they've been piled for 7 years, and my outside water is not on yet. Will power wash them, and, either paint them or put that plastic lattice on them, as I have a full 4 x 8 sheet, and a 2 x 8 sheet that I've also been hanging on to for a long time.
If I would have had to buy the stones, I would have preferred the reddish ones, but,,at least I finally found a use for these ones.
Posts: 2289
Joined: Nov 16, 2008 8:13 pm
---
You could stain them. I think it would be better then painting. No chipping, just fading. And it would look more natural. I nice deep reddish wine would look lovely with the green foliage, or the lattice covered in sweetpeas. ahahha

What are you planting in here?????

Ven
Posts: 1689
Joined: Apr 25, 2007 2:35 pm
Location: GTA, Zone 5
---
Lulu:
I see you got the same hardware as I used for my raised planters! (Lee Valley).
When we did ours, 4 years ago, we piled a lot of stuff in the bottom first, rocks, leaves, lots of cardboard, (we'd just moved), and other bits and pieces. I don't think anything grows which needs that much root room!
I also lined the sides with landscape cloth before putting in the soil, so that the soil wouldn't leech out.
I have two, and used 20" x 20" slabs.
~BBQ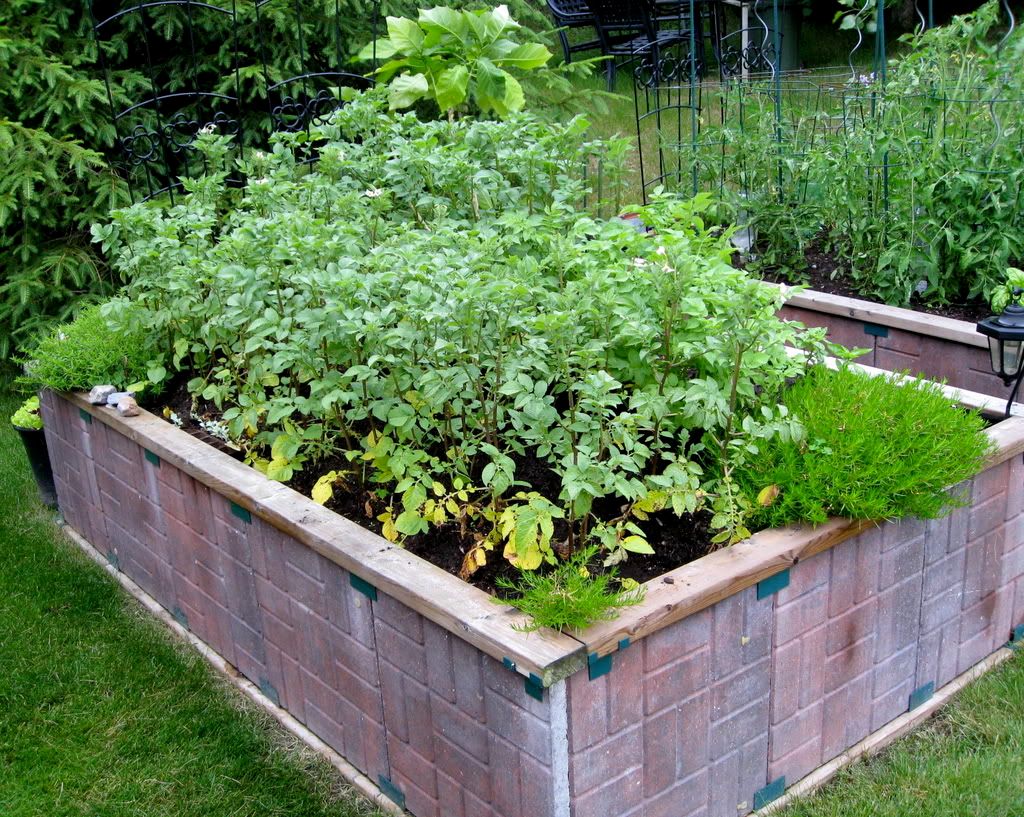 Zone 5b
South/Central Ontario

Every day may not be good, but there's something good in every day
~ Author Unknown
Posts: 6853
Joined: Nov 14, 2006 1:59 pm
Location: Bay of Quinte, SE Ontario Zone 5a/b
---
I've got to show these to hubby. I have just the right place for them, and way to get new patio stones and use my old ones for this ahhahha.

Ven
Posts: 1689
Joined: Apr 25, 2007 2:35 pm
Location: GTA, Zone 5
---
I like that idea. They do look great, both yours Lulu, and Brenda's. They would talke a lot of filling though. But once done, just a top up each year.
Betty
"The most serious gardening I do would seem very strange to an onlooker, for it involves hours of walking round in circles, apparently doing nothing." --Helen Dillon
Posts: 1989
Joined: Jul 31, 2008 9:14 pm
Location: Zone 5A Nova Scotia
---
Ok, here's an update on my raised beds. They performed very well, for their intended purpose, that is, to give me more growing space, to hide my messy/utility areas and to keep me off my knees! Also allowed me to monitor my baby brugs a little closer.
Posts: 2289
Joined: Nov 16, 2008 8:13 pm
---
Very nice raised beds!
Lyn
AB, Zone 3A
----------------------------------
"Those who say it can't be done are usually interrupted by others doing it." ` James Arthur Baldwin"
Posts: 11182
Joined: Nov 14, 2006 10:47 pm
Location: AB, Zone 3A
---
---
Return to Garden Projects and Ideas
Who is online
Users browsing this forum: No registered users and 6 guests