Over the Garden Fence - Gardening Forums
I was sitting in the kitchen watching TV with all this Christmas stuff on the floor. I took a break from decorating
I heard sounds behind the chair sounded like fire crackling
I ran to the basement then looked outside thinking, fire in the house somewhere.
Came back in and heard it again.
Couldn't find anything or smell smoke. I sat back down with both ears alert. Then heard it again
Was Gibbons in the plastic bag sleeping. SCared me to death.
It was the plastic making rhe noise along with his help
Wooooo!!!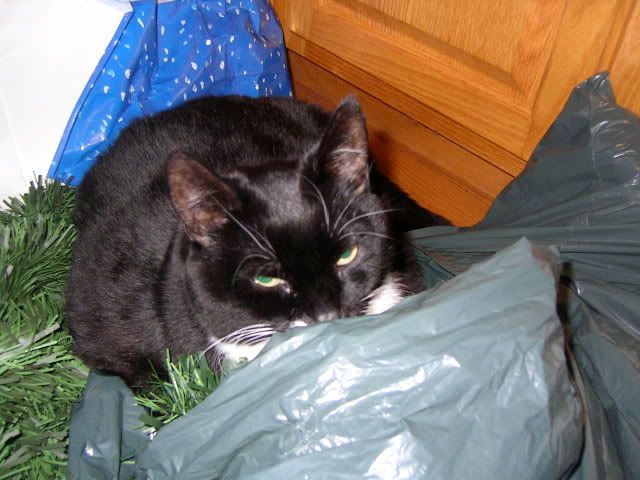 Cheers Butterfly




Having a place to go - is a home. Having someone to love - is a family.
Having both - is a blessing."--Donna Hedges
Posts: 3234
Joined: Nov 15, 2006 1:44 pm
Location: Nova Scotia Zone 5b Butterfly
---
Ah !! peeking to see what's for christmas.
Posts: 5175
Joined: Aug 02, 2008 1:29 pm
---
Gotta love that picture.
Gibbons has a decidedly sheepish look on his face. I think he knows he's scared you half to death.
'If at first you don't succeed, try, try again. Then quit. There's no use being a damn fool about it.'
W.C. Fields
Posts: 413
Joined: Sep 19, 2007 4:21 pm
Location: Peterborough, ON Zone 5B
---
Hmmm This spot looks comfy.
Would you share with a good pal?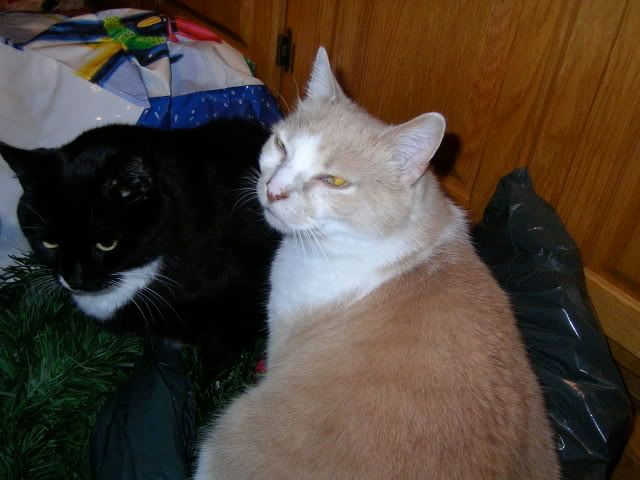 OH thanks, my brother Mickey wants to join too
Aaaah sssooo comfy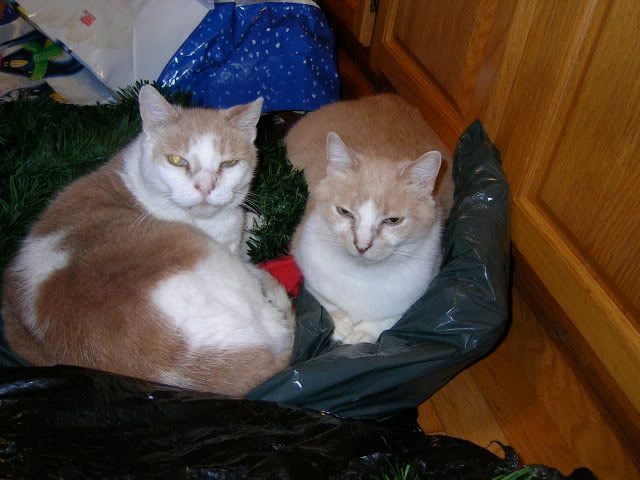 Cheers Butterfly




Having a place to go - is a home. Having someone to love - is a family.
Having both - is a blessing."--Donna Hedges
Posts: 3234
Joined: Nov 15, 2006 1:44 pm
Location: Nova Scotia Zone 5b Butterfly
---
I lost Percy, the cat I fought so hard to adopt and take away from that nasty neighbour who abused him

He hardly went out at all but yesterday he begged and begged to go out

I have 2 strays arounf ssince a couple of weeks

I can' find him anywhhere.

I have been up since 5 am I thought I heard a cat crying out side last nite and early this am
I got up but no cat
I looked for him most of the day calling an calling and looked or him lat nite till about 2 am outside callinf an drivin up and down the road

I am sick. I ddon't know if he got hit by a car, no sign of him, or did someoen take him or did he go to another house.

I c alled all my neighbours today, no one saw him

he looks like Nickey the cat on the right layin down. yellow and white same facial markings

I put him on lost and found on thw radio and called th SPCA

I am not feeling very good about this. I am really upset and crying.

he never left home since I got him almost 2 years ago or is it over 2 years now
Cheers Butterfly




Having a place to go - is a home. Having someone to love - is a family.
Having both - is a blessing."--Donna Hedges
Posts: 3234
Joined: Nov 15, 2006 1:44 pm
Location: Nova Scotia Zone 5b Butterfly
---
---
Return to Over the Garden Fence
Who is online
Users browsing this forum: No registered users and 6 guests