Over the Garden Fence - Gardening Forums
Myrt has made some Christmas ornaments that can be used on a coffee table or hung on the tree. They are mice carolers. She made them last year but did not have time this year to make more.
Lee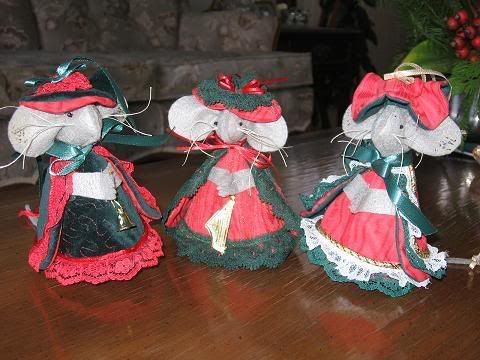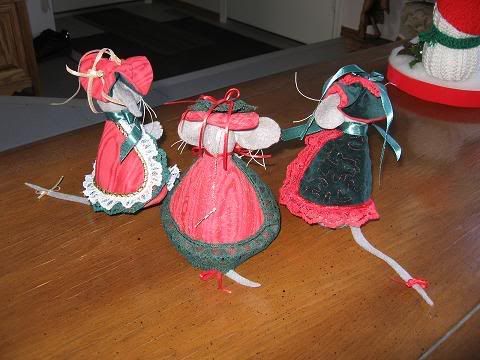 Posts: 1015
Joined: Nov 15, 2006 7:41 pm
---
Ohhhh, those are

CUTE!

!!!!!
Posts: 540
Joined: Sep 19, 2007 8:31 pm
Location: Belleville, ON, Canada
---
LEE

They are adorable. 2 crafty people. Very nice
Cheers Butterfly




Having a place to go - is a home. Having someone to love - is a family.
Having both - is a blessing."--Donna Hedges
Posts: 3234
Joined: Nov 15, 2006 1:44 pm
Location: Nova Scotia Zone 5b Butterfly
---
Those are the cutest things! Very close sewing and quite imaginative. Love the ribbons on the tails! Those would sell like hotcakes in a Christmas Craft Fair here in B.C., for sure.

kat
Posts: 3046
Joined: Nov 14, 2006 4:25 pm
Location: 5b BC
---
Now those are sweet. Did she use a pattern or just made them out of her head? Very appealing.
Betty
"The most serious gardening I do would seem very strange to an onlooker, for it involves hours of walking round in circles, apparently doing nothing." --Helen Dillon
Posts: 1989
Joined: Jul 31, 2008 9:14 pm
Location: Zone 5A Nova Scotia
---
Awww! They're too sweet!
Market Gardening - Just another day at the plant

.
Posts: 3026
Joined: Nov 14, 2006 5:17 pm
Location: Ontario, 6a
---
Are they not the sweetest, dearest wee creatures. I love them Lee ...

so unusual and so creative you both are. Simply darling those

wee mice.

bw
If dandelions were hard to grow, they would be most welcome on any lawn. ~Andrew Mason
Posts: 2662
Joined: Nov 14, 2006 2:10 pm
Location: 5b Ontario
---
Awww! they are so sweet.
KOOT
(not the old, either) Libby zone 5
Cares melt when you kneel in your garden.
Posts: 331
Joined: Nov 14, 2006 12:40 pm
Location: The Kootenays in B.C.
---
Daughter has 2 made by her grandmother. They have sand filled 1 litre pop bottle bodies. Are these the same Lee?
Lyn
AB, Zone 3A
----------------------------------
"Those who say it can't be done are usually interrupted by others doing it." ` James Arthur Baldwin"
Posts: 11182
Joined: Nov 14, 2006 10:47 pm
Location: AB, Zone 3A
---
Lyn:

Nope...these meeces are about 5" overall height with bodies of felt with a seam running up the front & back & stuffed with quilt backing making them light enough to hang on a tree yet still stable enough for standing on a coffee table. I believe she found a pattern for cutting the felt to shape the body & head many years ago in a quilting book she found in a secondhand bookstore. Of course, she dresses them according to what she has on hand hence the hats are different as are the lace & stuff on the bodies.

Lee
Posts: 1015
Joined: Nov 15, 2006 7:41 pm
---
---
Return to Over the Garden Fence
Who is online
Users browsing this forum: No registered users and 8 guests