Container Gardening - Gardening Forums
My mom gardens also, but she's moving - so her beds are in transition. I thought for mother's day I'd do her up a couple of containers that she can enjoy at the lake until she gets her flower beds made.
I've never come into this part of the forum before, so I thought I'd share my "first attempt" at container gardening with you. I think I did pretty well for a first timer! I almost wanted to keep them for myself
. They should be gorgeous when the black-eyed susan vine fills out on the trellis.
I think I will do a couple of containers next year. I had a blast picking the plants and arranging them. Thanks guys...just wanted to share my effort and new enthusiasm for container gardening.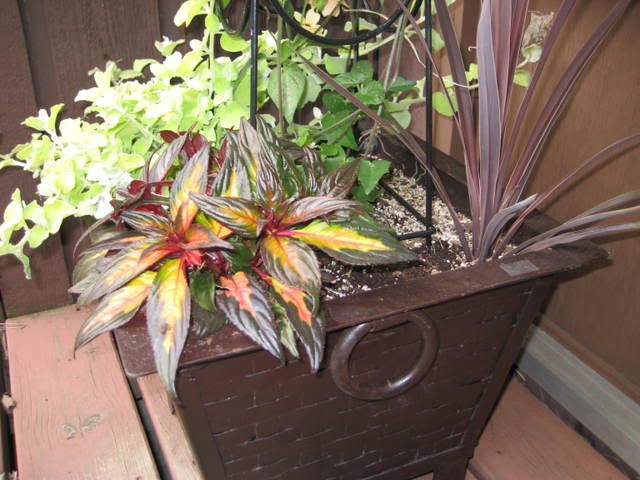 Melroche
You must be the change you wish to see in the world. by Mahatma Gandhi.
Posts: 148
Joined: Jun 12, 2007 1:27 pm
Location: Hampton, NB (Zone 5a)
---
---
Very pretty! And they'll look even better when the black-eyed susans come into bloom. I'm sure your mom will be very pleased. Excellent job.
Do you mind telling me what the other plants are? I probably should recognize them - but I'm not sure).
Posts: 413
Joined: Sep 19, 2007 4:21 pm
Location: Peterborough, ON Zone 5B
---
Oh Mel those are beautiful....even if they stayed like that they are perfect!!! Are the reddish variegated ones new guinea impatiens??? If so...which ones because that foliage is very unique....and I WANT IT!!!
Kelly
Zone 5a/b
OLD GARDENERS NEVER DIE. THEY JUST SPADE AWAY
Posts: 5905
Joined: Nov 14, 2006 12:14 pm
Location: Smaller town Ontario, Zone 5a/5b
---
---
Thanks so much guys!!!! The tall vine in the middle is a black-eyed susan vine (the flowers on it are a peach melba colour - it's different than the normal vaiety...which is also gorgeous!). The tall purple grass...I cannot recall the name of. The beautiful green plant, I was drawn to for it's colour (very lime) and it's texture (soft like lams ear) - do not know it's name. The other is a new guinea impatiens - the flower on it is also a peach colour. It was really fun. I will be trying my hand at it again.

Mel
You must be the change you wish to see in the world. by Mahatma Gandhi.
Posts: 148
Joined: Jun 12, 2007 1:27 pm
Location: Hampton, NB (Zone 5a)
---
---
---
Who is online
Users browsing this forum: No registered users and 4 guests