Container Gardening - Gardening Forums
Hi everyone,

This site is so informative and Canadian!!! As you can see in the subject I'm new to gardening. I live in a condo and want to start a tomato and bok choy garden. Since i live in a condo i want to grow them in a container. What do i need to start my garden (ie: soil, fertilizer, tools). What size container should i use? And how big? Any do's and don'ts? Thank you.
Posts: 3
Joined: May 21, 2009 11:31 am
---
For either plant u will need at least 5 hours of direct sun every day.
The Tomatos will probably grow in 5 gallon containers or pots. Make sure they have holes for drainage and fill them with potting soil . . . in bags from a hardware store or in bulk from a garden centre.
Fertilizer? I use Miracle Grow. If I was growing in containers? . . . probably one with equal numbers of all three nutrients. I say probably 'coz I stand to be corrected on that by anyone who knows for sure. Also, amongst gardeners, fertilizers are a personal choice. We all have our favourites. Whatever u use just follow the directions.
Bok Choy pretty much the same only u could get away with using smaller containers for that.
Best of luck.
Adopt the pace of nature, her secret is patience.
.....Ralph Waldo Emmerson....

Frank . . ON5a
Posts: 886
Joined: Nov 14, 2008 11:29 am
---
CountryBoy has my vote!

I am going to say, feed those tomatoes HALF STRENGTH of dissolved fertilizer (and yes, Miracle Gro is my choice too) EVERY time you water.

I would suggest using bigger than 5 gal pots for toms....they like to put down roots...but, that Topsy Turvy thing gives less than two full feet of soil, and says you can plant 2 plants...I am doing this. The ones I chose are cherry type.

My larger toms are in bigger/deeper pails, 20 gal.

I have not grown bok choy...cannot advise.
Cordy's Mum, Liz
Rain Coast, BC Zone 7b/8a

Nae words, nae quarrel
Posts: 5587
Joined: Nov 14, 2006 2:17 pm
Location: Wet Coast, BC Zone 7b, 8a.
---
Hi,

I've recently read some great things about Epsom salts as being a really good fertilizer.
The magnesium is a vital mineral for seed germination and helps plants to produce chlorophyll. Magnesium also helps plants to absorb phosphorus and nitroge, two major fertilizer components.
I also use Miracle Gro but I've tried sprinkling a small amount of Epsom salt around my tomato plants as well as my herbs and Roses. Application should be done every 4-6 weeks. Dissolve 4 handfulls into a 2 1/2 gallon (10 ltrs) of water. This quantity will drench a 50 square foot plot. Alternatively you can sprinkle around roots and then water.
Posts: 4
Joined: Mar 24, 2009 4:40 pm
---
I use a slow release fertilizer and this is what my containers look like.
Bill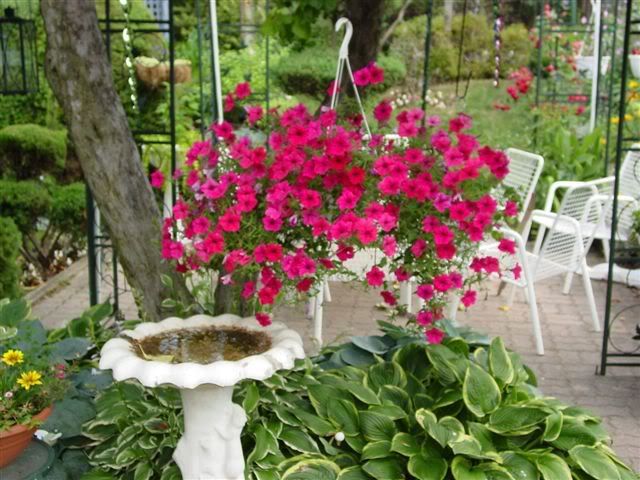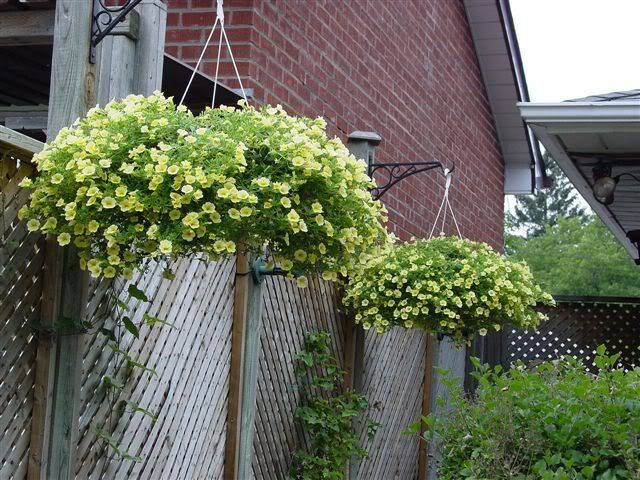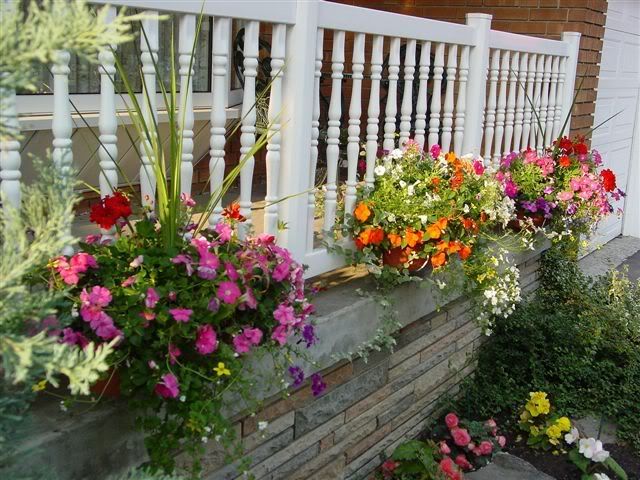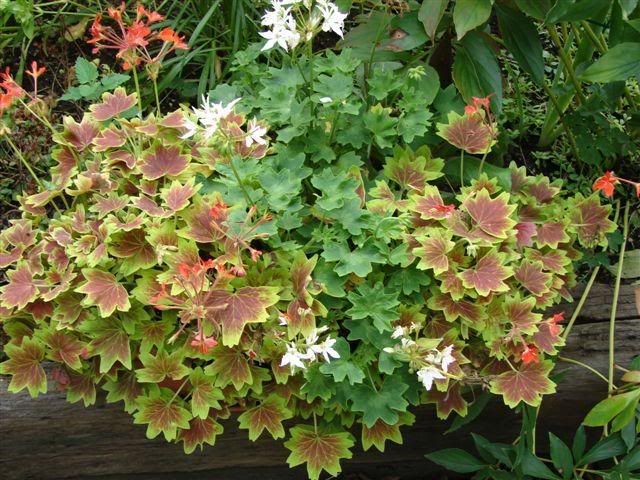 Posts: 403
Joined: Jan 12, 2008 11:39 am
---
oh my!!! those are very nice planters.
glad I stopped here. info for my poor tommytoes and eye candy at the same time.
""Life isn't about waiting for the storm to pass. It's about learning to dance in the rain."
Smitty BBS
Posts: 5299
Joined: Jun 11, 2008 2:07 pm
Location: manitoba zone3
---
Bill! those planters are completely Luscious!
I too swear by Miracle Grow and I don't do containers, but My Partner keeps is pots of tomatoes on the deck. MG has always given him a good yeild. (okay, we all know who really waters etc...)
Don't tell him.
---
Give me library, or give me Death!
Posts: 691
Joined: May 25, 2008 8:36 am
Location: Toronto, ON 6a-b
---
Bil, what is the green to red varigated in the 4th picture? the whole planter looks heat tolerant and I need more plants for my full sun front.
---
Give me library, or give me Death!
Posts: 691
Joined: May 25, 2008 8:36 am
Location: Toronto, ON 6a-b
---
looks like a geranium leaf to me....google variegated geranium . I had no idea they came in colors like that..
""Life isn't about waiting for the storm to pass. It's about learning to dance in the rain."
Smitty BBS
Posts: 5299
Joined: Jun 11, 2008 2:07 pm
Location: manitoba zone3
---
---
Who is online
Users browsing this forum: No registered users and 3 guests