Container Gardening - Gardening Forums
I generally buy plant pots at stores like Value Village, Talize, etc. They are cheap because they are used, and you can find really nice quality pots there (sometimes you just have to sift through the lesser, more worn pots). I also occasionally buy a clay pot at the hardware store. I make sure the pot is good quality and made in either North America or Europe because the ones made in China are of poorer quality and won't last as long (not to mention, you are supporting your own economy by buying pots that were made in the country you live in).
Posts: 19
Joined: Nov 24, 2009 12:57 pm
---
Otnorot- those are gorgeous. Aren't you a creative one!
My question though, is- can they be left outside over winter?

You must be near a lake or the sea, because driftwood is getting harder to find.

Thanks...Marybeth
Posts: 143
Joined: Jan 05, 2007 7:53 pm
---
Wow Bill .. your driftwood containers are gorgeous! No wonder you've sold 1000's! Beautiful.. you've inspired me to go driftwood hunting .. thank you so much for sharing your photos.. Love them!
Posts: 8
Joined: Jul 18, 2009 1:33 pm
---
I have sedum growing in those stone ones, but the driftwood is really outstanding.
Posts: 1432
Joined: Jan 28, 2008 3:00 am
Location: AB, zone 3b/4a
---
Anyways, Did you cut a hole into the rock then?
Posts: 5
Joined: Mar 07, 2010 3:20 am
---
My rocks and driftwood stay in the garden all winter.
I dont make holes in the rocks all you need is an indentation in the stone and if the indentation is on the side of rock then sink rock in soil so's that indentation is on top, fill with soil then plants (hens & chicks or sedums) now wait a year.If there are minute cracks in your rock like I have in my granite the plants roots will grow into them and when you stand your stone up they will hold on like in this photo.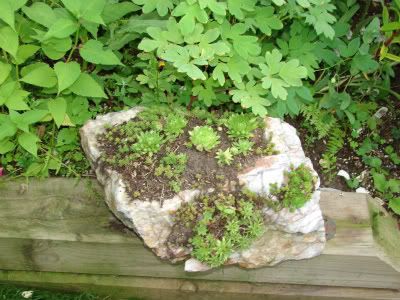 See how they are growing on the side,I started them first then when they were established I planted the top.
Another way I do it =Use silicone to make a small wall then sprinkle like coloured sand/small stones on silicone I use silica sand as it matches the granite,then do as above.
Bill
Posts: 403
Joined: Jan 12, 2008 11:39 am
---
Oh, wow, what a great idea with the old tree stumps! I have two stumps of bushes that I dug out this spring, so instead of throwing them away, I am going to drag them into my rock garden, plant them over with the stonecrop or hens-chicks, and see what happens! Will probably need to cover them for the winter.
Gardening in Calgary, AB, Zone 3, Chinook conditions
Posts: 681
Joined: May 06, 2010 11:08 am
---
I love the driftwood, I'll have to go swimming this year and see what I can find in the lake!

Welcome to the forum! I feel it's okay to post links to sites as long as it's pertinent (I regularly do it when I find interesting plants on websites that others would be interested in). I actually enjoyed checking out that site, it just made me want to do my own hypertufa even more, but now you've got me hooked on the idea of planting in holes in driftwood (thanks for the inspiration!).
Calvin
Creighton, SK - Zone 1b, but don't tell the Delphiniums. Zone 4 for them.
Posts: 312
Joined: Apr 07, 2010 12:43 am
---
---
Who is online
Users browsing this forum: No registered users and 6 guests