Container Gardening - Gardening Forums
I seldom read this forum, though I have no idea why, as we do have a few containers on our deck here. I guess I was looking for new ideas, and boy did I come to the right place, or what?!
Earwig, I love the low containers with the succulents! The shovel blade is a neat idea too. I was wondering how long the hypertufa containers last?
Brian
Posts: 95
Joined: Dec 07, 2008 8:41 am
---
It looks like just abt anything will do as a container, eh? lol
But the vital thing abt containers has been mentioned a couple of times . . . drainage. When I first made my concrete planters I had no hole in the bottom. That was just great in a couple of dry Summers. But when the wet one came??? . . . it was impossible *almost* to deal with!
I drilled some holes pretty quick. Sometimes it's a pain to keep up with the watering. But much easier than trying to drain 40 lb planters!
lol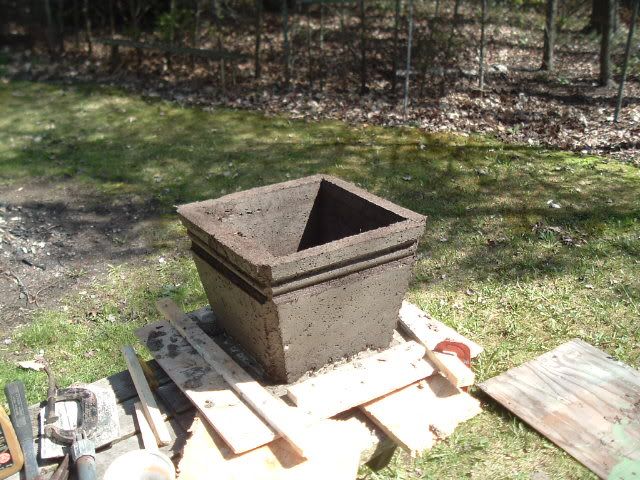 I didn't have much luck with the hypertufa I tried, Brian. It didn't really harden up much. Got nice and dry . . but fragile.
The mix of filler and cement . . or the dampness of one . . or sumthin' else entirely??? Dunno really. The mix is probably critical.
For me tho? I'm good with wheelbarrows.
Cement works for me. Everytime!
Adopt the pace of nature, her secret is patience.
.....Ralph Waldo Emmerson....

Frank . . ON5a
Posts: 886
Joined: Nov 14, 2008 11:29 am
---
Betty, you are sooo creative. Look forward to seeing more pictures of your containers in the future.

What do you do with the hypertufa troughs during the winter? Just leave them out?

Here are what a few of mine looked like last year





Clyde
You do not have the required permissions to view the files attached to this post.
Montreal Zone 5a/b
Posts: 298
Joined: Feb 12, 2011 6:06 pm
---
Thanks Clyde, you have beautiful containers, it does not look like you need any ideas .
Countryboy wrote:The mix is probably critical.
Oh yes, not only the mixing but the amount of water added. I like to make it close to muffin consistency , not too wet (if you squeeze a handful and water drips out - too wet and if squeezed and it crumbles - too dry) of course I have never actually squeezed a handful of muffin mixture so maybe something else would be a better example, but that type of consistency works for me.
Also it must be allowed to cure covered and untouched for at least 3 days which was my downfall more than once - I wanted to see how it was doing and if it would come off the form easy.
BrianbytheBay wrote:I was wondering how long the hypertufa containers last?
I only started making them 2 years ago but they did well along with the ones I made last year. I store them outside but do try to find a sheltered spot, which is more for the plants than the container. I also know of people that had them for years.
Here is a great site which helped me when I started.
http://www.the-artistic-garden.com/hype
... cipes.html I started with the Basic Hypertufa Recipe A and have graduated to a bit of experimenting.
Betty
"The most serious gardening I do would seem very strange to an onlooker, for it involves hours of walking round in circles, apparently doing nothing." --Helen Dillon
Posts: 1989
Joined: Jul 31, 2008 9:14 pm
Location: Zone 5A Nova Scotia
---
Thanks for the link, Earwig. I might try a bit of this this Summer.
Brian
Posts: 95
Joined: Dec 07, 2008 8:41 am
---
---
Who is online
Users browsing this forum: No registered users and 4 guests