Indoor Plants - Gardening Forums
Hello,
I'm new here and fairly new to plants. I just decided to start keeping plants indoors since I live in apartment. I don't have a balcony, but still wanted a garden of some sort. The solution was indoor growing with LED lights.
My journey all started in the spring of 2010 with trying to keep plants I bought from a grocery store near by. I wanted to try LED's and my first attempt was rather pahtetic
with a wimpy 12 watt LED light. It was a cree LED over 1 plant. It was obviously not enough light for my liking.
In about 3 weeks I realised I wanted more and these lights just weren't cutting it. After doing more research I ordered all the parts for my new power light. THe parts eventually arrived and I began to build.
I used the most powerful bridgelux LEDs out there, 50 Watts each for a total of 100 watts of power.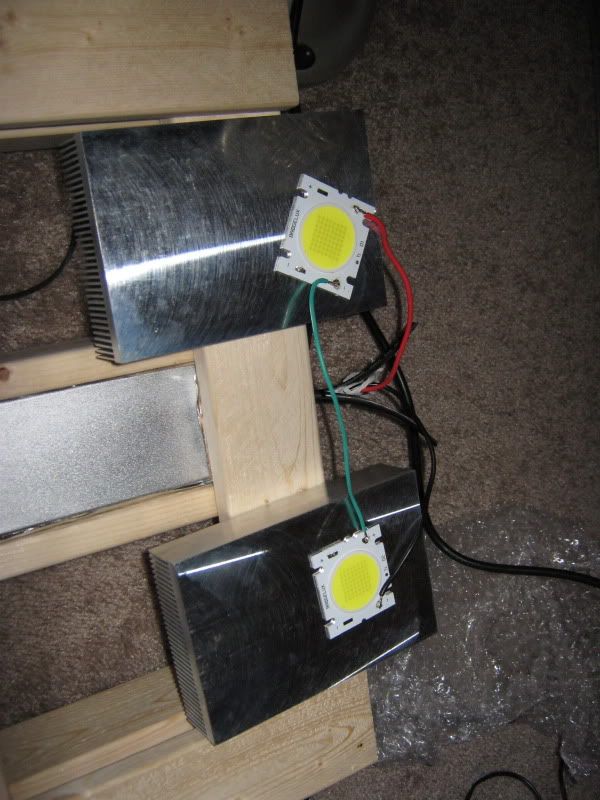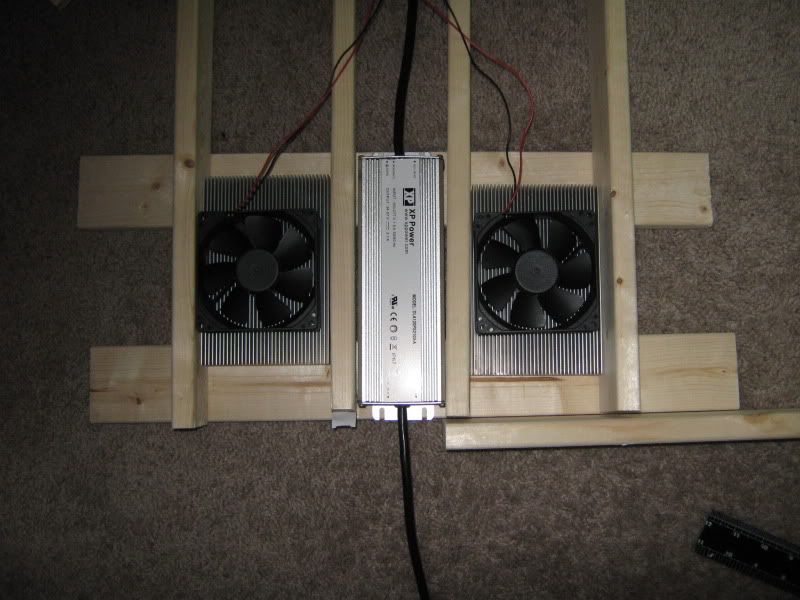 My first test subjects were an almost dead lemon thyme (from lack of light) and a polka dot plant. The light fixture is resting on 2x4's in this picture and not hung up.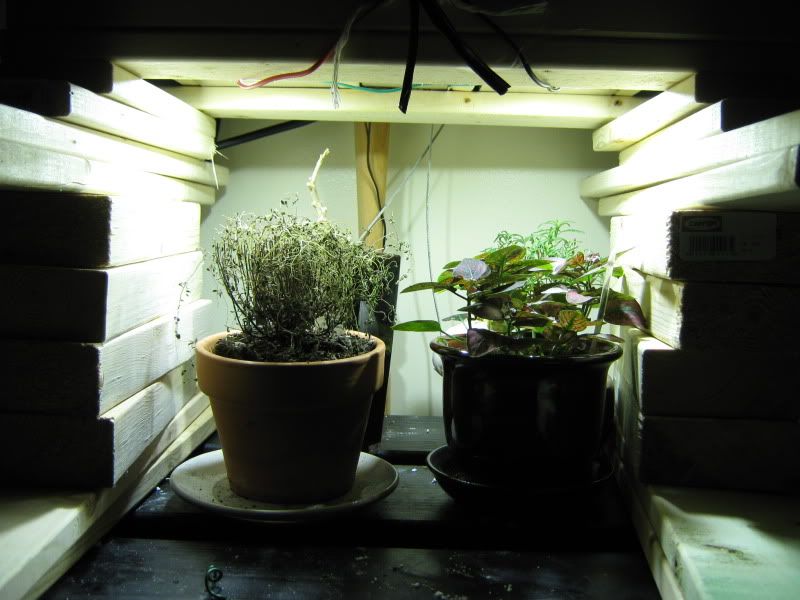 I later purchased more plants and built a light stand to hold the fixture.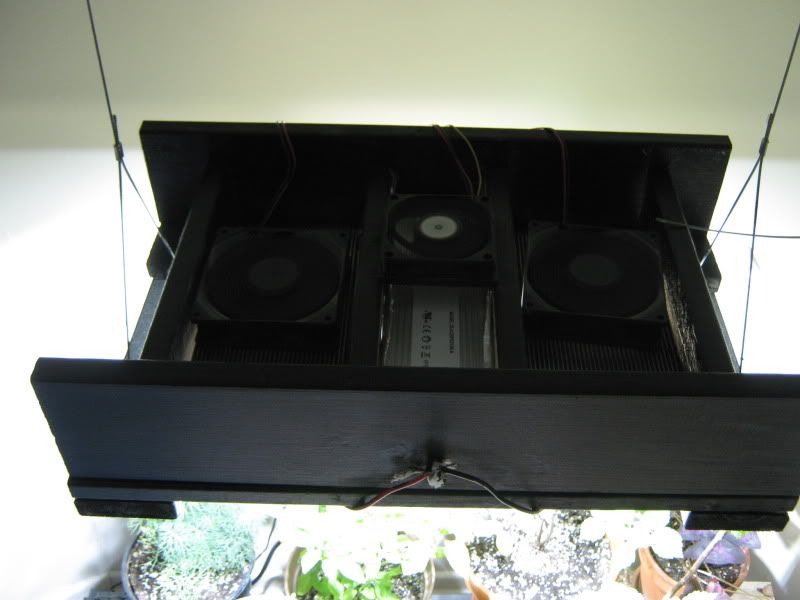 the lemon thyme began to perk up after being repotted and trimmed.
The polka dot turned BRIGHT dark pink!
I also purchased more plants:
My basil when I first got it:
In about a month the basil just exploded with growth and started to flower. And then I realised flowering was bad for the taste so I have been chopping the flowers off ever since.
The lemon thyme has just keeps getting bushy and requires constant cutting back.
An oxalis given to me as a gift 3 months ago.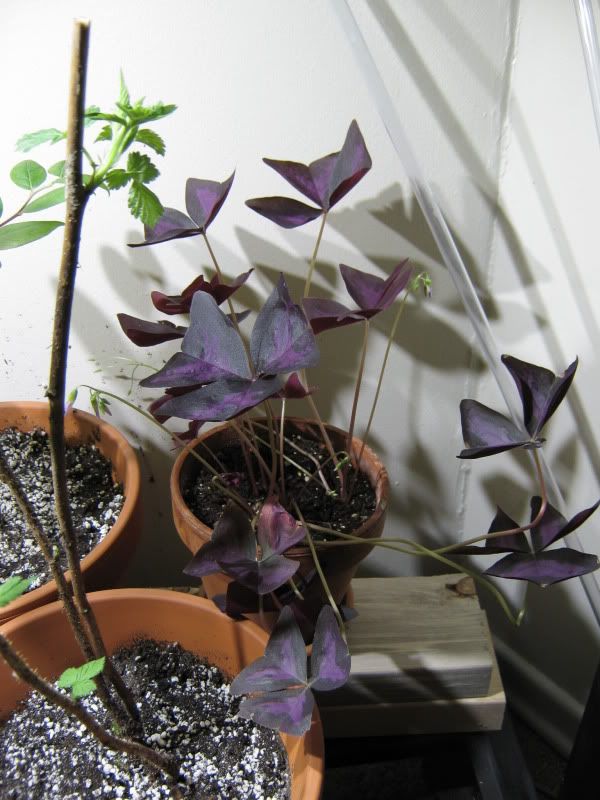 I've been giving away plants and acquiring new ones as my confidence grows. Right now this is the current set up with plants and light. You can see how crazy the oxalis has gotten! For some reason it won't stop flowering. I heard you have to cut them back when they go dormant. I'm waiting for ti to stop flowering before i can do this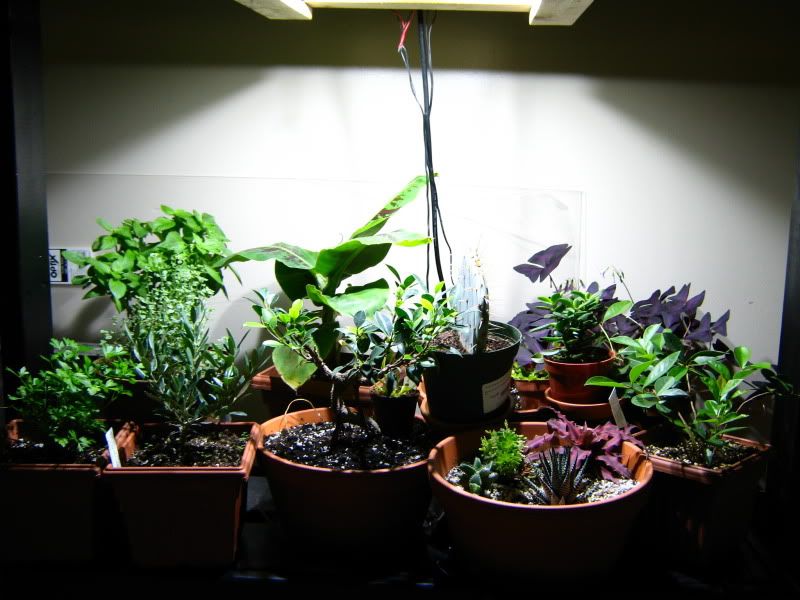 It's been getting quite over croweded and I'm going to start concentrating efforts on growing fruiting trees.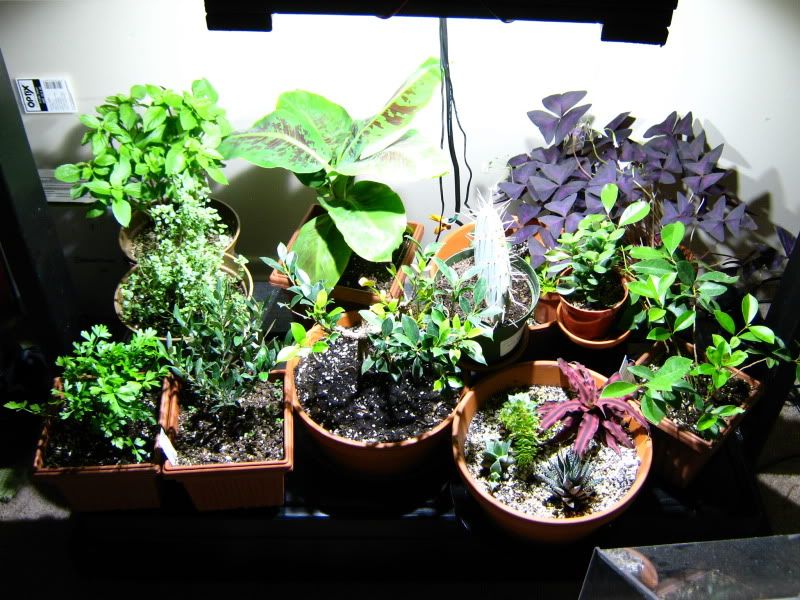 I have under the lights right now, a european dwarf olive, a truly tiny banan plant, a strawberry guava, a turkey fig tree, and a strawberry guava plant.
Also under there are some various cacti, mexican cilantro, bay tree, basil, oxalis, a ficus, and an orchid that was given to me to try to revive because it wasn't doing too good. It's so far put out a new leaf... progress has been slow with it but it looks promising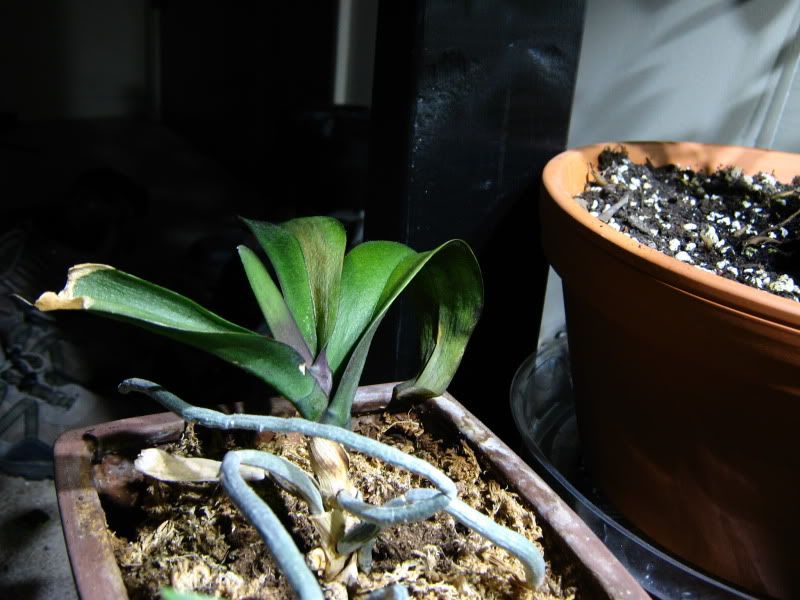 Here is the truly tiny banana plant. It puts out a new leaf every 2 weeks
The turkey fig can be seen in front of it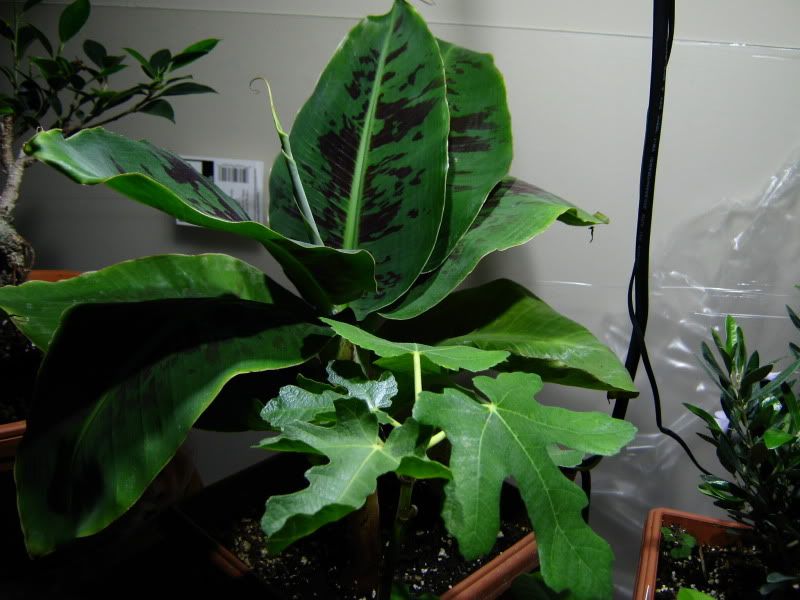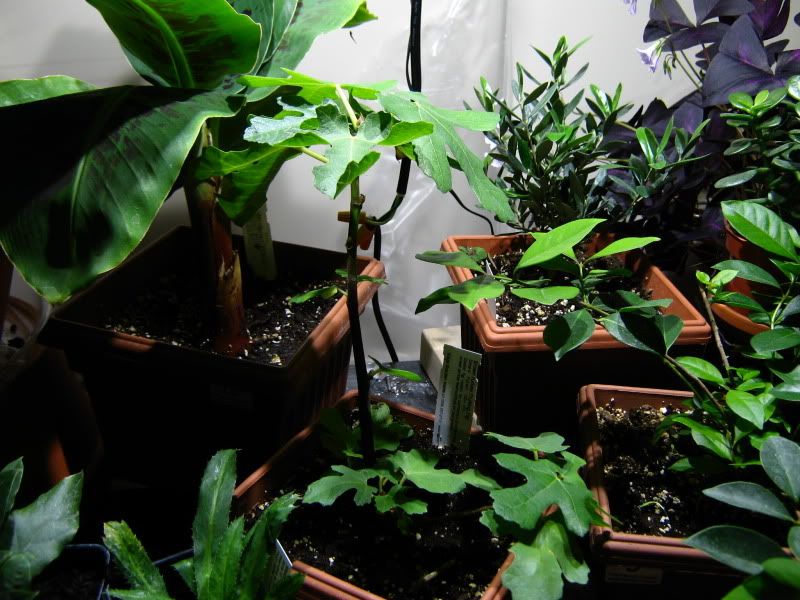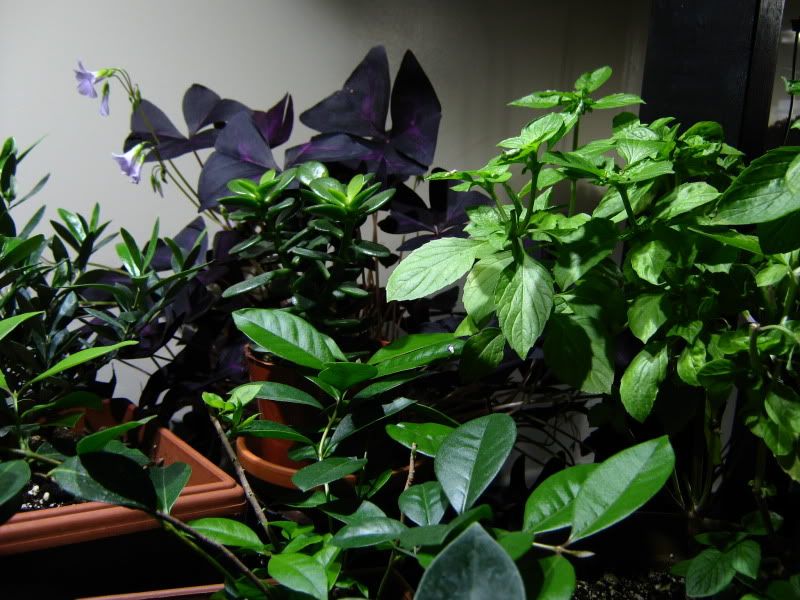 The plants are over growing each other, and I've order parts for a second set of lights. It will be done soon and the dwarf olive and turkey fig will be moved under them.
I will keep this post updated as much as possible
Oh and a short video tour!
Posts: 5
Joined: Nov 18, 2010 10:41 pm
---
Wonderful pictorial "log" of the progress of growth with your plants, but a few questions

Where did you purchase your new lighting system?
Could you tell us how much this set-up cost you?
I have seen these led canopies for marine aquaria, stating that there was enough light to grow soft corals, but was sceptical........but am truly amazed at the growth of your plants, so maybe there is some truth to the claim then.
Would love for you to keep us posted on further progress, and btw........welcome to the forum
Posts: 1407
Joined: Aug 26, 2008 7:48 pm
---
Hi orchidguy,
Thanks
.
The LED fixture was a custom build i did. They use bridgelux leds taht i purchased from the canadian website of newark. The entire setup cost around $400, I can't remember the exact number but it was in the $400 range. A lot cheaper considering that some of the other ones available cost $1000+.
I do also keep a reef aquarium and I am very familiar with LEDs and aquaria. LEDs can grow a lot more than any kind of corals, SPS included (hard coral). In fact they are over powering in most cases and cause bleaching if the incorerct intensity is used.
The good thing I find about LED's is that they are comparable to metal halide in the amount of PAR they put out while consuming almost half as much power while putting out minimal heat from the light source. Most people assume that the "brighter" the light the better it is. This is only true when comparing the same type of light. For example T-5's would have more luminous flux (lux) per watt. However it's all about PAR available. When compared to a metal halide and LED's the PAR outout does not reach the same values. This depends on the type of reflector for T-5's though, as with a good reflector you can achieve metal halide light out put levels.
I still use T5's over my reef tank, mainly because it's all about colour in reef displays. While LED's good there is still some lack of colour availability. I will robably end up doing a T-5 and LED combo lighting fixture when I collect more funds for it lol.
I have to mention though; I do use the organnic atami bcuzz stimulants to help give the plants better health. I usually use the root stimulant right after repotting, and then the growth stimulant according to the instructions. Also for the potting medium. I use 25-30% perlite and 75-70% sphagnum moss (depending on the type of plant these vary.). I also fertilize with a generic organic fertilizer every 3-4 weeks.
I am currently building a second set uf lights to move plants over to stop the over crowding. I can post some step by step info if there is interest.
Posts: 5
Joined: Nov 18, 2010 10:41 pm
---
Sneak peek at the second light. Will be trying out reflectors to concentrate light in a tighter area. More PAR concentrated on the plants!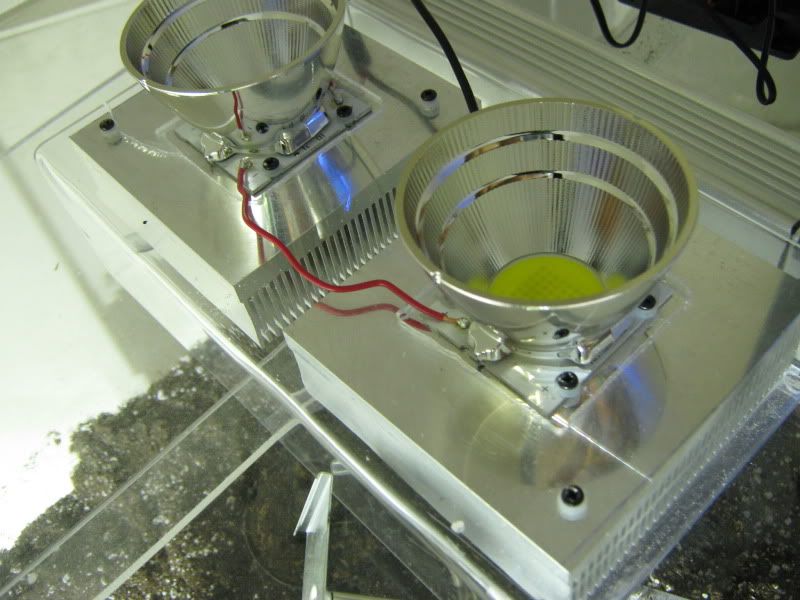 Also my terrarium. Setup about 3 months ago. LED lit of course:). Cree MCE LED with a computer processor heatsink and fan. consumes approx 12 watts of power total. Home to mainly sundew carnivorous plants.
terrarium is approx 11"x11"x11".
Flowering started sometime last month.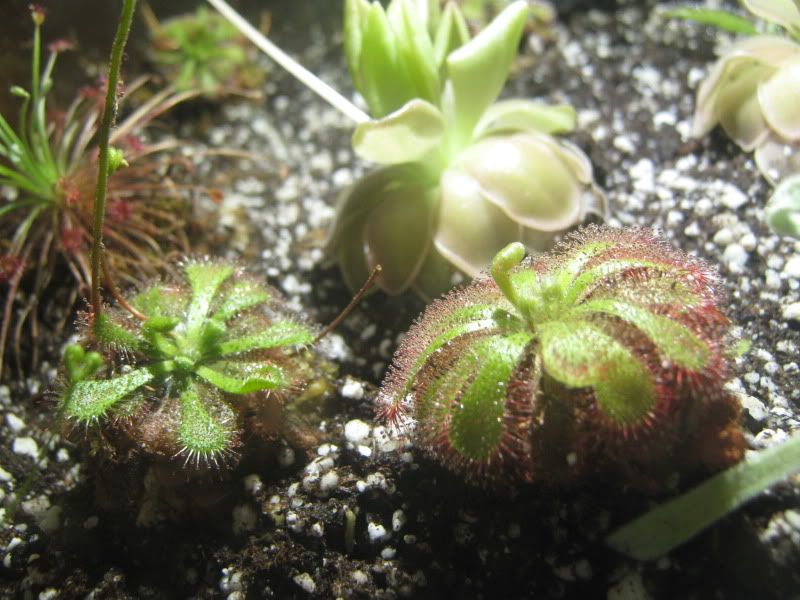 Posts: 5
Joined: Nov 18, 2010 10:41 pm
---
A quick update:
I installed the new light fixture sometime earlier this month and added the reflectors on the older fixture. I have also added a humidifier to help with the humidity in the room since it is now winter. Interesting things are happening in terms of growth.
THe banana plants last leaf has been significantly bigger than the other leaves it's been putting out and the next one coming up seems to be a even bigger than the last one.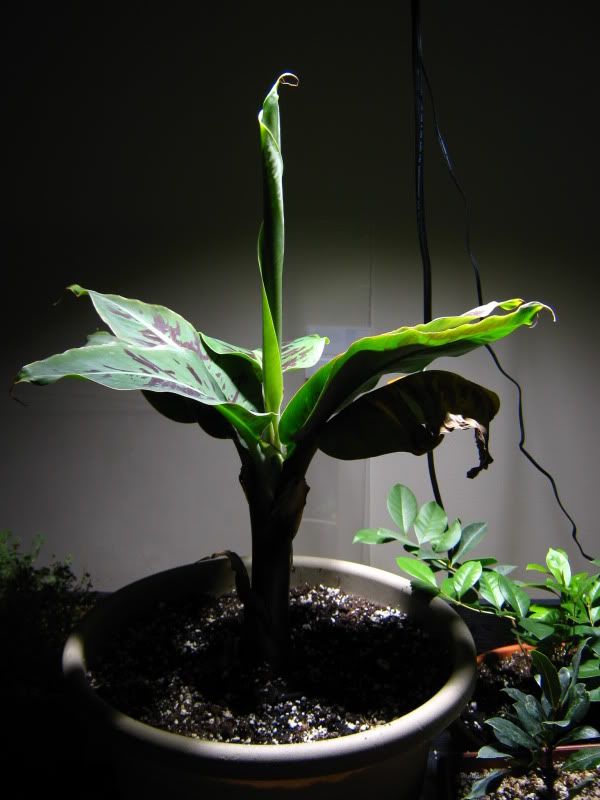 Definately a lot more foliage on the fig tree and the strawberry guava tree
Fig tree at the beginning of december:
Figtree now: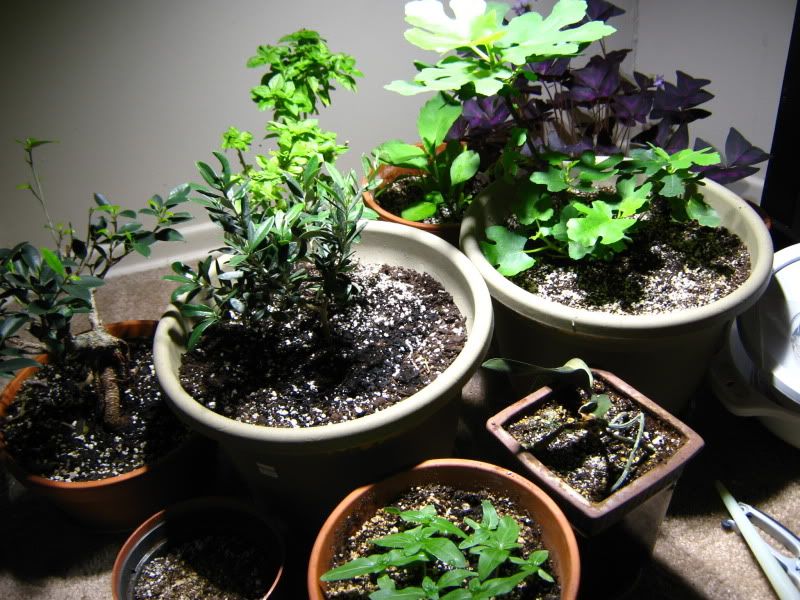 Strawberry Guava
Beginning of december: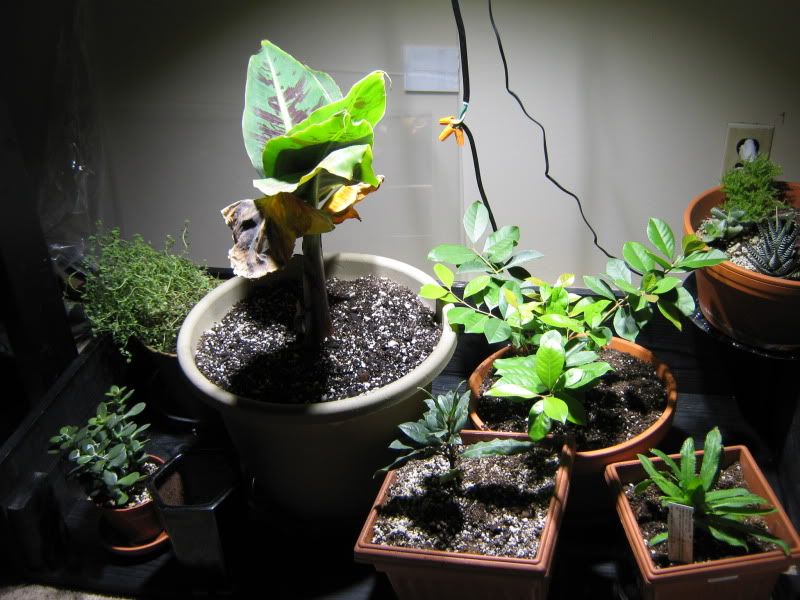 Now: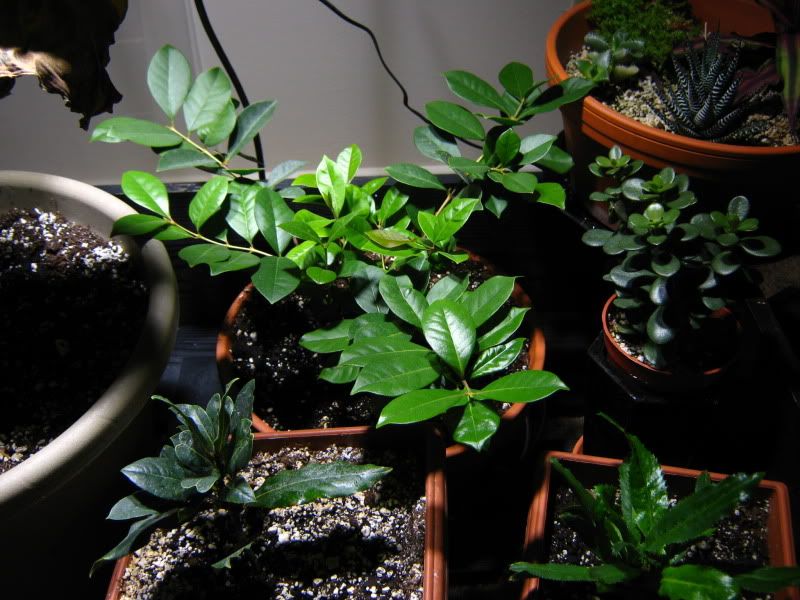 The olive tree seems to be chugging along slowly ( it's to the left of the fig treein the picture). Maybe I should trim it to encourage new growth? Also at the very bottom of this picture I've decided to try to plant some dwarf sunflower seeds, they've sprouted and seem to be growing quite well. Let's see if they flower
. I didn't think so many would germinate, i think I'm going to have to cut sum back.... there's about 7 in that little pot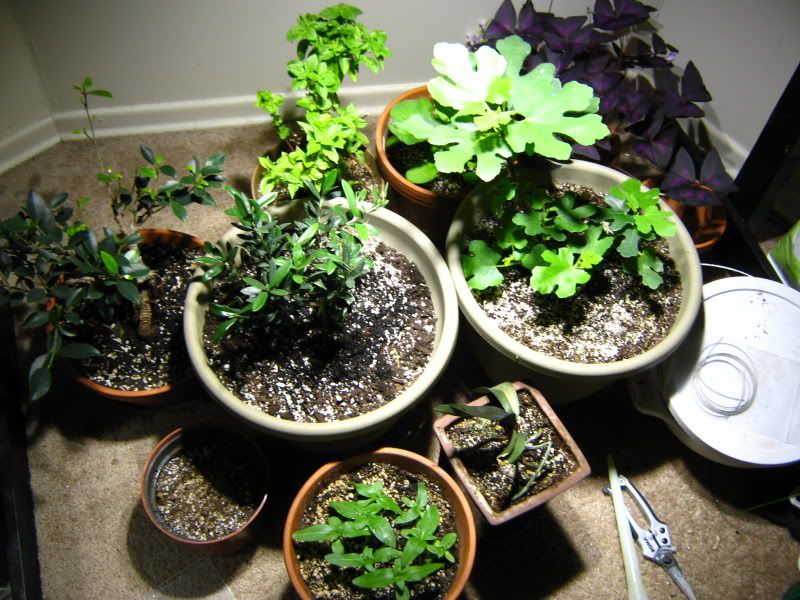 Also when I purchased the some of these plants a few months ago, the store greenhouse owner gave me a leaf to plant. However I forgot what kind of tree/ plant it is. Any ideas? If it helps you can grow this plant/tree from leaf cuttings. I recall something along the lines of him saying tree of the worlds or star of the worlds... something like that but can't find anythign on it... of course I could be completely off lol. I think it's origin is somewhere in Asia? Maybe india or China since it was in that section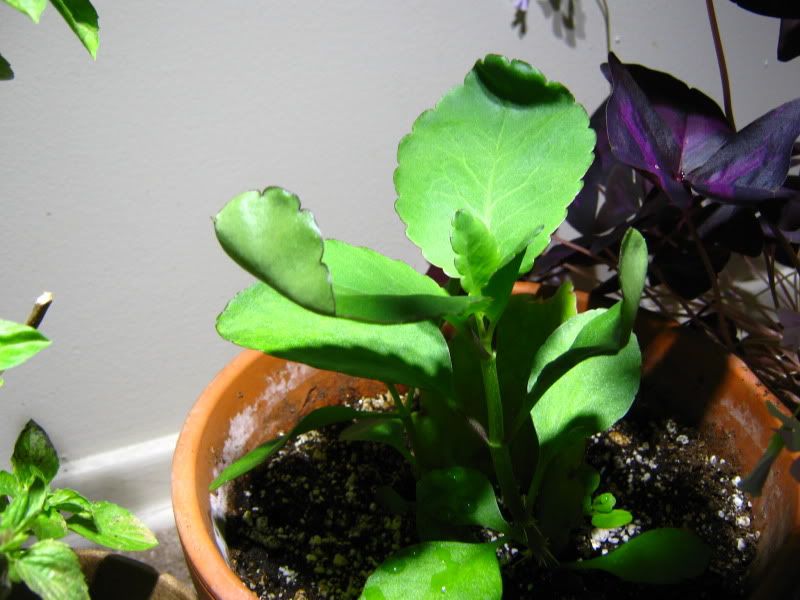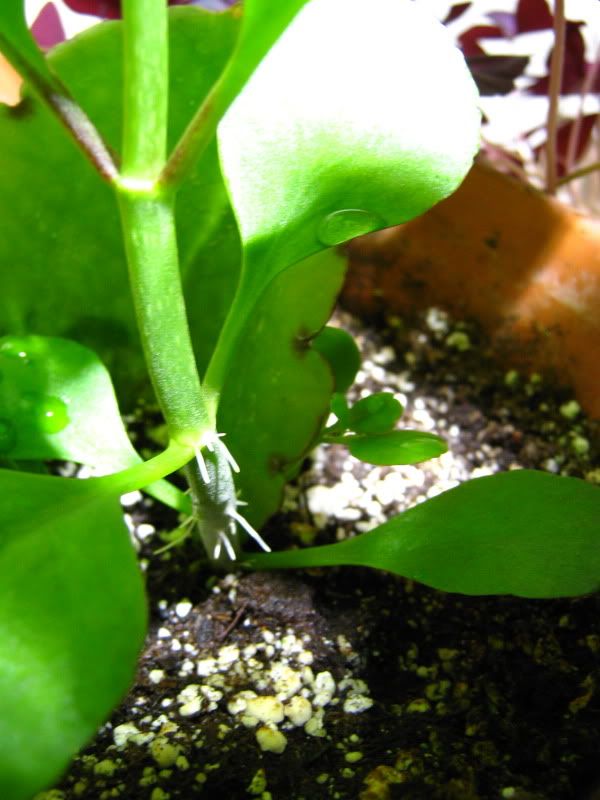 Posts: 5
Joined: Nov 18, 2010 10:41 pm
---
What a great update.
The plant you have started by a leaf, is still quite small, so maybe another member can identify it. If you dont find it's name, post another pic of it in about a month, and maybe I will be able to identify it for you.
Keep the pics and posts coming, as this is quite an interesting topic
Posts: 1407
Joined: Aug 26, 2008 7:48 pm
---
It's name is Kalanchoe pinnata, also called Air Plant, Lifeplant, Patthar chatt, Cathedral Bells,or Mexican Love Plant. Can get tall. Needs short light days (long nights) to produce flowers. They are a cluster of pale pink, small bell shaped flowers about 1 inch long atop the plant. Beware, every leaf that drops on the ground grows new plants.
It is said that this plant is to be helpful in treating kidney stones. In fact the nick-name given to it 'patthar chatt' basically means 'licks/dissolves stones'. I'm not recomending you try this without Doctors okay first. FYI only. The leaves are plucked and eaten fresh, or they are dried and used by practitioners of traditional medicine in their practice.
Posts: 22
Joined: Dec 24, 2009 12:52 am
---
A while back in this thread *maybe in the OP* u mentioned that some of yr plants were flowering. Basil and Oxalis???

Duration of light is a big factor in determining time of flowering.
Adopt the pace of nature, her secret is patience.
.....Ralph Waldo Emmerson....

Frank . . ON5a
Posts: 886
Joined: Nov 14, 2008 11:29 am
---
Hi Tony O. Thanks for the info! Trying to figure out the name was driving me nuts! I should have checked on here earlier.
Here's an update of what it looks like now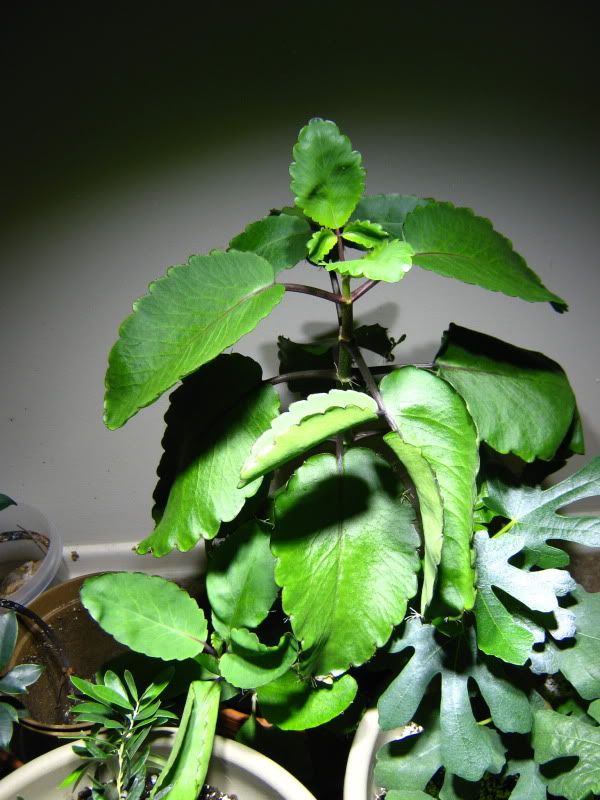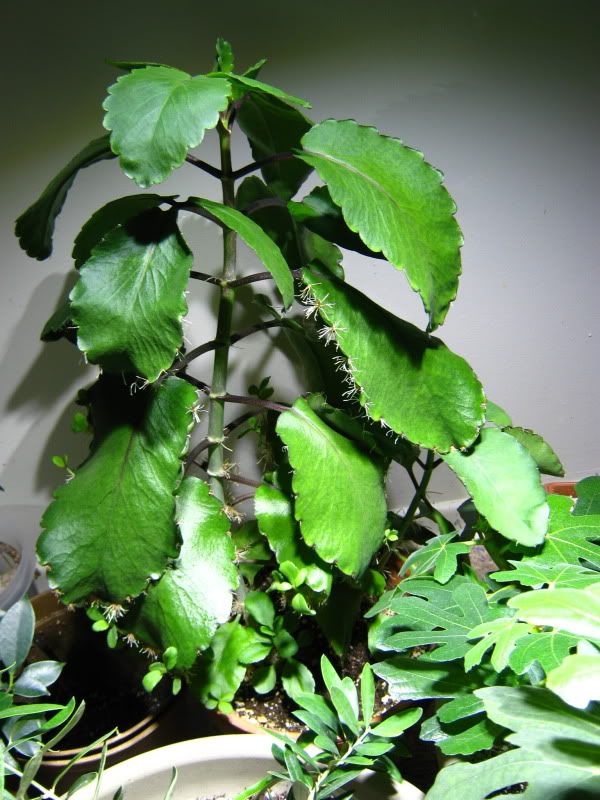 Leaves are growing from leaves ... first time I've seen something like this!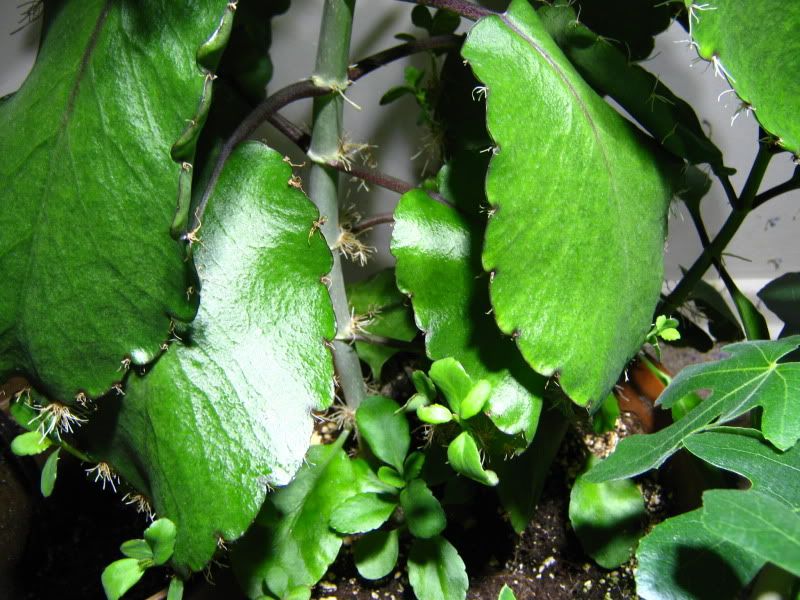 The Turkey fig continues to get bushier and bushier. I had a huge spider mite outbreak on this tree about 2 months ago maybe. Daily mistings with a spray bottle solved this problem in no time,along with wiping off the leaves.
Strawberry guava is growing wild and crazy... time for a trim again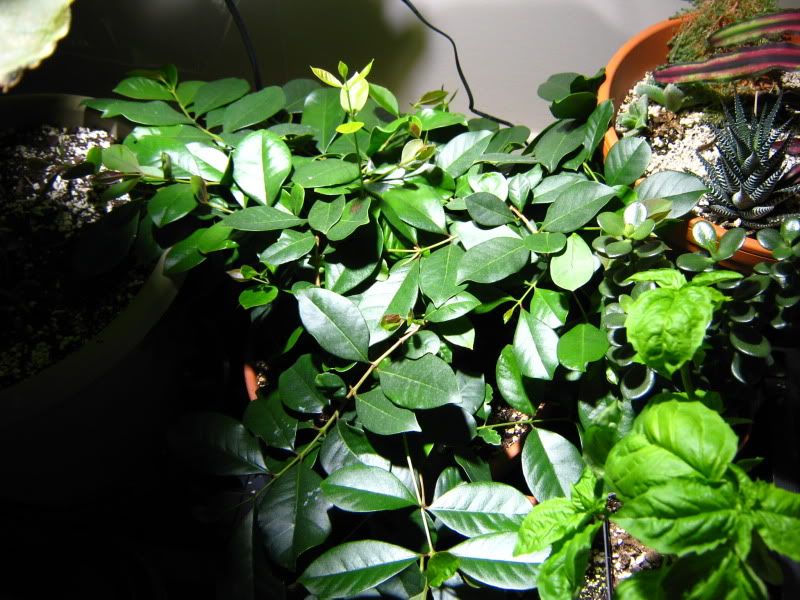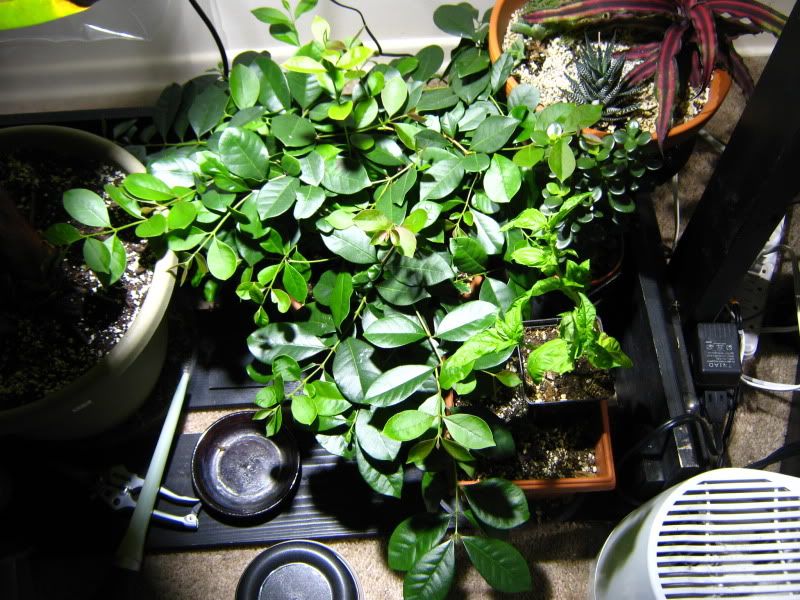 Olive tree hasn't grown much which is weird because I've heard ttat they are supposed to be fast growers. It's getting somewhat long branches but they aren't getting very thick neither is the trunk. That will take time i guess.
You can also see the oxalis.... still flowering wondering if this thing ever runs out of energy.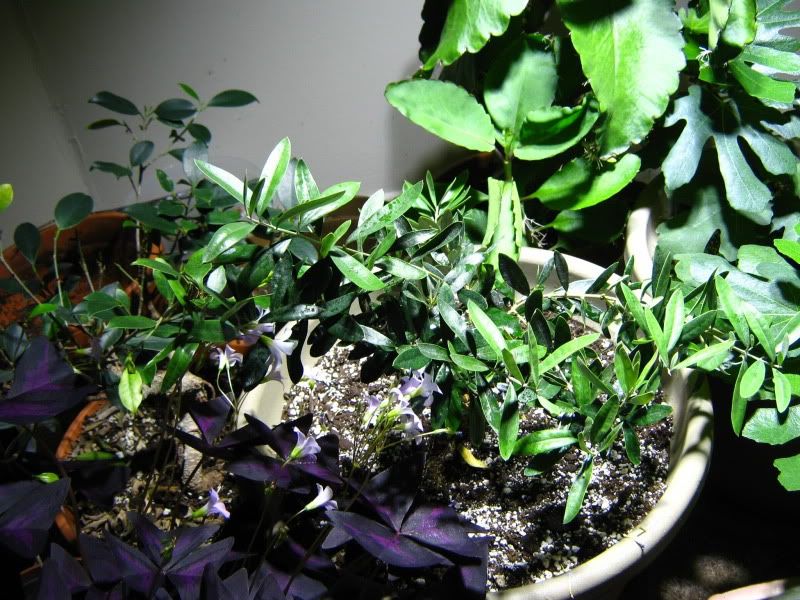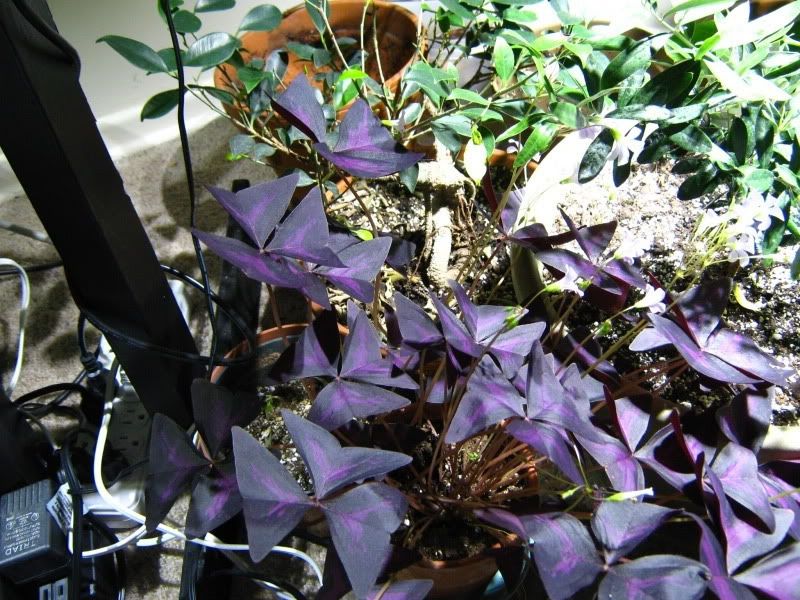 And here's something to show what LED's can do for plants colour. Although I do believe this is just a case of the plant getting more light than it's used to so it's decreasing the chlorophyll? Someone correct me if I'm incorrect.
This is a polka dot plant my girlfriend brought from her apartment to recover. These pics were taken in December. You can see they were stretching for light and have lost most of their colouration. But there is still some pinkish pigment left in them.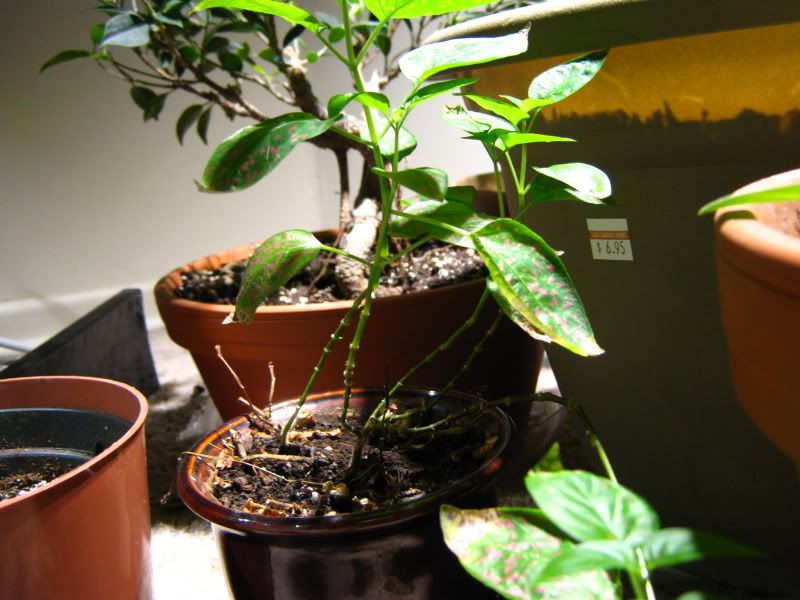 I left the plants under the lights for about 3 weeks and noticed new leaves popping out at the bottom. Left it for another week and realised that the growth wasn't as fast as I wanted it for the new baby leaves. So I cut off the stretched out branches down to the lowest old leaf so the plant would put more energy into the new leaves and bam! this is what I have today: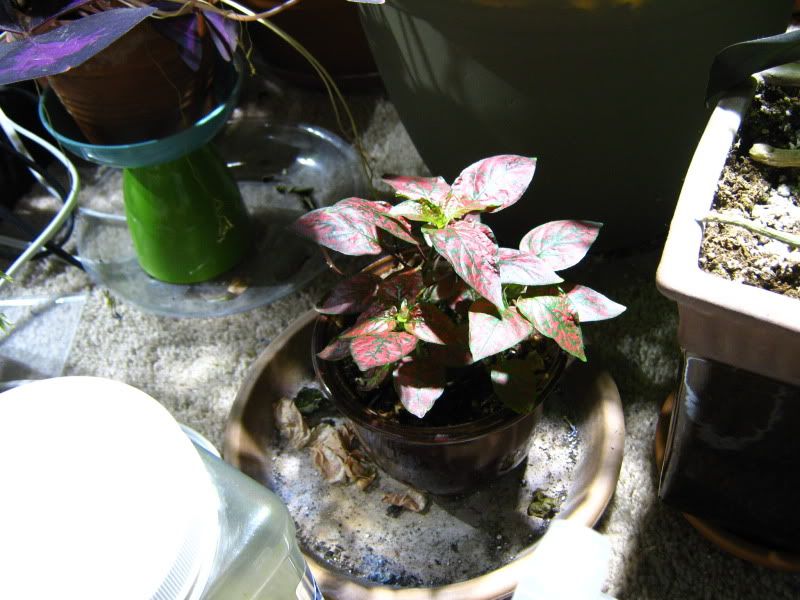 Blotches of bright pinkish red everywhere on the leaves
Posts: 5
Joined: Nov 18, 2010 10:41 pm
---
LED lighting is good option for indoor gardening, it is also known for its versatility, efficiency and long life mostly used by hydroponics growers. The main advantage of these lights is that the heat produced by these bulbs is next to nil. Therefore it can be even placed very near to your plants without harming them; and almost anywhere within the grow room. You can check
advancednutrients
website for best varieties of lights for hydroponics growers.
Posts: 5
Joined: Apr 20, 2011 5:52 am
---
---
Who is online
Users browsing this forum: No registered users and 3 guests