Plant Talk - Gardening Forums
I bought a crocus a few weeks ago and its now starting to die. Can I save the bulbs for a later planting and if so how do I save them?
Posts: 1
Joined: Apr 22, 2008 10:27 pm
---
Yes you can.

All you need to do is let the leaves die down naturally, then remove from soil, shake of the excess dirt, and store in a dry cool space until the fall, when you would plant them in your garden for next spring!!

k
Kelly
Zone 5a/b
OLD GARDENERS NEVER DIE. THEY JUST SPADE AWAY
Posts: 5905
Joined: Nov 14, 2006 12:14 pm
Location: Smaller town Ontario, Zone 5a/5b
---
Oh didn't know that

I have never dug up crocus once I planted them in the Fall

Now they are mutipling nicely
Cheers Butterfly




Having a place to go - is a home. Having someone to love - is a family.
Having both - is a blessing."--Donna Hedges
Posts: 3234
Joined: Nov 15, 2006 1:44 pm
Location: Nova Scotia Zone 5b Butterfly
---
If I'm not mistaken I think Flygirltoad (interesting moniker....!) is referring to a potted one that she has in the house right now. I wouldn;t dig them up once they are planted outdoors either.
Lyn
AB, Zone 3A
----------------------------------
"Those who say it can't be done are usually interrupted by others doing it." ` James Arthur Baldwin"
Posts: 11182
Joined: Nov 14, 2006 10:47 pm
Location: AB, Zone 3A
---
Just plunk the crocus corms(foliage attached) anywhere in the garden.
They are a corm rather than a bulb, and make a new one on top of the old.
Not sure how well they prosper "in captivity".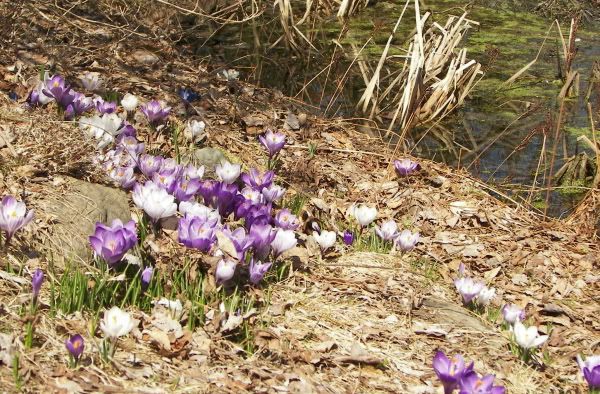 Posts: 1180
Joined: Nov 15, 2006 9:42 am
Location: Antigonish NS zone5b
---
---
Do moles eat crocus corms....or is this a case of sneaky squirrels.
Hi Murph:
The voles, mice & squirrels could have eaten your crocus.....I have quite a suspicious nature when it come to squirrels, especially.
I think moles(if you have them) are more insectivores.
Posts: 1180
Joined: Nov 15, 2006 9:42 am
Location: Antigonish NS zone5b
---
I planted my crocuses last year in the fall. I think because we had a warm automn they cam up in Novemeber only to get 7 feet of snow dopped on them in DEc Jan and Feb. Most of them now are just ribbons of brown foliage. I am hoping next year will be better. My tulips, and narcissus are all fine, and showing good growth with a couple of early buds.

Kris
A Basset Is An Asset!
Posts: 62
Joined: Mar 14, 2008 10:16 am
Location: Montreal, Canada Zone 5b
---
---
Who is online
Users browsing this forum: No registered users and 4 guests