Plant Talk - Gardening Forums
Ok so on our hill in the back we have two crab apples. The one on the right hand side has been growing for 5 years. The one on the left has been replaced twice, so it's smaller. The right one is pink, the left is dark red. The Rabbits destroyed it, since the snow was up higher then the barrier.
It never bothers the pink one for some reason.
Well I don't think it's going to survive this year. The other one is all leafed out and gonna bloom any time now. No life showing on the other one.
So we're kind of like, ok so no luck with Crab Apples there and thinking of another kind of tree. Something about the same size would be nice. We're in Zone 5, Full Sun, Clay soil but on a fairly steep hill, and we've amended the soil. Very windy. We don't need it for shade too much because it would only give shade in the morning, and not the afternoon when we'd really need it.
I would like something other then just a boring tree, with a splash of color or something.
Here's some of our choices.
1. White Crabapple
2. Magnolia
3. Fruit Tree?
here's a pic.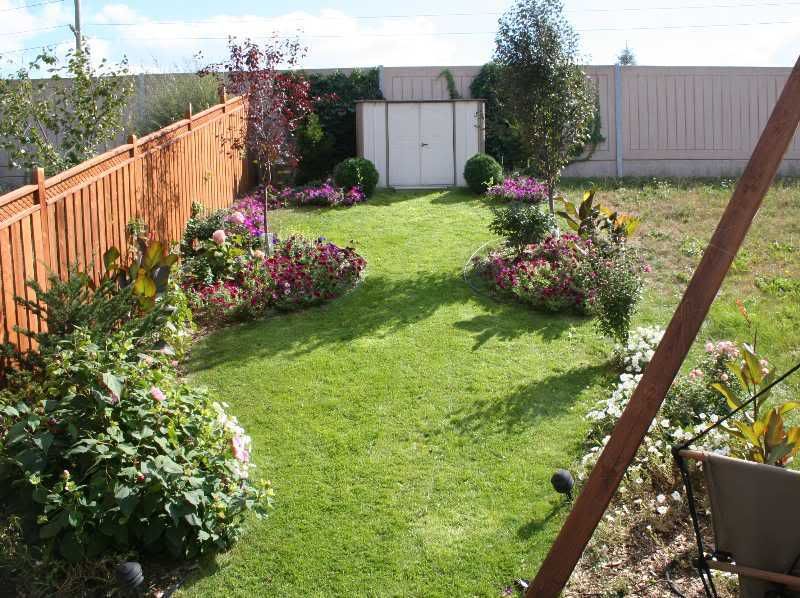 Posts: 1689
Joined: Apr 25, 2007 2:35 pm
Location: GTA, Zone 5
---
Ven

There are 2 kinds of fowering crabs

I have both so I have been told

One the blooms are deep deep pink the other a lot lighter and they bloom at different times about a month between each
Cheers Butterfly




Having a place to go - is a home. Having someone to love - is a family.
Having both - is a blessing."--Donna Hedges
Posts: 3234
Joined: Nov 15, 2006 1:44 pm
Location: Nova Scotia Zone 5b Butterfly
---
ya we have one of each now as well. For some reason the lighter one does great, but the other not so much, so we've given up on it.

I think I'd like a Magnolia tree, have to push hubby on this one. Are Magnolia's fast growers??

Ven
Posts: 1689
Joined: Apr 25, 2007 2:35 pm
Location: GTA, Zone 5
---
Are Magnolia's fast growers??
Most Magnolias are very fast growers.
You would need to check on the ultimate size expectation so it would "fit" your space.
Different cultivars have quite different mature sizes, and shapes.
Posts: 1180
Joined: Nov 15, 2006 9:42 am
Location: Antigonish NS zone5b
---
Magnolia might be a bit bushy quickly. As you have kind of a tight space.
What about a culminar apple tree?
You get the blooms in the spring, some nice fruit, and its shape will be nice for your space. Added pluse you already have a fruit tree (crab apple) so you polinate nicely.
What about a dwarf cherry tree, or lilac....a dwarf lilac might be nice. I have one of these and can send you some pics if I get home tonight early enough!
Let us know what you decide..

Kris
A Basset Is An Asset!
Posts: 62
Joined: Mar 14, 2008 10:16 am
Location: Montreal, Canada Zone 5b
---
hmmmmm do they have Dwarf Magnolia's??? hahahaha

Not sure about an Apple tree but perhaps, There's huge apple farms like a mile from here, and I'm not a huge apple eater.

I think I might like the dwarf cherry idea better, as long as it's a good tasting one.

And the Lilac tree is a neat idea, I usually only see shrubs.

I did tell my mom on the phone that while I'm coveting the Magnolia's now, in a lil bit it'll be the lilacs... or whatever else is in bloom, I'm rather fickle that way ahhaha.

Ven
Posts: 1689
Joined: Apr 25, 2007 2:35 pm
Location: GTA, Zone 5
---
hmmm those are good ideas too....

I think we're going to wait till end of season now to replace it, because they'll be better prices.

Ya we'll be turning over the soil, adding new compost then we plant all the flowers and stuff to fill in. Then we've always added mulch to cover.

Although this year hubby said we might hold off on the mulch. The last few years it's more like sawdust and completely breaks down and it gets pricey. So we might hold off and see how it goes. I like how finished it looks with it though.

I love my soaker hoses. They're all on a timer, with the lawn sprinklers and so we don't have to worry or think about it. They come on like 6 am, and it's all taken care of.

Ven
Posts: 1689
Joined: Apr 25, 2007 2:35 pm
Location: GTA, Zone 5
---
Wish I was home I could send you a pic of the dwarf lilac. It is a tree not a bush at all. It is very cute. Looks like a 10 foot topiary. Flowers every year and demands very little care. We bought it at Home Depot 4 years ago. I know becuse the tag is still on the tree LOL. I like to leave the tags on so that I can remember where I bought stuff, and the Home tags are made of plastic hence they are perrenial LOL.
I am with you on going mulchless. I tried it the first year, and almost has a fit when I found out it was highly dangerous for doggies. Can kill if ingested, and you never know with Bassets. Also the stuff is a pain in the butt becuse it decomposes and just looks icky by the fall. Plus it is really hard to get the debris off it. I know it conserves water, but I found it buggy...and a great plave for the mosiquitos to hide.
Instead I just overplant...that way the soil covered from the sun and your looking at plants not mulch. Just my opinion...
Kris
A Basset Is An Asset!
Posts: 62
Joined: Mar 14, 2008 10:16 am
Location: Montreal, Canada Zone 5b
---
---
---
Who is online
Users browsing this forum: No registered users and 9 guests