Plant Talk - Gardening Forums
Ok so I pruned my RofSharon pretty heavily a few weeks ago. I didn't like it so bushy looking.
So I took all the lil branches and stuck them in water. They were just bare, naked sticks, and then suddenly they got lil buds. Now they're leafing out great and have some roots starting on the stalks.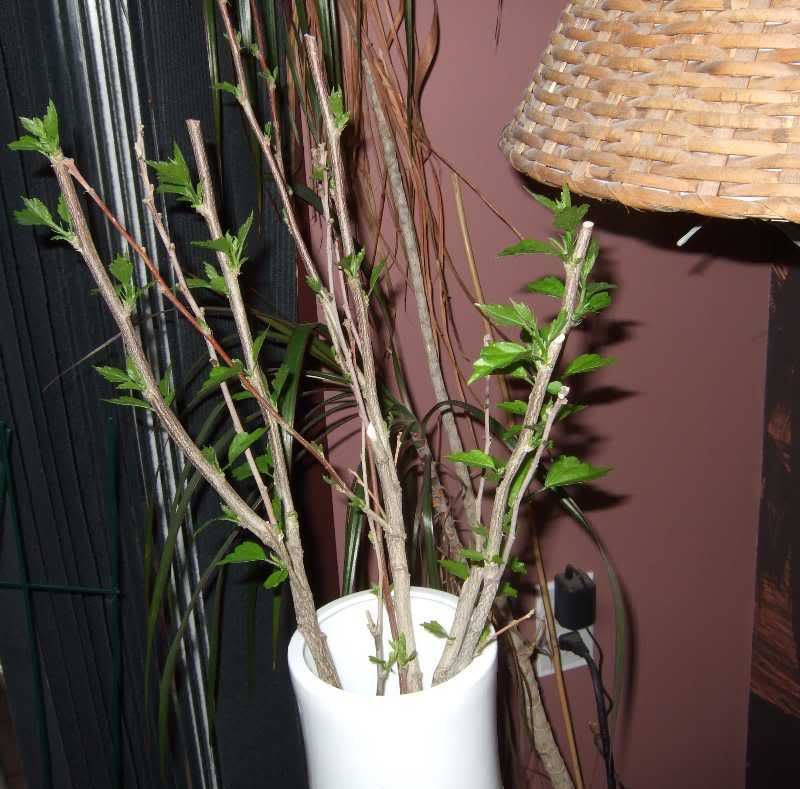 so I'm wondering when should I put them in soil?? Wait for more actual roots? and how deeps should I bury them. The roots are all along the stem that's underwater, not just on the bottom???
Thanks guys,
Ven
Posts: 1689
Joined: Apr 25, 2007 2:35 pm
Location: GTA, Zone 5
---
Well Ven I'm new to this plant. However, instincts tell me that a lower water level might be better to encourage roots just at the bottom of the plant. I would probably wait till the roots are at least 4 or more inches long to be able to feed the plant. Also, at planting time I would probably use some sort of rooting powder and quite probably trim off some of the top of the plant to encourage even more root growth.
Looks like you have several cuttings there so you could probably experiment with a couple different methods and see what works best. Keep us posted on your progress. Good luck.
Posts: 1432
Joined: Jan 28, 2008 3:00 am
Location: AB, zone 3b/4a
---
Hi Ven:
I would pot up the rooted cuttings, and put the whole rooted part in the soil.
Your "cuttings" are very tall, so you might want to shorten them to ~4-6" above the soil.
The leafy growth, and the root growth need to be in a bit of balance.
If you are leery of doing this....do half, and then later do the rest.
Make sure they stay nice and moist for the first season.
Which Hibiscus do you have?
Posts: 1180
Joined: Nov 15, 2006 9:42 am
Location: Antigonish NS zone5b
---
This one is a light purple 'double' bloom. Ok I never thought they'd root out the stem like that, and thought I'd just enjoy some leaves on the sticks, so I was shocked to see them like that.

I think I will lower the water level and wait a bit, I hate to trim all my lovely foliage ehehhee.

Ven
Posts: 1689
Joined: Apr 25, 2007 2:35 pm
Location: GTA, Zone 5
---
Ven....RofS are very easy to root....I had a couple that I just stuck in the ground last year and they rooted!

I agree with Sharon...stick them in soil, will make the transplant shock a little less when they go outside.

K
Kelly
Zone 5a/b
OLD GARDENERS NEVER DIE. THEY JUST SPADE AWAY
Posts: 5905
Joined: Nov 14, 2006 12:14 pm
Location: Smaller town Ontario, Zone 5a/5b
---
plant them up and keep them moist for awhile so that the roots can easily soak up what they need until they get bigger. I also think you should shorten them a bit to diminish the stress on the developing roots...the branch only has so much energy stored in it...you want it to go to making strong roots and not so many leaves. I have a friend who propagates by just taking cuttings and sticking them into the dirt where she wants it to grow...it works. She did that with a forsythia branch she gave me and it took.. was so surprised....no rooting hormone or special treatment...just cut and stuck and they actually grew.
Posts: 400
Joined: Mar 30, 2008 2:52 pm
Location: Barrie, Ontario
---
hmmm no I don't have any babies coming up. I didn't see any seeds in the fall though, 'cause I did want to collect them, so I looked.

Ok gonna pot them up. Now where am I gonna find pots, and a place to put them hmmmmmm.

Ven
Posts: 1689
Joined: Apr 25, 2007 2:35 pm
Location: GTA, Zone 5
---
---
Posts: 1432
Joined: Jan 28, 2008 3:00 am
Location: AB, zone 3b/4a
---
---
Who is online
Users browsing this forum: No registered users and 4 guests