Plant Talk - Gardening Forums
---
Thank you..I'll stay away from the [dis]obediant plant. The Nepeta's not bad in your garden Sharon? That makes me happy because it smells delightful.
You must be the change you wish to see in the world. by Mahatma Gandhi.
Posts: 148
Joined: Jun 12, 2007 1:27 pm
Location: Hampton, NB (Zone 5a)
---
Like Murphy I find the white obedient less invasive then the pink. Both plants will grow from a very small piece of root that is left after removing a clump. They like a moist soil, so will be less invasaive in a dryer sandy type soil.

The others on your list I wouldn't say are invasive, but perhaps prolific self seeders. I'm not personally familiar with the salvia volcano but it is gorgeous.

I was only gardening a few years, when I came to the realization that most offers of plants from other gardeners, or church sales were either of these types lol.
Posts: 117
Joined: Nov 15, 2006 4:29 pm
Location: Ontario's west coast (Goderich area)
---
My Chocolate Mint was beautifully behaved for two years...I relished it.

This year, I find runners doing very well out in the grass. Smells pretty when you walk on it A LOT.

If you really like those plants, you could always put them in black pots and bury them? I have potted and buried every other mint in my garden, and they behave well...I lift them out every once in awhile to burn the roots off.
Cordy's Mum, Liz
Rain Coast, BC Zone 7b/8a

Nae words, nae quarrel
Posts: 5587
Joined: Nov 14, 2006 2:17 pm
Location: Wet Coast, BC Zone 7b, 8a.
---
Someone gave me the chinese lantern plants one time years ago

They didn't survived the winter so I never saw them again

Lilly of the valley didn't survive for me either

Obedient plants didn't multiply for me either. I have the almost the same amount I had 10 years ago but I did plant the variegated kind last year. 2 plants. No sign of them yet

Craig sent me seeds long long time ago of Obedient plant. I still have 3 plants left.

So what gives, when they mulitply for everyone else but disappear for me???
Cheers Butterfly




Having a place to go - is a home. Having someone to love - is a family.
Having both - is a blessing."--Donna Hedges
Posts: 3234
Joined: Nov 15, 2006 1:44 pm
Location: Nova Scotia Zone 5b Butterfly
---
I've grown most of the plants listed...here's my 2 cents:

The zebrina hollyhock is invasive if you are not meticulous about deadheading; it will seed everywhere, and the long taproot will have you cursing as you try to yank it out. You only ever have to plant this one once since it will reseed itself every year...

The maltese cross is the same...you need to deadhead, but it is much simpler to yank out unwanted plants.

The obedient plant (with its square stem) is a member of the mint family and it can get out of control if not contained. That said, I've had it in my garden for years and I've never felt like it's had the run of the place.

I only have May Night salvia and it has not been invasive.
Posts: 1917
Joined: Apr 22, 2007 10:26 pm
Location: Saskatoon, SK
---
The Nepeta's not bad in your garden Sharon?
Nepeta is one of my favourite plants....it starts very early in the spring, and has a nice long bloom period.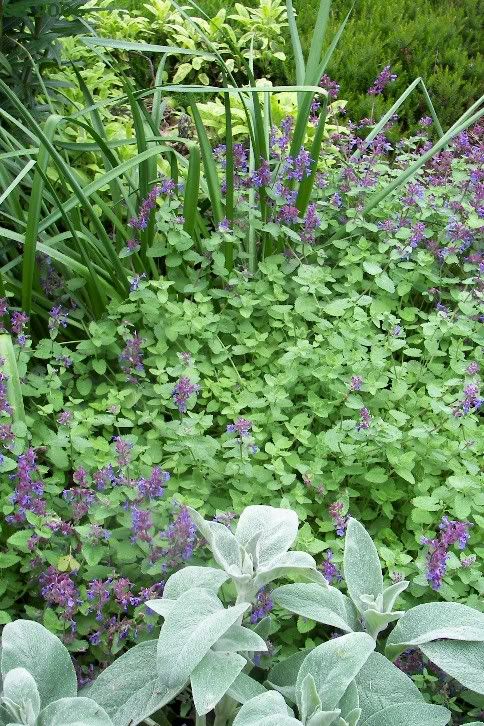 If sheared a bit, it will rebloom in the late summer/fall.
It seeds off very sparingly(probably because it gets a hair cut).
I like it planted as an underplanting for Roses.
Posts: 1180
Joined: Nov 15, 2006 9:42 am
Location: Antigonish NS zone5b
---
I grew the white from seed a couple of years ago, I didn't find it very invasive. In fact I was hoping to get a few larger patches going in the flowerbed as it quite showy amongst all the other perennials such as Echinacea's,Monarda bee balm, Veronica, and Sedums to name a few.
Posts: 189
Joined: Nov 18, 2006 12:27 am
Location: SW Sask. Zone 3b
---
---
In reading this thread I finally found out the name of this flower. I've been admiring it all spring in various flower beds around Peterborough, but didn't know it's name. It's really pretty. I like the way the little blue florettes stand up so perkily.
Posts: 413
Joined: Sep 19, 2007 4:21 pm
Location: Peterborough, ON Zone 5B
---
---
Who is online
Users browsing this forum: No registered users and 7 guests