Garden Projects and Ideas - Gardening Forums
Hi folks, I havent been around very much.... but here is my latest project. A lasagna garden where there used to be a paper birch tree. The tree was lovely except it was hollow and rotting and sending big bits down onto the deck with horrendous WHUMP! noises, which brought on visions of crushed roof, mangled kids, so its been taken out and the stump ground out. This is the lasagna from the wet paper and dirt stage to the take a photo from the upper deck stage. You can see sort of where I will put the paths further out through the bed, and maybe an arbor with roses on the right hand side. This now gets a lot of sun.
Daughter 1 Hilary on the left, D2 Jane on the right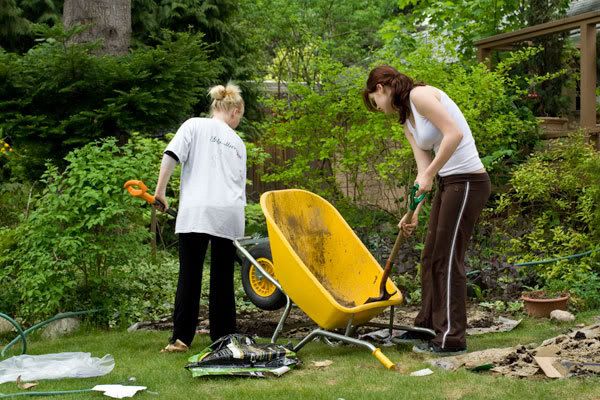 after wet newspaper, then a generous layer of compost, then a sprinkle of sand, then some more compost.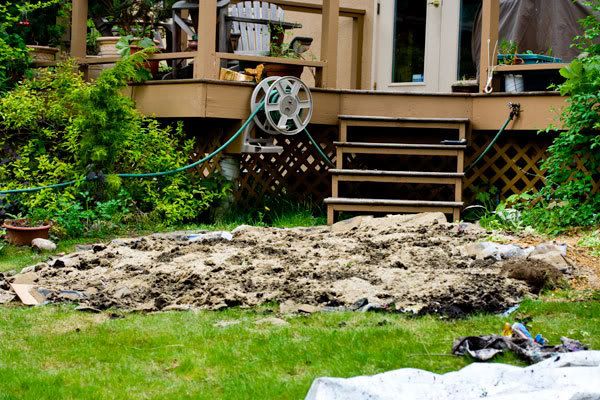 From the upper deck. Watering it a bit, then will add some clippings, then some more soil, and let it sit to cool for a while. Thats it in the lower right hand corner....with help from girls, it took about an hour and a half.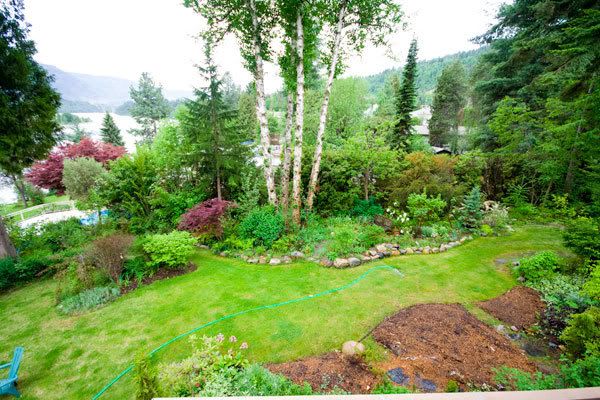 Kat
Posts: 3046
Joined: Nov 14, 2006 4:25 pm
Location: 5b BC
---
---
---
Hi Kat.
Nice to see you back.
Just got to mention that I love the rock in the first pic!
You do have an awesome view.
You also have a couple of really great 'helpers'!
~BBQ
Zone 5b
South/Central Ontario

Every day may not be good, but there's something good in every day
~ Author Unknown
Posts: 6853
Joined: Nov 14, 2006 1:59 pm
Location: Bay of Quinte, SE Ontario Zone 5a/b
---
Hi Meggylou, and K and B ofBB, well I am no expert, but I have made one before, and it worked out so well, I am sold on this technique. There ARE a few experts here, too who if they show up will no doubt have a lot to add, and they really know thier stuff.


Bascially its a method of creating beds over lawn without digging the lawn and shaking the dirt out of the grass bits.

You lay your bed out with a hose, string or spray paint. I prefer the hose method. then dig in an edge about 3 inches wide. Toss the bits into the middle. Sharon Bryson gave me this tip.

Take several days worth of newspapers and stack them in sections, flat like you are going to read them but not opened wide in your wheel barrow. Fill the barrow with water. take the newspaper and lay it out on your grass. If you have cardboard you can use it too, but I just use newspaper. Sharon correct me if I am wrong, but the depth of the newspaper should be about a single section deep, say ten pages or so.

Then add layer of compost, or old potting soil, or bagged soil or peat moss, then a layer of grass clippings, then a layer of potting soil, then a layer of sawdust or sand, then a layer of potting soil or compost till its about 6 - 8 inches tall. The idea is to intersperse the layers with various materials and I dont think the order matters all that much.

Put sprinkler on it and you are done. You can plant annuals the first year, then in the what ever you like. Its so incredibly easy on your back, and believe me it actually keeps the grass from growing up throught the bed.

There are also a few places on this site with details on this site if you do a search on "lasagna" or try a google search on garden lasagna bed. Its a well established bed creation technique now.


Kat
Last edited by
Katherine
on May 20, 2008 12:48 am, edited 1 time in total.
Posts: 3046
Joined: Nov 14, 2006 4:25 pm
Location: 5b BC
---
---
Katherine, What a beautiful garden and lovely view you have!
Meggylou,
It's a lot easier than digging out sod. In the past I've always removed the sod and rocks etc, but finally decided it's just too much work for me. Here's the beginning of my lasagna bed before adding compost etc. I prepared it last fall and intend to plant in it soon. I hope this works out okay, because a nosy neighbor was watching and I'm sure he thinks I'm nuts!
Posts: 707
Joined: Aug 12, 2007 10:53 pm
Location: Zone 1b, Northern MB
---
Thanks NP, it IS a lot easier by far than digging out sod, shaking the soil out and composting the sod, (which in itself takes forever). We did make this in less than an hour and a half, too. To dig my dry compacted silt and boulders would have taken days. Northpine, your lasagna bed looks neat as a pin all tucked in there.

My older lasagna bed is much smaller than this one, and it is amazingly productive.


kat
Posts: 3046
Joined: Nov 14, 2006 4:25 pm
Location: 5b BC
---
Yes, well i did say it took an hour and a half...and i never said there was no complaining, lol. The younger one works in a sawmill, and was complaining ut was too much like her job. The older one was ok, but if it had gone on for hours....

For the record,THEY were only out there helping for about 45 minutes. Still...they helped.

k
Posts: 3046
Joined: Nov 14, 2006 4:25 pm
Location: 5b BC
---
---
Return to Garden Projects and Ideas
Who is online
Users browsing this forum: No registered users and 1 guest