Container Gardening - Gardening Forums
I know someone posted about a vertical garden, or garden wall, couldn't find the post, but saw this site.
It's a cool idea, and would be nice on a balcony or in a small space.
http://azsustainably.com/2008/05/12/rai ... al-garden/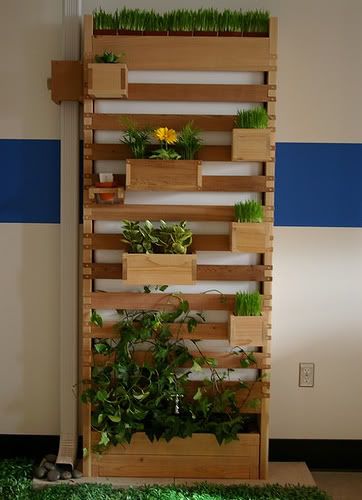 This rainwater harvesting vertical terrace is the brilliant idea of Ontario College of Art and Design Student Michael Tampilic and has been entered in the Rocket 2008 Industrial Design Graduation Show and Competition. The terrace connects up with a downspout from your house and stores water in a large tank to continuously water the plants over long periods of time. It does this by using cotton wicks to transport the stored water by capillary action. Not only is this great for saving water in a desert environment like most of us in Arizona live in, but it looks awesome and you don't have to worry about watering.
Posts: 1689
Joined: Apr 25, 2007 2:35 pm
Location: GTA, Zone 5
---
---
---
---
Posts: 8
Joined: May 27, 2008 1:40 pm
Location: 3A Hobbema
---
---
Who is online
Users browsing this forum: No registered users and 3 guests