Garden Projects and Ideas - Gardening Forums
Sorry to hear that the batteries died in the camera. Can't wait for the pictures, but at least they will be worth waiting for.
You're braver then you believe, stronger then you seem, and smarter than you think.
www.rosseauroad.on.ca
Posts: 30
Joined: May 15, 2008 10:01 pm
Location: Rosseau Road/Parry Sound Zone 4
---
Okay...here are the pics!!!
after getting the soil, I decided that it needed edging to keep not just the soil in (since it is on a grade) but also to keep the screenings from mixing in after heavy rain.
The garden with soil spread and edging....really cleans it up!
Started to rumble so I raced to get at least the path in...
Rain started but I really wanted to get the planting done yesterday...
I got soaked but it all worked out...I was amazed I was able to pull so much out of my gardens since they were all new last year!!!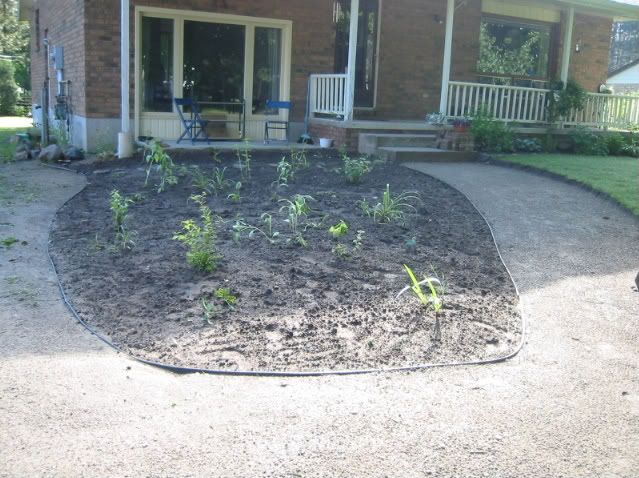 Here are a couple more views...imagine the potential!!LOL
From the side: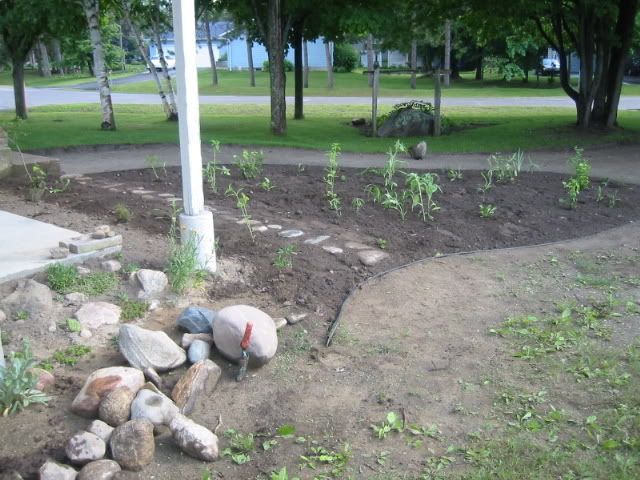 And from the house:
I have daylillies, daisies, rudbeckia, beebalm, iris, echinecea, regal lilies, thyme, spurge, one lonely coreopsis (got mixed in when I was digging up other stuff!), lupin, and for shrubbery I have a sad looking snowball bush that was left for dead but I have managed to get it back to life (beside the steps) Mock Orange (2) that was taken from the back...the suckers..., one spirea (gold mound I think) and a baby Rose of sharon.
I have layered a couple of purple sand leaf cherry suckers for the garden and hopefully one day I'll put in a flowering crabapple.
I will do some filling in with Al's Four O'Clocks, Flax and Ursinia (? never heard of it before but it looks wonderful!!!)
It then rained cats and dogs last night.....and the edging held out!! still looks the same today!!
P.S. I still have to put my rocks in there...todays job!
PPS...Look at p.1 to see the difference!!LOL
Kelly
Zone 5a/b
OLD GARDENERS NEVER DIE. THEY JUST SPADE AWAY
Posts: 5905
Joined: Nov 14, 2006 12:14 pm
Location: Smaller town Ontario, Zone 5a/5b
---
Quite a masterpiece Kel! Way ta go kiddo! It will be
to see it develop over the next couple of years. You must be real happy! Rocks are a gr8 addition to gardens. I find they really save moisture in the soil as well. You got my # kiddo
Posts: 748
Joined: Nov 14, 2006 1:10 pm
Location: Lindsay, Ontario Zone 5
---
---
---
That new flower bed makes a major improvement to the front of your house. It's looking great. A few rocks scattered in there will make a nice addition. I love rocks in gardens!
Can't wait to see those shrubs & flowers taking hold and growing! I hope you'll post more pictures as things keep growing/progressing through the summer.
Posts: 413
Joined: Sep 19, 2007 4:21 pm
Location: Peterborough, ON Zone 5B
---
---
---
ohh wow looks sooo nice. Lots of hard work, I'm glad the edgeing held for you, that would have been a pain in the butt hahaa.

I can't wait to see it all fill in, nice job. If I were you I'd be tempted to grab some petunia's just for some color. That's what I had to do 'cause none of my stuff was blooming at the time hehehe.

Ven
Posts: 1689
Joined: Apr 25, 2007 2:35 pm
Location: GTA, Zone 5
---
---
Return to Garden Projects and Ideas
Who is online
Users browsing this forum: No registered users and 8 guests