Indoor Plants - Gardening Forums
It needs transplanting into a bigger pot
When should I do this and how big should the pot be?
I forgot to put it outside this year and it now spindly
There is one large branch and that is making it top sideways heavy
How can I cure that??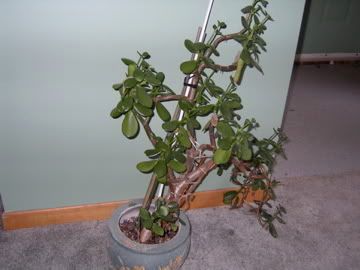 Cheers Butterfly




Having a place to go - is a home. Having someone to love - is a family.
Having both - is a blessing."--Donna Hedges
Posts: 3234
Joined: Nov 15, 2006 1:44 pm
Location: Nova Scotia Zone 5b Butterfly
---
Why not prune it back to help it "bulk up"? Actually, I don't think I would repot it, as they really can thrive in very crowded conditions. Most jades will be more than happy with neglect! If you really want to repot it I would repot it now, before the daylight starts to diminsh. Use the cuttings to start new plants, or add them to the pot with the mother plant to create a fuller pot if you want.
Posts: 88
Joined: May 24, 2008 4:31 pm
Location: Calgary, zone 3a-3b
---
---
---
Who is online
Users browsing this forum: No registered users and 3 guests