Garden Gallery - Gardening Forums
Since I haven't participated much on the forum, the past while I kinda feel guilty making this post, but I just had to show my gardening friends;)
As I was heading out to the back garden to do more clean up, I glanced out the window, and seen this crane at my pond. I live in the heart of town, so something....at least to us is a rare moment. My pond is small too, but I guess when you're hungry, it doesn't matter how big the diner.
It's not a good pic, as i was shooting through a dirty window, and into light, but you can make him out. While I was taking the pic, I was yelling Crane Crane to catch hubbys attention in the other room. He came running thinking I was saying pain pain. Then when he realized what it was, got mad that I was standing there taking a pic, and not chasing him away. He says to me "they eat fish you know"
Thanks for looking.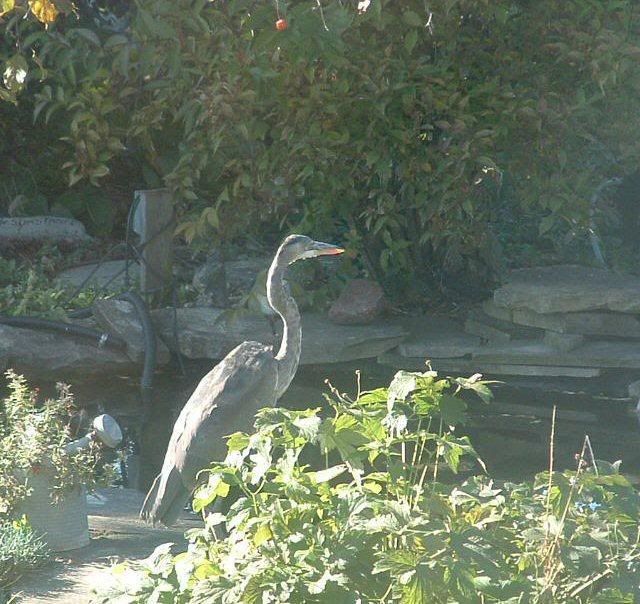 GO BETTY

!!!
Posts: 117
Joined: Nov 15, 2006 4:29 pm
Location: Ontario's west coast (Goderich area)
---
Nice! Yeah they eat fish but they are nice to see.
Lyn
AB, Zone 3A
----------------------------------
"Those who say it can't be done are usually interrupted by others doing it." ` James Arthur Baldwin"
Posts: 11182
Joined: Nov 14, 2006 10:47 pm
Location: AB, Zone 3A
---
Hey hi there Lyn. I thought i'd check in before closing down, and was glad to see a response. I lost the edit button, and heck I didn't want to reply to myself lol. Anyway I wanted to make a correction that this is likely a blue heron, or some type of heron, not a crane. We just always called them cranes since childhood for some reason.
Also just seen your beautiful C.cactus, which I totally love, when two colours planted together. Will try for a better response tomorrow evening.
Thanks.
Posts: 117
Joined: Nov 15, 2006 4:29 pm
Location: Ontario's west coast (Goderich area)
---
I actually love the lighting on him.

Great photo and you knew where to run for the camera! That in itself is wonderful, by the time I locate mine - the moment is gone.
Betty
"The most serious gardening I do would seem very strange to an onlooker, for it involves hours of walking round in circles, apparently doing nothing." --Helen Dillon
Posts: 1989
Joined: Jul 31, 2008 9:14 pm
Location: Zone 5A Nova Scotia
---
Hi Patty:
That is a great Blue Heron tale!
The pic is good too, considering the window & all.

Betty....you need to get a dock for your camera ....then you always know where it is!!
If I didn't always have mine "stowed" on its dock, I likely would need to search.....sort of like searching for the cordless phone from time to time....at least it has a "beacon".
Posts: 1180
Joined: Nov 15, 2006 9:42 am
Location: Antigonish NS zone5b
---
Hi Patty:
Yes, it looks like a Great Blue Heron. Good capture given the circumstances!
They are lovely creatures.
~BBQ
Zone 5b
South/Central Ontario

Every day may not be good, but there's something good in every day
~ Author Unknown
Posts: 6853
Joined: Nov 14, 2006 1:59 pm
Location: Bay of Quinte, SE Ontario Zone 5a/b
---
Nice shot Patty. Remember he will be back for the fish! My sister lost all hers to Mr. Crane last summer. He always came at sunrise. They live in town as well.
"Life is like an onion - You peel off one layer at a time, and sometimes you weep."-Sandberg-
Posts: 259
Joined: Nov 17, 2006 2:58 pm
Location: S. Ontario-Niagara
---
personally I'd be saying 'bye,bye fishies' to have that beauty at my pond
""Life isn't about waiting for the storm to pass. It's about learning to dance in the rain."
Smitty BBS
Posts: 5299
Joined: Jun 11, 2008 2:07 pm
Location: manitoba zone3
---
It's a beautiful catch Patty, dirty window and all. I love it.
Posts: 1517
Joined: Nov 14, 2006 5:18 pm
---
an excellent pic Patty

I think I have only seen one in my life .. blue herons that is

cranes, I see all the time along the shore
Cheers Butterfly




Having a place to go - is a home. Having someone to love - is a family.
Having both - is a blessing."--Donna Hedges
Posts: 3234
Joined: Nov 15, 2006 1:44 pm
Location: Nova Scotia Zone 5b Butterfly
---
---
Who is online
Users browsing this forum: No registered users and 2 guests