Over the Garden Fence - Gardening Forums
I do believe this an European Starling that's been hanging around the last couple of days.This is the first time that I've seen one.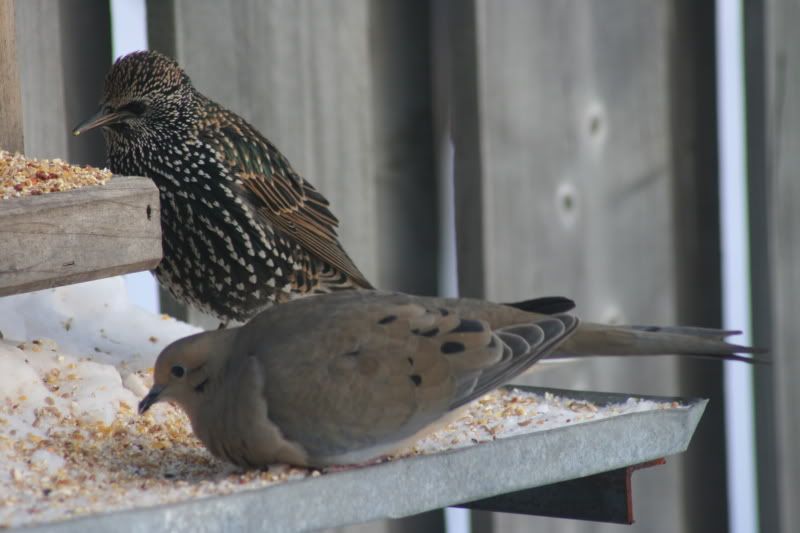 Posts: 22
Joined: Aug 01, 2008 4:04 pm
---
Yes that is what It is

100's of them around here. They will come in about another week or two and stay for about 2 weeks

I often wondered if they stop here on the way to somewhere else when they stay a short time
Cheers Butterfly




Having a place to go - is a home. Having someone to love - is a family.
Having both - is a blessing."--Donna Hedges
Posts: 3234
Joined: Nov 15, 2006 1:44 pm
Location: Nova Scotia Zone 5b Butterfly
---
That's a young one Poppy, they loose the spots as they get older.
Lyn
AB, Zone 3A
----------------------------------
"Those who say it can't be done are usually interrupted by others doing it." ` James Arthur Baldwin"
Posts: 11182
Joined: Nov 14, 2006 10:47 pm
Location: AB, Zone 3A
---
If these with spots are young ones, where are the parents to the kind that come here cause I get so many at one time every year.

They look full grown and look exactally as this one and people call them starlings or is there another bird like them?

I bet I get a 100 at one time and they come to th same spot every year

There is a huge spirea they flock around . I see them pecking at the ground around the sprirea

I can't see anything in the snow but guess they must see and eat something
Cheers Butterfly




Having a place to go - is a home. Having someone to love - is a family.
Having both - is a blessing."--Donna Hedges
Posts: 3234
Joined: Nov 15, 2006 1:44 pm
Location: Nova Scotia Zone 5b Butterfly
---
---
Return to Over the Garden Fence
Who is online
Users browsing this forum: No registered users and 12 guests