Over the Garden Fence - Gardening Forums
Here is a group pic of toys that will be donated next week to inner city kids along with the motorcycle rocker, trucks, etc. posted previously. Again...no finish on the toys with the color contrasts from using different species of wood. Thanks for looking.
Lee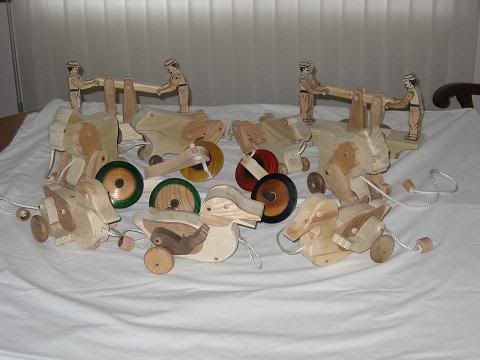 Posts: 1015
Joined: Nov 15, 2006 7:41 pm
---
These are going to make some little ones very happy this christmas.

Lee . . it is great what your doing,the true spirit is in the giving.
Posts: 5175
Joined: Aug 02, 2008 1:29 pm
---
You said it, Laura! Those quackers are very popular, I see, Lee. [I want one! LOL] Just curious, how much time do you spend jigsawing, sanding and finishing one of your marvelous critters?

Time well spent no matter the time. klink!klink!

MareE;o}
~do not make tragedies of trifles ~ do not shoot butterflies with rifles~author unknown~
Posts: 3286
Joined: Nov 14, 2006 1:41 pm
Location: Zone 5b GTA ON
---
going to be some very happy children this Christmas!!! they are lovely
""Life isn't about waiting for the storm to pass. It's about learning to dance in the rain."
Smitty BBS
Posts: 5299
Joined: Jun 11, 2008 2:07 pm
Location: manitoba zone3
---
I just love these toys! Nice work Lee.
Lyn
AB, Zone 3A
----------------------------------
"Those who say it can't be done are usually interrupted by others doing it." ` James Arthur Baldwin"
Posts: 11182
Joined: Nov 14, 2006 10:47 pm
Location: AB, Zone 3A
---
Beautiful Lee. Some children are going to be thrilled. Actually, I think your wooden toys are beautiful enough to be considered works of art and put on display, but it's nice to know some underprivileged kids are going to enjoy them.
'If at first you don't succeed, try, try again. Then quit. There's no use being a damn fool about it.'
W.C. Fields
Posts: 413
Joined: Sep 19, 2007 4:21 pm
Location: Peterborough, ON Zone 5B
---
Oh, well done Lee!
They're gorgeous!
For a cranky old fella you sure do have a heart of gold!
~BBQ
Zone 5b
South/Central Ontario

Every day may not be good, but there's something good in every day
~ Author Unknown
Posts: 6853
Joined: Nov 14, 2006 1:59 pm
Location: Bay of Quinte, SE Ontario Zone 5a/b
---
Thank you all for your kind comments however, I guess I'm a touch selfish because I get enjoyment from making them so it's a two way street.
Mare: The quackers are a design originated by David Wakefield. I amuse myself somewhat by modifying it. His design includes the wings in the block of the body. Two of the ducks in the pic, the wings are seperate from the body & are a differents species of wood to provide color contrast. The third duck(center of the pic) in addition to the wings.... the head is also seperate & "quacks" while the duck waddles. Good fun.

Lee
Posts: 1015
Joined: Nov 15, 2006 7:41 pm
---
These are so gorgeous, Lee. I didn't know you had woodworking talent like this.....fantastic-looking toys!
My DH installed a complete hobbyists workshop in our basement, with a solid maple work table being his first project, 12 years ago. Then came a radial arm saw, a planer, a jointer, large sander, 2 bandsaws, and a wonderful in-table saw. He hardly uses it anymore, after taking 8 years to build me a maple kitchen, tailor-made to my specs. I must show pics of it someday, when I can clean it enough to photograph. You'd love this basement playroom, I'm sure!....and maybe you would instill in my old guy some enthusiasm to go down there again. We need a cabinet for his stereo components. He did build a lovely cherry cabinet around his flat screen TV, after suffering the wires hanging down the wall for 2 months. But now it all lies idle, and I'm hankering to turn it into a sewing room for myself. But egad, the thought of moving all that equipment!
Too bad you don't live closer.
Trailblaze is Diane Woodman
Posts: 3420
Joined: Jul 31, 2008 8:40 pm
---
What wonderful toys and how great that you give them to others.
Betty

, who is

user earwig

, but that account is not being cooperative.
Posts: 56
Joined: Aug 08, 2008 8:47 pm
---
---
Return to Over the Garden Fence
Who is online
Users browsing this forum: No registered users and 5 guests