Over the Garden Fence - Gardening Forums
my pic turned out terrible
The best one of them eating the apples and digging in the garden didn't turn out
The litte platic chip that holds the batteries in is broken and I have to hold them in with my thumbs as I snap a pic and it didn't work well
darn dam thing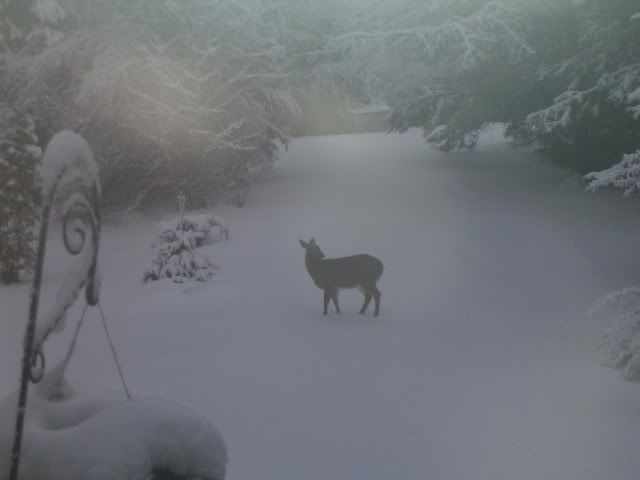 They just jumped the bench to go into the trees is where they go to the river but couldn't yesterday too much snow holding the branches too low
I can just see his back end just over the bench as he jumped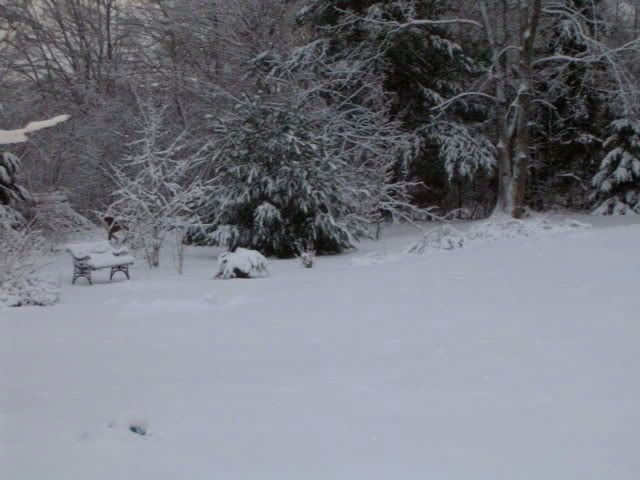 I have been watching today hoping they would come back for the garden and apples but not yet
Cheers Butterfly




Having a place to go - is a home. Having someone to love - is a family.
Having both - is a blessing."--Donna Hedges
Posts: 3234
Joined: Nov 15, 2006 1:44 pm
Location: Nova Scotia Zone 5b Butterfly
---
I like that 1st pic BF - has an ethereal quality to it.
Posts: 1517
Joined: Nov 14, 2006 5:18 pm
---
Thank Joan

Hoping for better pic yet


The deer have a path they take across my place to go to the river every day

I haven't seen them today but they could have gone already another way knowing they can't get through the trees

I tried to knock the snow off th branches but the trees are too big and the snow almost buried me under

So much came down on me so thought I better leave well alone before I get in trouble and no one would ever hear me
Cheers Butterfly




Having a place to go - is a home. Having someone to love - is a family.
Having both - is a blessing."--Donna Hedges
Posts: 3234
Joined: Nov 15, 2006 1:44 pm
Location: Nova Scotia Zone 5b Butterfly
---
yep I like the first pic too!!!
""Life isn't about waiting for the storm to pass. It's about learning to dance in the rain."
Smitty BBS
Posts: 5299
Joined: Jun 11, 2008 2:07 pm
Location: manitoba zone3
---
---
Return to Over the Garden Fence
Who is online
Users browsing this forum: No registered users and 9 guests