Over the Garden Fence - Gardening Forums
At least at work, it is. The girls did a wonderful job on our tree this year.

I was BUSY doing hair all day, so didn't get to contribute much at all.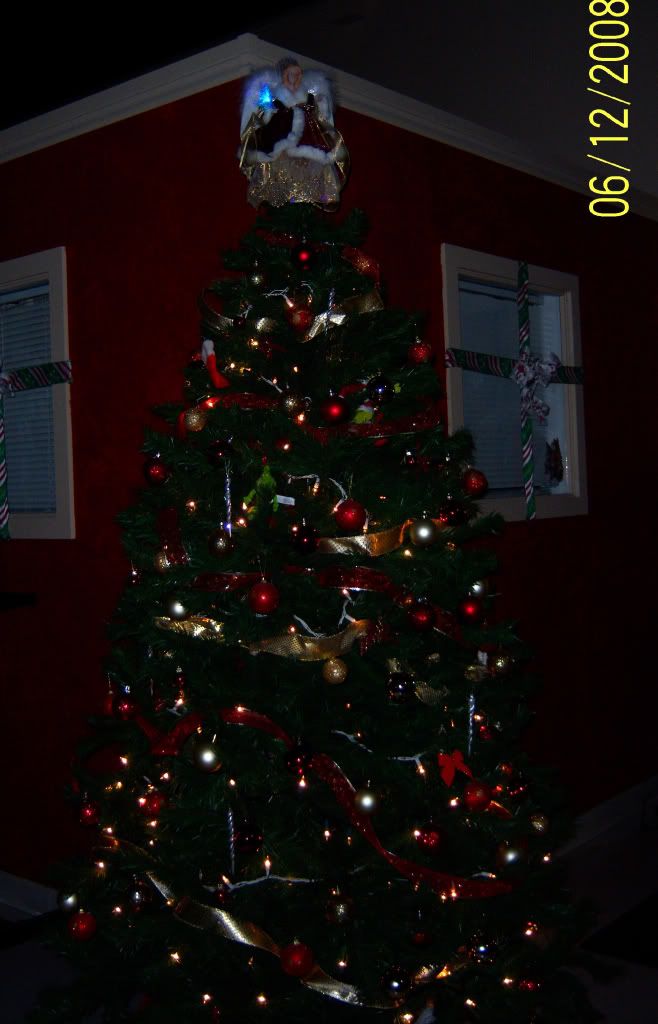 I don't think these pictures do it justice. I'll need to play around with some settings on the camera, and see if I can get "better" shots.
Posts: 540
Joined: Sep 19, 2007 8:31 pm
Location: Belleville, ON, Canada
---
Sure does look like Christmas Skwij,the girls did a great job.

I think it looks beautiful.
Pansy
Zone 5 B
Posts: 1381
Joined: Nov 14, 2006 10:24 pm
Location: Brantford Ontario
---
they did a great job.
""Life isn't about waiting for the storm to pass. It's about learning to dance in the rain."
Smitty BBS
Posts: 5299
Joined: Jun 11, 2008 2:07 pm
Location: manitoba zone3
---
Very nice! Ours goes up tomorrow evening.
Lyn
AB, Zone 3A
----------------------------------
"Those who say it can't be done are usually interrupted by others doing it." ` James Arthur Baldwin"
Posts: 11182
Joined: Nov 14, 2006 10:47 pm
Location: AB, Zone 3A
---
What a festive looking tree,purrrrfecct for sleeping under so my kitty says.
Posts: 1101
Joined: Mar 11, 2008 6:51 pm
Location: Red Deer Alberta,3A ZONE
---
Skwij, try boosting the ISO up from 160 on your Kodak V803 to say 400 & try again.
Ron.

The wood is clear between the knots.
Posts: 5585
Joined: Nov 14, 2006 2:19 pm
Location: 60 km N.W. of Toronto in the country, zn 4b/5a
---
Very nice !!

We got our tree on saturday and got the lights on...now the rest must be done . . the smell is delightful.
Posts: 5175
Joined: Aug 02, 2008 1:29 pm
---
That is a pretty tree.
We've now got ours up and this year we changed to LED lights - gold and silver! Very pretty, but I can't get a good picture of them. Any hints for my cameras Ron?

~BBQ
Zone 5b
South/Central Ontario

Every day may not be good, but there's something good in every day
~ Author Unknown
Posts: 6853
Joined: Nov 14, 2006 1:59 pm
Location: Bay of Quinte, SE Ontario Zone 5a/b
---
That is a pretty tree. Having your tree up surely does get you in the Christmas spirit. I concur with Sheikea's comment about cats and the tree.... I'm sure my cat Missy would just love to explore that tree... but I highly doubt it would involve much sleeping!
'If at first you don't succeed, try, try again. Then quit. There's no use being a damn fool about it.'
W.C. Fields
Posts: 413
Joined: Sep 19, 2007 4:21 pm
Location: Peterborough, ON Zone 5B
---
What a pretty tree!...and it looks so great against that fabulous red wall. We don't put up a tree indoors anymore, since it's just the two of us, and we go to our daughter's with the three grandkids for Christmas. But I do like a lot of outdoor lights in this dark season.
Trailblaze is Diane Woodman
Posts: 3420
Joined: Jul 31, 2008 8:40 pm
---
---
Return to Over the Garden Fence
Who is online
Users browsing this forum: No registered users and 8 guests