Over the Garden Fence - Gardening Forums
buy this toy!

I'm uploading pictures, as the snopes link doesn't show just how horrific this is: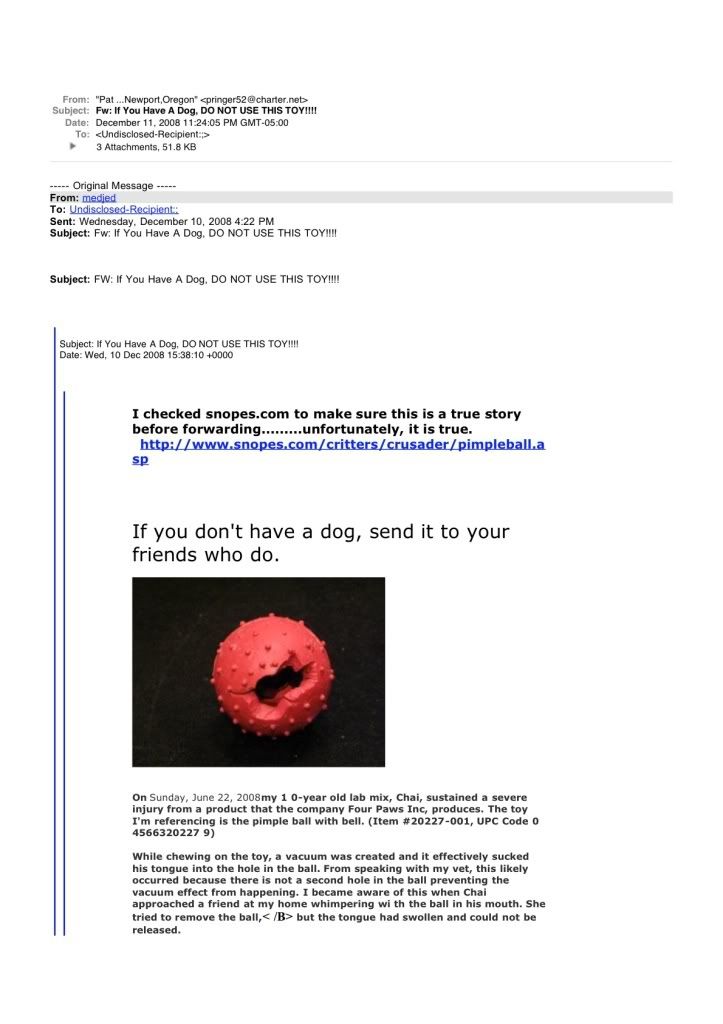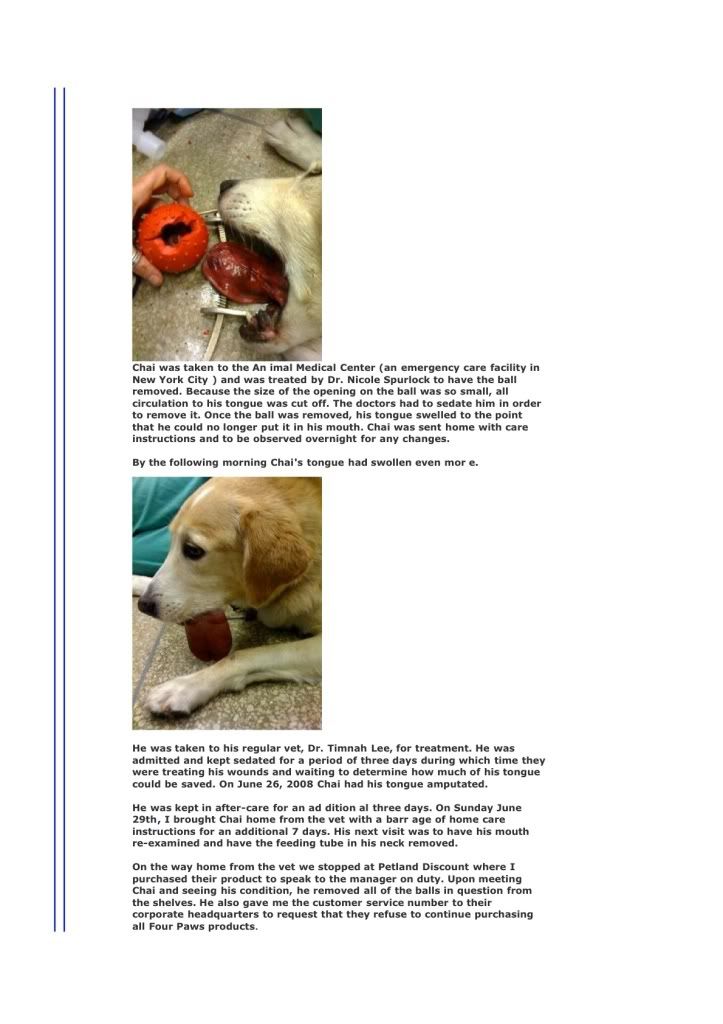 Snopes Link: http://www.snopes.com/critters/crusader/pimpleball.asp
Posts: 540
Joined: Sep 19, 2007 8:31 pm
Location: Belleville, ON, Canada
---
Ouch! I've had a dog for most of my life . . . and sometimes regret not havin' one now. 'Til I see a story like this anyway.
Thanx for letting us know abt this one.
Frank . . ON5a
Adopt the pace of nature, her secret is patience.
.....Ralph Waldo Emmerson....

Frank . . ON5a
Posts: 886
Joined: Nov 14, 2008 11:29 am
---
Thank you so much for posting that story.With the new puppy in the house we had looked at a few balls like that and now know we will never get anything like that.I wonder if that could happen with the kong items as they need to stick their tonques in there to get the treats as well as chew it.That poor pup.
Posts: 1101
Joined: Mar 11, 2008 6:51 pm
Location: Red Deer Alberta,3A ZONE
---
That is just dreadful.
That poor, poor dog. I don't have a dog, but I'm going to pass this along to my niece who does.
'If at first you don't succeed, try, try again. Then quit. There's no use being a damn fool about it.'
W.C. Fields
Posts: 413
Joined: Sep 19, 2007 4:21 pm
Location: Peterborough, ON Zone 5B
---
That is horrible! I wonder what happened after his blog ends in September.... I hope he took them to court.
Lyn
AB, Zone 3A
----------------------------------
"Those who say it can't be done are usually interrupted by others doing it." ` James Arthur Baldwin"
Posts: 11182
Joined: Nov 14, 2006 10:47 pm
Location: AB, Zone 3A
---
What an awful thing to have happen to your pet(or anyone's pet)We just got a dog in March and would hate to have that happen to her.Thanks so much for posting this.
Brian
Posts: 95
Joined: Dec 07, 2008 8:41 am
---
Unforunately, we assume that these toys are OK for our pets. I'll be looking twice before I get any more for Kelsy.
Posts: 1517
Joined: Nov 14, 2006 5:18 pm
---
I don't have a dog but oh my this is such a sad thing

I printed it off and gave it to people I know with dogs including daughter who has 3

I never noticed the dog's toys before I read this. But yes they have one of those balls which I took and burnt

Thanks for telling us skwij

This i a terrible thing to happen
Cheers Butterfly




Having a place to go - is a home. Having someone to love - is a family.
Having both - is a blessing."--Donna Hedges
Posts: 3234
Joined: Nov 15, 2006 1:44 pm
Location: Nova Scotia Zone 5b Butterfly
---
---
Return to Over the Garden Fence
Who is online
Users browsing this forum: No registered users and 9 guests