Garden Gallery - Gardening Forums
Carol, I believe it's

Davidia

. I'm sur my expoerience is much trhe same as yours. Lot of mulch is needed. I'm quite anxious to see if it survives this winter.
Lyn
AB, Zone 3A
----------------------------------
"Those who say it can't be done are usually interrupted by others doing it." ` James Arthur Baldwin"
Posts: 11182
Joined: Nov 14, 2006 10:47 pm
Location: AB, Zone 3A
---
For our Wonderful World, Carol.....keep them coming to your new feeders!
Posts: 748
Joined: Nov 14, 2006 1:10 pm
Location: Lindsay, Ontario Zone 5
---
overwintered Butterfly bush
Hi Guys:
The Buddleia seem very "iffy", but should survive zone 5, especially with good protection.
Here we lose some and keep some. Even with the best drainage, they seem to give up the ghost.
Ours have quite a good snow cover to this point.
They are very easy to grow from seed, and will bloom nicely by late summer.
We have lots of seed should you be interested!
We always do some "insurance" cuttings, and maintain them indoors over the winter.
I don't think the variety makes much difference.

Posts: 1180
Joined: Nov 15, 2006 9:42 am
Location: Antigonish NS zone5b
---
T'was hard picking only 3!
Posts: 2289
Joined: Nov 16, 2008 8:13 pm
---
Wow!! Look at the size of that Brug
.....absolutely beautiful. Thanks so much for sharing.
Posts: 1432
Joined: Jan 28, 2008 3:00 am
Location: AB, zone 3b/4a
---
field of Bloodroot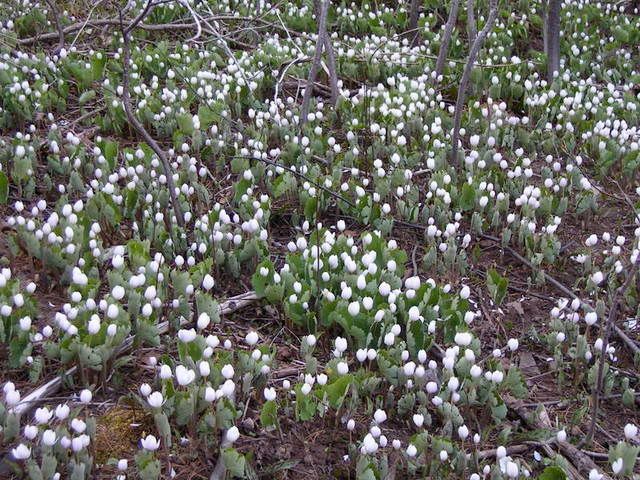 Cheers Butterfly




Having a place to go - is a home. Having someone to love - is a family.
Having both - is a blessing."--Donna Hedges
Posts: 3234
Joined: Nov 15, 2006 1:44 pm
Location: Nova Scotia Zone 5b Butterfly
---
Posts: 1381
Joined: Nov 14, 2006 10:24 pm
Location: Brantford Ontario
---
Forgot to post the name of my first pic; it's Bougainvillia; as I said, not as full as it gets, though! Here it is, inside, last March.
Posts: 2289
Joined: Nov 16, 2008 8:13 pm
---
I am very late with these
Bleeding Heart
Burning Bush (with rabbit protection, have not seen one all winter)
Brunnera 'Looking Glass' (new last spring)
Sally
Posts: 46
Joined: May 11, 2007 7:31 pm
Location: Peterborough, Ontario Zone 5B
---
Scrapinthehat wrote:Smitty...nice balloon flower there. How old is this plant? (I'm trying to determine how long it will take for mine to get that big...assuming it survives the harsh winter we've had
been in that spot for 2 years..zone3 freezing manitoba
""Life isn't about waiting for the storm to pass. It's about learning to dance in the rain."
Smitty BBS
Posts: 5299
Joined: Jun 11, 2008 2:07 pm
Location: manitoba zone3
---
---
Who is online
Users browsing this forum: No registered users and 8 guests