Garden Gallery - Gardening Forums
Gwen:
Another intriguing glimpse of what looks like a spectacular garden.
What part of the country do you live in? What zone?
~BBQ
Zone 5b
South/Central Ontario

Every day may not be good, but there's something good in every day
~ Author Unknown
Posts: 6853
Joined: Nov 14, 2006 1:59 pm
Location: Bay of Quinte, SE Ontario Zone 5a/b
---
Our M's can start with Magnolias.
The favourite would be 'Butterflies', quite a hardy yellow.


Malus species can be represented by the double flowering crabapple 'Brandywine'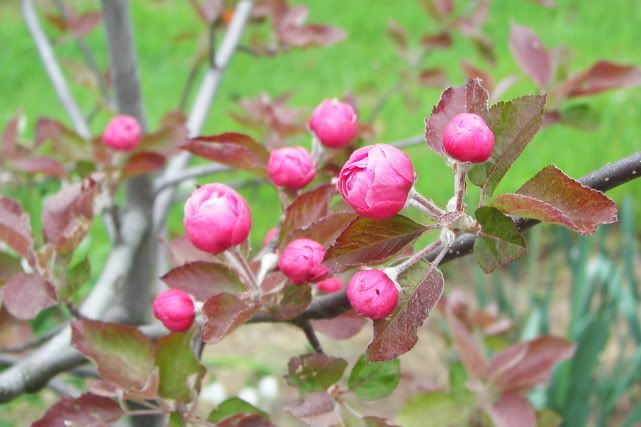 Click the thumb for the open bloom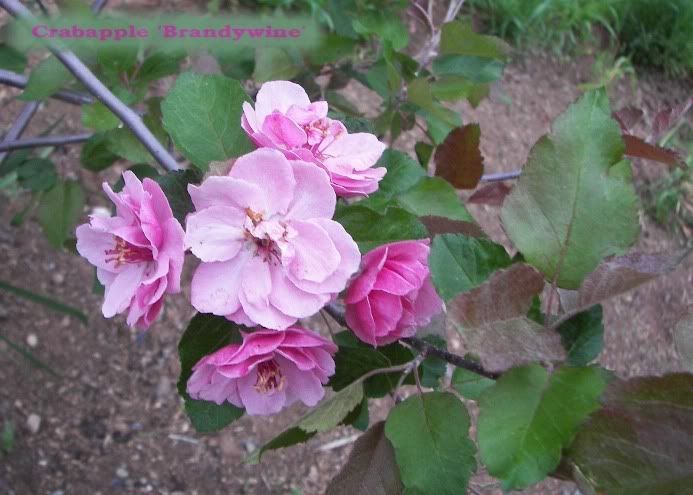 The Muscari(aka Grape Hyacinths). This is a group of M. latifolium.


Posts: 1180
Joined: Nov 15, 2006 9:42 am
Location: Antigonish NS zone5b
---
BBQ- I'll have one of those Margueritas
Marsh Marigold - at the pond
Marguerite Potato Vine
Miniature Rose Bush
"Life is like an onion - You peel off one layer at a time, and sometimes you weep."-Sandberg-
Posts: 259
Joined: Nov 17, 2006 2:58 pm
Location: S. Ontario-Niagara
---
Happy Valentine's Day fellow gardeners!
Minuteman hosta
Martagon lily. First year for this one.
Marie
Zone 1b, Northern MB
One of the most delightful things about a garden is the anticipation it provides. ~W.E. Johns, The Passing Show
Posts: 707
Joined: Aug 12, 2007 10:53 pm
Location: Zone 1b, Northern MB
---
M is for
'Many borders'
hosta, with nicotiana
Misattribution or Moonflower
, whichever you prefer. I think this came out of my cypress vine seed package, from a trade, and before I decided it must be a moonflower, I thought it would have been a Japanese morning glory.
and
Menton tulip
- only a couple more months and these will be up again!
Dora
Posts: 237
Joined: Aug 09, 2008 2:36 pm
---
Monkshood
Last edited by
Grannygardener
on Feb 14, 2009 12:51 pm, edited 1 time in total.
I've spent most of my time in the garden,the rest I've wasted. Edie Zone4A, Ont.
Posts: 610
Joined: Mar 04, 2008 11:59 am
Location: Sudbury
---
Happy Valentines Day.
The soup looks great today, such nice pictures.
Morning glories, mock orange and marigolds
The black morning glory just grows like crazy but I have one heck of a time to get the blue one to grow.
KOOT
(not the old, either) Libby zone 5
Cares melt when you kneel in your garden.
Posts: 331
Joined: Nov 14, 2006 12:40 pm
Location: The Kootenays in B.C.
---
Hi Gwen
What zone are you in, Gwen? Are you like me and always want what I
probably shouldn't? I am in Zone 5, S. Ontario and ever since a winter
spent in Alabama I really wanted one. The Magnolia I posted is said to
be Zone 5. I purchased it at our Canadian Tire store in 2005. It is now in it's
3rd winter. It is planted in a sheltered spot away from the worst winds. I
have high hopes that it is now established although, this winter, there have
been many extended periods of deep cold. So, I will just have to wait and see.
Here is a pic when I first planted it. It has grown quite a bit and had many blooms last spring.Sally
Posts: 46
Joined: May 11, 2007 7:31 pm
Location: Peterborough, Ontario Zone 5B
---
Moss on roof of old work shud
I've spent most of my time in the garden,the rest I've wasted. Edie Zone4A, Ont.
Posts: 610
Joined: Mar 04, 2008 11:59 am
Location: Sudbury
---
[bmmmm,the "M"s are giving a shot of cheer.Here are my 3 to add to the soup..savona][/b]
Posts: 182
Joined: Nov 14, 2006 1:22 pm
Location: Zone 2b B.C.
---
---
Who is online
Users browsing this forum: No registered users and 9 guests