Garden Gallery - Gardening Forums
ooppsssyy..I messed up ..savona
mesembryanthemum- lemon soda
mini morning glory- convolvulus- ensign mix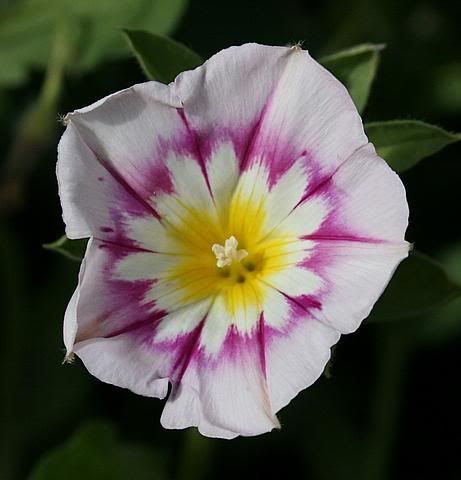 Posts: 182
Joined: Nov 14, 2006 1:22 pm
Location: Zone 2b B.C.
---
BBQ and Sally: I live in Dryden, ON, Zone 4 in my sheltered, south-facing yard. Trees and shrubs (and I!) think is is colder than that, though, and in a bad year tender ones will be damaged where a perennial under the snow is fine. Snow cover ranges from good to waaay too much. I have updated the location in my profile several times, but it never seems to "take".

BBQ, if you are interested in a "virtual tour" I will put an album link in the other thread about pictures, rather than adulterate the soup.

G.
Dryden, ON (Zone 2b)
The success of my garden is built on the compost of my failures.

- Jimmy Turner
Posts: 177
Joined: Feb 10, 2009 12:51 am
---
Here are a few of my M's!

Malva and Prairie Mallow these two I grew from seed a couple of years ago!
They fill in very nicely in my larger perennial flower bed and add lots of color too.
Prairie Mallow is much smaller in size with dainty pink flowers.
Posts: 189
Joined: Nov 18, 2006 12:27 am
Location: SW Sask. Zone 3b
---
Gwen J wrote:BBQ, if you are interested in a "virtual tour" I will put an album link in the other thread about pictures, rather than adulterate the soup.
I would enjoy that, as I'm sure others would too.

We have friends who live in Dryden.

~BBQ
Zone 5b
South/Central Ontario

Every day may not be good, but there's something good in every day
~ Author Unknown
Posts: 6853
Joined: Nov 14, 2006 1:59 pm
Location: Bay of Quinte, SE Ontario Zone 5a/b
---
Posts: 1407
Joined: Aug 26, 2008 7:48 pm
---
OMG Dan, your magnolia is massive! And beautiful!! How old is it?

Got 5 magnolia trees two years ago, end of season, @ Independant Grocers garden centre; none had tags, but, I know for a fact that during the season, most of their stock was Yellow Bird; thus far, only two have bloomed, and both were white , and not the "typical " saucer type bloom I was expecting.

After seeing yours,,am keeping my fingers crossed that if and when the other 3 bloom, they are Yellow Bird. So glad you posted a picture of it!

BTW,, any chance might you know the name of mine,,,and, sorry,,,it's not the greatest picture!
Posts: 2289
Joined: Nov 16, 2008 8:13 pm
---
Those magnolias are stunning! I wonder if any cold-tolerant ones will be developed, like the Northern Lights Azaleas....
Sharon,
I loved your picture of the grape hyacinths and daffodils...such vibrant colors.
Here are my M's:
Mockorange
Million Bells
Morning Glory
Posts: 1917
Joined: Apr 22, 2007 10:26 pm
Location: Saskatoon, SK
---
WOW!!!!!! beauties everyone.
my 3 additions to the soup
monarda




Morden Blush


and a mosquito!

""Life isn't about waiting for the storm to pass. It's about learning to dance in the rain."
Smitty BBS
Posts: 5299
Joined: Jun 11, 2008 2:07 pm
Location: manitoba zone3
---
Donna, supposedly the "Girls" series are supposed to be cold hardy to zone 3. Google ''The Girl Magnolias''

They are: Ann, Betty, Judy, Randy, Riki & Susan. Have only ever seen Ann and Jane here in zone 4, but someone on here may be more familiar with the others.

I had ordered Jane, a few years ago from Veseys, but was extremley disapointed when I got a 12 inch "stick", (a carnation stem was bigger) for close to $50. They said that one that small should not have been sent; they refunded my $, and let me keep the "stick", which did not survive the winter in a very, very protected location.
Posts: 2289
Joined: Nov 16, 2008 8:13 pm
---
Savona...I just bought a pkg of Ensign mix...how did you grow yours?? I'm thinking planter box or ground cover....

I too have Mock orange...Morning Glory and Mandevilla.....and am in deep green envy of the gorgeous Magnolias!!!!


I can't believe I didn't take any better pics!! here is how high the MGs grew..
Kelly
Zone 5a/b
OLD GARDENERS NEVER DIE. THEY JUST SPADE AWAY
Posts: 5905
Joined: Nov 14, 2006 12:14 pm
Location: Smaller town Ontario, Zone 5a/5b
---
---
Who is online
Users browsing this forum: No registered users and 11 guests