Fruit & Vegetable Gardening - Gardening Forums
Hello People,
I have got a couple of raised beds in my backyard (see pic). However, the ground underneath was on a bit of a slant and now the bed is on a slant. So when I water the plants the water runs down and away from the house. So im thinking that the plants at the end may get too much water and plants at the beginning may get none. How can i fix this problem without having to level the whole bed by getting more soil and stuff? Also, any guidelines on how much and when to water tomatoes will be greatly appreciated.
Thanks
Posts: 18
Joined: Apr 19, 2011 3:34 pm
---
Hi there. I also grow tomatoes in raised beds. Mine are quite high though, around 20".

I really don't think too much water will trickle down to the lower end of the slope, as most of it will be absorbed by the soil on its journey.

I use saved plastic pop bottles and attach them to watering spikes I got from Lee Valley. They're a great way to get water deeply into the ground, where the tom roots need it, without wasting a lot of water to evaporation.

I have these scattered throughout the tomatoes, although one per plant would be best. I don't have enough bottles or spikes! I fill up the bottles every 2 days, so the water goes deep into the soil where the roots can easily take it up.

Here's a pic of a couple of them.

~BBQ

Zone 5b
South/Central Ontario

Every day may not be good, but there's something good in every day
~ Author Unknown
Posts: 6853
Joined: Nov 14, 2006 1:59 pm
Location: Bay of Quinte, SE Ontario Zone 5a/b
---
thats a great idea about the bottles. where abouts do u live? Im in Mississauga, ON and it has been very dry here. Im impressed by the growth of your plants. I Just made the raised beds about a week ago and transferred my plants from the ground to the bed. Im hoping the growth will be much faster now, considering I had very poor soil before and didn't water my plants enough.
Today I went out and bought a soaker hose from home depot for 10 bucks. I read good things about it so I decided to try it on my plants. I tried it just now and it seems to work great. I should probably bury it all underground so the roots can get as much water as possible, what do you think?
Posts: 18
Joined: Apr 19, 2011 3:34 pm
---
I'm in Belleville, less than 2 hours east of you. We're also suffering with extreme heat and no rain!

The soaker hoses would be great. IMO opinion though not much use putting them on during the day time as you'd lose a lot of the top moisture to the hot air. Wait until the sun has gone down and then put your soaker hose on and leave it on for a good hour, so that the water trickles down to the roots. That's where the tom plants need the moisture. Maybe you could attach a timer.

I've been saving and growing heritage/herirloom seeds now for well over 15 years. I start the seeds at the beginning of April under grow lights in my basement. I'm very pleased with them this year. I don't give them much top watering, other than what they get from our sprinkler system, (and rain, of which there has been none this year!), but do make sure they get a good deep watering every 2 days via the water bottles.

~BBQ
Zone 5b
South/Central Ontario

Every day may not be good, but there's something good in every day
~ Author Unknown
Posts: 6853
Joined: Nov 14, 2006 1:59 pm
Location: Bay of Quinte, SE Ontario Zone 5a/b
---
I'm just now trying to get my watering right for my tomatoes. I read someplace that if they don't get some good rain that they need a good deep watering of about a gallon per week, at least.

I tried a lot of things last year and did not have great results. Basically, I have too many things on the go at one time and I'm inconsistent with watering and feeding.

I just finished installing an irrigation system on my backyard raised bed..I can't believe it took me so long to try this. Once I got at it, it was soooooo easy to install. On the other hand, I have over 40 tomato plants in a garden where I have more challenges regarding water supply. I've been experimenting with gravity fed drip irrigation. After good results with my home system, I laid a 1/2" tube for 32 of my tomoato plants where I'm experimenting with gravity feed. So far so good!
Knowledge is limited. Imagination encircles the world...Albert Einstein
Posts: 49
Joined: Jul 09, 2008 7:07 am
Location: Moncton, NB zone 4b
---
well so far the soaker hose is working out good. I dont leave it on for an hour but i leave it on enough until i see water staring to accumulating at the top of the soil, which tell me that is soil is saturated and won't soak anymore water. But overall, my plants are loving this. I have had more growth in 2 weeks of moving them in the raised bed then I had from 2 months of keeping them in the ground. that tells you the importance of good soil.
Posts: 18
Joined: Apr 19, 2011 3:34 pm
---
another option is instead of using spikes, you could place an absorbant cloth or thick peice of rope along side the plant down in the earth maybe 6-8 inches to reach the roots. the other then of the rope would go to a resevoire of water like trough a bottle cap into a 2L bottle. as the earth dries up and the plant takes in water it draws water trough the wick. if you have a big enugh resevoire you wont need to water for a month. I water my wicking pots every week just to change up the remaining water.

You would want to wrap wick in a black plastic where ever its exposed to the sun and make sure the resevoire is not exposed to the sun either. From experience you will get algae growing.

idealy you would place the wick when you first start planting to not hurt the roots but you can still push a wash down in the earth.

I use wicking systems for many plants i find it quite fun. there are a limitless amount of wicking systems you can use at all scales in and out of the ground.
Posts: 164
Joined: Jul 26, 2012 12:55 pm
---
could you show me a pic of your wick system? I would like to see it in action
Posts: 18
Joined: Apr 19, 2011 3:34 pm
---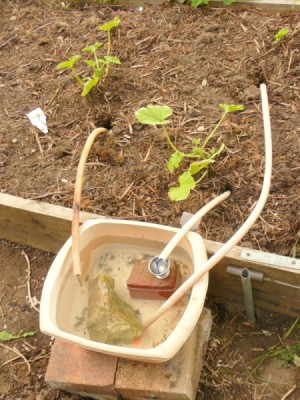 the links above are not mine but two first are indoor so you dont need to cover the wet areas.
if its outside the only thing is the resevoire would have to be black or covered so no sun touches the water. the cloth AND the water would start to grow algae. the second picture is a smart person putting a wick inside a rubber tube however he did not cover his water resevoire. unless its temporary algae awlays growings when sun+moisture is present. also ontop of the potting soil can grow algae so you would want to add a layer of mulch since the plant will alwys have optimum watering.
in the links above it doesn't show the person putting one end of the wick deeper in the soil but this is easier access to water the roots faster.
there are basically millions of versions you could make like this. the theory behind a wicking system is based on capillarity. the system can be either intergrated inside a pot or can be outside like the link above.
ive used foam cups and put small pin sized holes in them for a wick in pots. fill it with good soil and you have a wick once its in water and the soil above it gets dry. i used this method for my larger pots but thats self contained wickin system. it also gets refileld when it rains so lowers watering even more.
http://en.wikipedia.org/wiki/Capillary_action
Last edited by
Jersm
on Aug 03, 2012 4:27 pm, edited 1 time in total.
Posts: 164
Joined: Jul 26, 2012 12:55 pm
---
here is another concept on wicking in raised beds that i am going to do next year.
the lining at the bottom acts as a resevoire. when the earth in this raised bed is over sturated with water it sinks to the bottom beacause gavity over comes the attraction from wet to dry. when the bed starts getting dry at the surface, the dryness itself will attract the water back up and this attraction is stronger then gravity's pull.the only issue i see is that if it rains for days and the bed gets TOO much water they didn't install any flood holes to limit how much water the resevoir can have.
other then a lack of floor holes this design basically uses all water as efficiently as possible this is GREAT for very dry places. this concept only works for small rooting plants, for large plants you would need a enderground well.. like a tree.
Posts: 164
Joined: Jul 26, 2012 12:55 pm
---
---
Return to Fruit & Vegetable Gardening
Who is online
Users browsing this forum: No registered users and 15 guests