Over the Garden Fence - Gardening Forums
Last night i was looking around Kijiji for a new tiller since ive been tilling tons of earth by hand and its also an investment for next year for super cropping and such.

I managed to find a fixed up tiller for 140$ and i offered 100$ + pick up. He messenged me he will take it and the next day see a email telling me i should hurry since another pesron is interested too.

So i got his address and cruised over quickly with my 2001 civic and the tiller was still available. I got the seller to give me a crash course on how to use it and right when i buy it a second buyer pulls up.

An older man with a trailer ready to pick the tiller up walks up to us and he seller introduced us and me as the new owner of the tiller.

we all chatted a while i talked to them about my new garden and how im tired of doing it by hand. The second buyer the older guy was so impressed that i was into growing veggies at a young age he offered to deliver the tiller in his trailer for free!!

turns out the tiller didn't even fit in my car so the second buyer who got nothing out of it wouldn't even accept 20$ for the delivery to my home. He just said hes so impressed to see young people gardening.

also, the tiller works great!! tested it out for the past hour just needs a second set of blades.
5 HP briggs and stratton engine
needs a reverse belt other wise works (canadian tire has some)
needs a few extra tines.
starts on 1-2 pull.
new air filter was added
he cleaned carb
he also lubricated it again.
paid: 100$ + free delivery.

Posts: 164
Joined: Jul 26, 2012 12:55 pm
---
NICE!!!!!!! Congratulations! My first tiller was a treasure to me. It was really old and way too big for me and I could only operate it in the lowest setting . I was almost bucked over the handle bar more than once . LOL I have a little wee Troy Bilt from Canadian Tire now that I got for mother's Day 2 years ago. Love!! You will get years and years of joy from yours I'm sure!!
Alison, in zone 5b Nova Scotia
Posts: 50
Joined: Jun 17, 2010 8:25 am
---
Good for u! A tiller changes yr whole gardening style . . . for the easier.
Want a garden over there??? Go for it... bust it up... till in some good stuff... instant garden!
I've probably bought 4 or 5 used tillers over my time . . . never had one with a working reverse.
Also, I've never had a 4-gang tiller... two sets of tines only.
Adopt the pace of nature, her secret is patience.
.....Ralph Waldo Emmerson....

Frank . . ON5a
Posts: 886
Joined: Nov 14, 2008 11:29 am
---
When my wife & I lived on an acreage I had a garden tractor with a tiller attachment & was always glad I did everytime I looked across the road at a neighbor(skinny like me) & saw his tiller "jerking" him around. I often wondered how he survived it.

Lee
Posts: 1015
Joined: Nov 15, 2006 7:41 pm
---
thanks everyone for the possitive support.
yeah I tried it out for about an hour or so and geez its a beast
however its working great and sure is making short work of anything it gets its tines on.... good to read other people are using a single set on eachside too.
right when i got it i wasn't able to resist and i tried to till right after a heavy rain and i ended up digging a hole and getting the tiller stuck in the mud!
it was a paint to yank out again but a few 2x4's helped me out. hopefully my neighbors didn't see me get my new tiller stuck.
Posts: 164
Joined: Jul 26, 2012 12:55 pm
---
Lol! That's how I learned not to till too early in the Spring... or in damp soil... or, at least, not to go too deep.
The first breaking up of compacted soil is rough, with the tiller bouncing around all over the place. In a well tilled garden tho, the tiller will run thru smoothly, needing very little assistance or guidance.
This image is of my garden a couple of years ago in it's early stages... adding organics to very poor subsoil.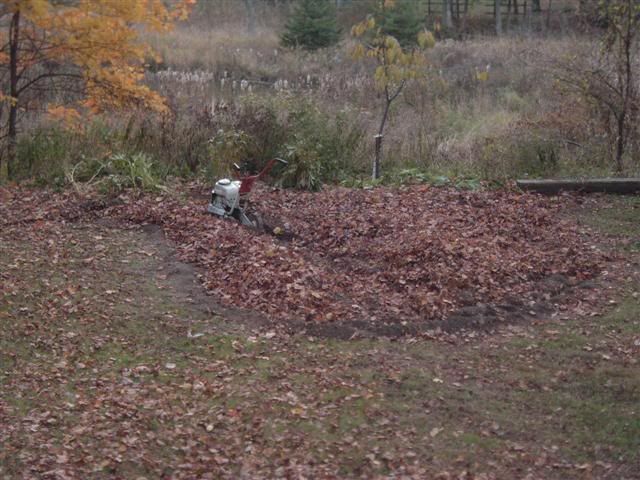 Adopt the pace of nature, her secret is patience.
.....Ralph Waldo Emmerson....

Frank . . ON5a
Posts: 886
Joined: Nov 14, 2008 11:29 am
---
Good for you,and a good buy.Tillers are one thing that seems to hold its value.When I got my first one,I made the garden rows as wide as the tiller so when weeds came up,I would just till them under.That digging by hand will just frustrate a person,and without the proper tools,make the job so much tougher.Enjoy your new toy.
Posts: 41
Joined: Apr 10, 2013 12:24 pm
---
countryboy that tiller looks pretty well stuck like mine was lol.. maybe a littel less deep i should have shut it off sooner
yeah i cant wait for it to stop raining for a while up here in dieppe new brunswick.. at least my plants are trooping on trough the gloomy weather.(lost 2 tomato sproutes they got punched to death by the rain and cold)
once it dries up sometime after this week end sais the weather network... i'll get to finish my rows hopefully.
Posts: 164
Joined: Jul 26, 2012 12:55 pm
---
---
Return to Over the Garden Fence
Who is online
Users browsing this forum: No registered users and 10 guests