Garden Projects and Ideas - Gardening Forums
I hope this is the correct forum...
Every spring, I spend a couple of hundred dollars for some yards of soil to top up my vegetable garden bed.
Every fall, I put bags and bags of maple leaves on my curb as yard waste.
Is there any way that I can compost my leaves in place, on my garden over the winter?
Posts: 7
Joined: Jul 15, 2013 9:00 pm
---
You could build a compost bin in a corner of your garden space.. There are lots of bin plans available on an online search , but the easiest way to build one is to create two open chambers similar to this..
http://whatcom.wsu.edu/ag/compost/image ... ardbin.jpg
Dump all your leaves and grass clippings into one side.. add any vegetable kitchen waste to the bin. Keep it moist and when you see it begin to cool down ( it'll initially heat up as bacteria begin to break down the leaves and grass clippings) transfer the contents of the first bin over to the second one.. That will stir up the contents of the bin and get the bacteria extra active again as you have aerated the bin.. There will be very little breakdown in the bin over winter, but come spring it will kick in again.. The bins only need to be large enough to hold your initial load of leaves . You'll be amazed at how much those leaves reduce in volume as they compost. Several large bags of leaves and grass will compost down into one small to medium size bag of finished compost.
You don't need to spend a small fortune for soil to amend your garden .. Returning all your grass clippings, leaves and vegetable kitchen wastes to a compost bin should give you all the soil amending compost you need . You could add a bag or two of composted manure from a garden supply to your compost to give it some extra kick if you wish. Don't throw any meat of fat scraps into your compost .. it attracts all sorts of vermin into the heap. You don't need to attract raccoons , rats or neighbours animals into you bins.. Vegetable waste only should go into them..
BC Fraser Valley zone 7/8
Posts: 1268
Joined: Dec 05, 2008 5:38 pm
Location: Fraser Valley, BC
---
Absolutely! We have a composter, but we also just have a pile on the back of our property where we put the leaves and grass clippings and they eventually break down. Here are some tips one what leaves you should not use (i.e. mildewed, tar spots, etc.):
http://www.canadiangardening.com/what-t ... es/a/33009
Site Admin
Posts: 241
Joined: Dec 12, 2008 5:58 pm
---
If I shred my leaves and just distribute them over the garden bed, will they compost over the winter?
I have had someone tell me to cover the area with a black tarp to help keep things hot and composting over the winter.
Any experience with that?
Posts: 7
Joined: Jul 15, 2013 9:00 pm
---
You can shred them and spread over the garden area and let them break down over winter .. They won't completely break down, but should break down enough that they can be tilled in in the spring to further decompose before planting time. Covering the leaves and garden area with a tarp will not help break them down. It will not trap any heat that might develop; and I doubt any heat would develop anyway because the leaves will not be deep enough to create their own insulation to hold any heat produced by the bacteria in . The black covering in spring could help warm the soil faster and help kill any weed seeds that start growing in spring before you till the garden, but it will not be any benefit over the winter; other than it may keep wind from blowing leaves around. Unless it is made of porous material it will block any water from getting through to the soil and leaves. You could have quite a mess to clean up in spring if you leave a tarp on the garden over winter .
BC Fraser Valley zone 7/8
Posts: 1268
Joined: Dec 05, 2008 5:38 pm
Location: Fraser Valley, BC
---
I used to rake all my leaves onto the garden and then till them in before the frost comes. They're pretty much gone by the spring.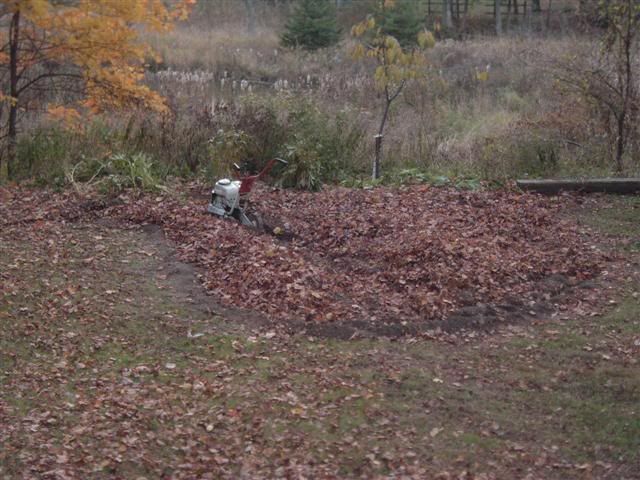 Adopt the pace of nature, her secret is patience.
.....Ralph Waldo Emmerson....

Frank . . ON5a
Posts: 886
Joined: Nov 14, 2008 11:29 am
---
I have 2 maples and when they lose their leaves they will cover the flower beds.Natures winter mulch done for me.The rest I rake from the grass and spread over the soil in my raised veg beds.Come Spring they have broken down and they just get tilled in.I do however like to fill a few heavy duty garbage bags,with a few holes punched into them and fill with leaves that have dried somewhat,add a shovelful of soil and leave until Spring.The leaf mould that has been produced is mixed into container soil.Plants seem to love it.
Posts: 88
Joined: Nov 15, 2006 12:03 am
Location: S.W Ontario
---
---
Return to Garden Projects and Ideas
Who is online
Users browsing this forum: No registered users and 7 guests